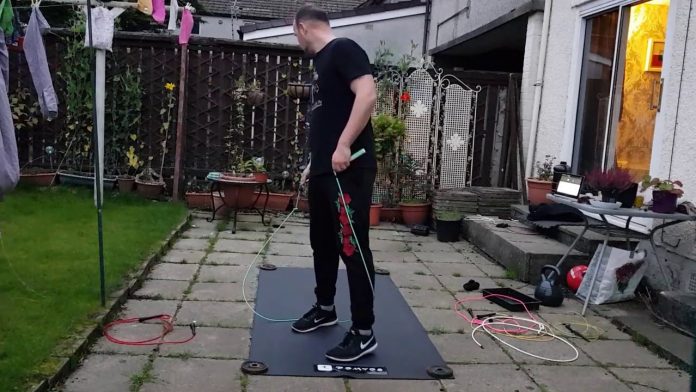 One of my favorite ways to stay in shape is by jumping rope.
What are the benefits of jumping rope?
A good jumping rope costs less than ten dollars. And you can utilize it without a gym membership or a lot of space. However, utilizing a mat designed for jumping rope has certain crucial advantages if you wish to improve your rope jumping to the next level: These mats are designed exclusively for jumping rope, unlike many of the best home gym flooring and mats on the market today. You'll find a rundown of the top rope jumping mats here.
Do MMA Fighters Lift Weights? Why Are they Skinny?
Here are our top 7 picks of jump rope mats for training.
RUSH Athletics Jump Rope Mat
The Rush Athletics mat may be advertised as an all-purpose training mat, yet it serves its intended function well when used for jumping rope. The mat's anti-slip design comes from the high-quality rubber and PVC it's built from. The mat may be rolled up and carried with you wherever you go since it weighs in at less than five pounds. What really sold me on these mats was how portable they were. Since I spent most of the summer traveling, I got in a lot of my exercises on the cracked and uneven parking lot pavement that is characteristic of deteriorating suburbs. The mat used by Rush Athletics is a square with each side measuring at slightly over 3 feet in length.
Gorilla Mats for Jump Rope
If you have a lot of space and want to be able to hop and skip from side to side, the Gorilla Mats are a fantastic investment. One advantage of bigger mats is that they are less likely to slip and slide than smaller ones. However, the Gorrila Mats, which have a non-slip bottom that is designed to prevent sliding, don't bunch up either. In addition to offering a discount for bulk orders, Gorilla Mats sells mats that are 6 mm thick, 6′ x 4′ in size, and one of three distinct colors. Towels made of microfibre are lightweight, quick-drying, and easy to transport to the gym or on the road.
How Much is a MMA Gym Membership?
FEECCO Jump Rope Mat
JUMP ROPE MATERIAL THAT WON'T SLIP! When I used to jump rope, I would use my yoga mat. After a few strokes, you'll see the mat retreating rapidly. Put simply, it doesn't function. Because of this, a FEECCO jump rope mat is a need. It features a non-slip design on the rear and weighs 6.5 pounds. This mat can take a beating from heavy ropes and yet maintain its stability for the duration of your session. Always remember to take care of your knees. The FEECCO pad is made from high density PVC that is 7mm (0.28in) thick. Traditional high density PVC mats are as hard as rocks, however this one is more comfortable to walk on because to its unique texture. In order to get the most out of the mat and reduce the impact on your joints, it is best to jump on it while wearing shoes.
WERCHO Jump Rope Mat
Ideal for home gym equipment, 1-year warranty: 30″ x 60″, 0.24″ thick training mat for home gym equipment is great for a stationary bike, indoor cycling bike, spin cycle, or small treadmill. Perfect size maximizes space allocation and saving. Our fitness mat includes a one-year guarantee against material and workmanship faults. Carpet and Floor Exercise Bike Mat: Sleek equipment exercise mats prevent dust and filth from entering training equipment. This helps preserve pricey workout equipment. Sweat-resistant workout mats keep carpets and floors dry.
Question: Can I Do Boxing With Braces?
Sunny Health Exercise and Jump Rope Mat
For the budget-conscious at-home athlete, Sunny Health is a great source of high-quality products. The Sunny Health Exercise & Jump Rope Mat is a terrific mat for a reasonable price, and it comes as no surprise given that they also provide low-cost trap bars, tricep bars, and other fitness equipment. The mat is great for jump rope exercises since it is made of high-density PVC foam rubber, is non-slip, is simple to clean, and reduces the impact of your jumps. Sizes range from 4′ x 2′ to 7.5′ x 3.3′.
EliteSRS Jump Rope Mat
You can start training right away thanks to the EliteSRS mat, which is comfy, non-slip, and rolls out flat. The "bounce" that occurs when the rope strikes the pavement a few inches from my feet is one of the things that drives me crazy while I'm jumping rope in the garage. Because of these rebounds, the rope often hits my toes or irritates any exposed flesh on my legs. The vinyl foam of the EliteSRS remains there when you jump, the bounce is minimized, and the noise of the speed rope passing beneath your feet is muffled.
Best Fitness Tracker For BJJ (Brazilian Jujitsu)
Launch Fitness Jump Rope Mat
FAT & STURDY: Measuring 52″ x 32″ x 1/4″, our shock-absorbing mat provides unrivaled comfort and support for any jumping rope routine. The high density PVC is heavier, which increases its steadiness and durability while in use. This mat is great for yoga, Pilates, floor workouts, strength training, stretching, and even hefty jump ropes. SAFEGUARDS BOTH TILES AND JUMPROPS This sturdy exercise mat will prevent damage to your flooring and jump rope wires during your exercises. Keep your ropes away from harsh elements like concrete or other hard surfaces. excellent performance on a variety of flooring types and surfaces, including carpet, hardwood, tile, concrete, and even asphalt.
We hope that you liked our list of the best jump rope mats that you can actually use without fear. Let us know how these rope mats are after using them. Cheers!