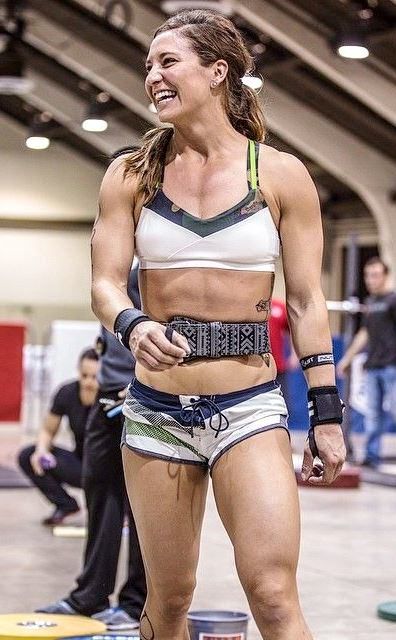 In this article, we will shed light about why weight lifting belts are important, and how you can find the best lifting belts for home gyms.
Many people are often confused about the equipment they need to safely train at home. The main reason is because there are many myths circulating around the internet stating that weight lifting can injure your back muscles. But this is counter intuitive. In fact, top fitness experts have said that weight lifting is best for your back muscles.
"It may seem counter intuitive, but weight lifting and strengthening exercises can actually help reduce back pain. However, the point isn't to bulk up your muscles like a body builder—it's to develop strength, especially back strength. The muscles in your back help keep your spine moving as it should" – Spine Universe
But the main question is: Should you wear a weight lifting belt while exercising at home?
Weight lifting belts for home gyms for girls – Image from Pinterest
The best way to answer the above question about best weight lifting belt is by sourcing information from experts.
A fitness blog, Art of Manliness, says that many people believe that weight lifting belts will help you lift more weight.. But that is purely wrong. Belts are only for support and they do not allow you to improve weight lifting in anyway.
"many guys see weightlifting belts as a crutch — "cheating" or "wussy" or "insert your favorite insult here."
Another assumption is that a weightlifting belt acts as a brace on your lower back, protecting it and preventing the rupturing of a disc.
As to the first idea: no, weightlifting belts will not magically allow you to lift more weight.
As to the second: weightlifting belts do help so that you don't injure yourself while lifting heavy weight, but it's not the belt itself that provides the bracing." – The Art of Manliness blog.
Fitgirl image from Lifestyle Updated.
What does it mean? It means that weight lifting belts for home gyms do help people improve their posture while lifting weights.
Now that we have a fair idea what these weight lifting belts are for. The next question is:
What Type of Weight Lifting Belt is Best for Me?
There are many weight lifting belts available in the market. The best ones can cost your around a $50. But the good thing is that they provide perfect level of push to front and back torso. But, while you are in the market for belts, make sure the one you buy has at least 3 inches width.
Another thing to check out is the uniformity of the belt. There are many bodybuilding belts available in the market that have a lower width in the front and a bigger width at the back. These don't provide uniform rigidness to the core muscles during workouts.
With that said, you need to make sure that the weight lifting belt you buy has the following features.
Leather
Go for a leather belt instead of a nylon belt. There are already many nylon belts available in the market but they won't last more than a year. That's why it is better to invest in a real-leather belt that can last a lifetime easily.
Prong or Lever Buckle
Make sure that the belt has buckle instead of velcro. Because under pressure, velcro can give way while buckle will keep the belt in place.
Thickness
On an average, the lifting belt should have a thickness of 12mm to 14mm. This is enough to keep the belt intact without hurting your back.
Brace Yourself
The simplest way to explain this is by the example of 'brace yourself'. When they say to brace yourself, what does it mean? It means to make yourself ready for what is coming ahead. This means you will take a deep breath and push air inside to flex your core muscles.
Similarly, you also do this while pushing a car, lifting weight, or doing some strenuous work.
Okay, now that you have understood the concept of bracing yourself, how do weight lifting belts help?
Best Weight Lifting Belts for Home Gyms
The weightlifting belts provide a proprioceptive cue that squeezes and tightens core muscles and help you lift heavy weights. It becomes the entity or in the floor that you can push against – giving you more leverage and allowing you to tighten your core even more.
So instead of directly supporting your torso, these weightlifting belts help tighten the core muscles to make them as rigid as possible.
The profitness leather belt is made up of a buffalo skin that is considered to be the very durable material for making such belts. The belt is long lasting and comfortable and is perfect for both sexes. The lifting belt for home gym provides a great back care during Weightlifting, Squats, Lunges, Deadlifts, and Crossfit.
Rip toned 6-inch belt is a weightlifting belt that comes with a robust steel chain and a complimentary E-book for strength training, powerlifting, and bodybuilding. It is made with a wide Velcro strip that maintains back support. It is made up of a sturdy and washable material that is helpful in preventing injuries. Moreover, It has a lifetime replacement warranty.
The Gabor Fitness low profile belt is made up of extra comfy 4-inch waterproof foam core that provides immense support to the back and abdominal area. The belt is hand washable and comes with a one-year warranty.
Aurion is a back care powerlifting belt made up of supreme quality leather which is comfortable to wear and durable as well. It has an adjustable size which fits your body perfectly and provides great support to the back and waist. The belt has double stitched edges.
It is a weightlifting belt which is not only used for weight lifting but also for squat, dips and other exercises. It is available in a very fine quality material and stitching, quality control being the objective of the manufacturer. It provides a good grip during exercise. The belt is adjustable according to the size of the waist.
Eva gym belt is specially designed to provide back support to the weightlifters. EVA foam is a high-density material ensuring extra care and support. It has a wide back that is supportive when you lift heavy weights. The lifting belt for home gym has enough velcro area to adjust it according to the size.
It is a 4″ wide and 3/8″ thick belt having soft lining for providing great comfort to the back while weightlifting. It is made up of leather and reduces stress on your back. This black colored belt keeps your posture straight and has user-friendly closure system.
It is the 6-inch extra wide and padded belt which provides great relief to your back and helps to maintain your posture, straight, Composed of leather material backed with the foam cushioning that feels comfortable.  It is available in various sizes.
RimSports belt is an affordable belt useful not for weightlifting but also squats, dips, and other exercises. It is made up of lightweight cotton material that provides maximum back care during the workout. The lifting belt for home gym is double-stitched making it robust and suitable for heavy weightlifting.
The belt is 6-inch wide providing maximum support and less strain to the back. It is made of a moisture absorbing material which absorbs sweating and reduces bad odor. This lifting belt for home gym is double-stitched increasing durability.
Which Gym Belt Should You Choose?
The big question is finally here. Which home gym belt should you choose? Well, in our opinion all these fitness belts are great. You can choose any belt that you like. Just make sure that it passes the checklist that we have provided above. If the belt passes that checklist, feel free to wear it during your workouts.
You can also check the belt on Amazon. Simply read the reviews of the fitness belts that get sold the most, and see if they have what you are looking for. That's all about the best weight lifting belts.
[td_smart_list_end]Get Fitness Workout Belts for Home Gym