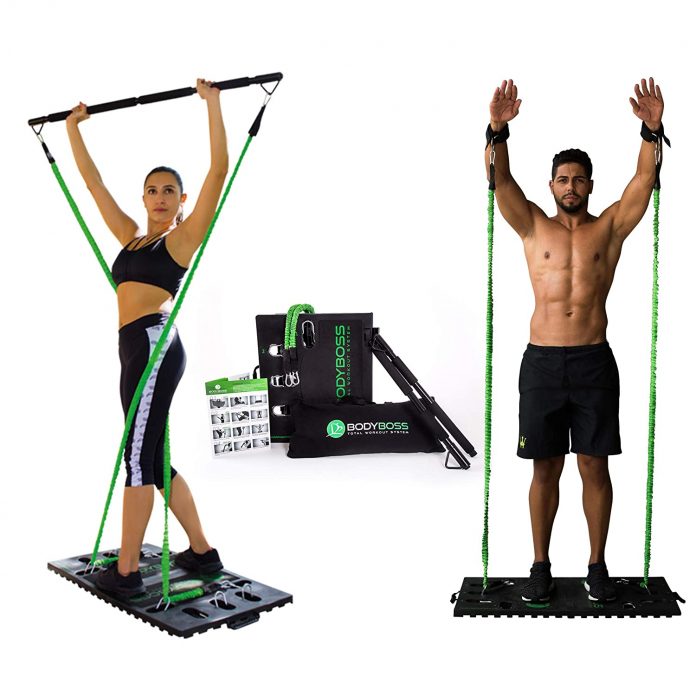 Let's compare BodyBoss Home Gym vs TRX total workout system in detail.
Suspension training is on everyone's mind when it comes to home exercise. Suspension training's basic concept is simple: an athlete's body weight is turned against them by a sequence of ropes and webbing. However, different products are built slightly differently. TRX is frequently the first name that springs to mind when people think of suspension training. While TRX offers outstanding goods that have been proven to be durable, simple to use, and effective, there have been a few other firms vying for market share and producing competitive items that have received rave reviews.
BodyBoss Workout System vs. TRX Tactical Gym
BodyBoss 2.0 Workout System
The BodyBoss Total Workout System, unlike TRX and other suspension trainers, has a fundamental attachment VectorFit base that can sustain 500 pounds of stress.
While each band may offer 30 lbs of normal resistance, the base design allows users to shorten the bands by attaching them to various base anchor points, raising the resistance to 70-80 lbs. Users may truly tailor their experience with ten anchor points to choose from. The design allows for endless improvement and a challenging workout.
Buy Bodyboss 2.0 Workout System Online
BodyBoss 2.0 System includes the following:
The VectorFit Base 

The Easy-Grip Bar with smooth 360° rotations 

Bands of Resistance (2-4 depending on the package purchased)

Overhead attachment door anchor

Handles with padding 

perspiration resistant straps

Accessory Bag for BodyBoss

Detailed instruction guide.
Customers can purchase a few useful add-ons in addition to the BodyBoss 2.0 System.
Additional Boss Bands
Additional resistance bands can be purchased for those eager to go to the next level of BodyBoss training, providing for increased challenge and variety.
1Loop 
This one-of-a-kind accessory uses cutting-edge monitoring technology to sync with your phone and track the number of reps and break time you take when using the BodyBoss 2.0 System.
Ab Wheel Boss
Anyone who wants to get those six-pack abs merely needs to buy this ad and use it regularly. Users link the wrist resistance bands to the base and roll the wheel out in front, using the base as a core basis..
Buy Bodyboss 2.0 Workout System Online
Buy TRX Tactical System on Amazon
What Makes BodyBoss 2.0 the Best Total Workout System?
Full Body Workout 
While most suspension training systems use comparable technology, the BodyBoss System has a few features apart from the competition.
VectorFit Base
Most exercises on most suspension trainers necessitate the use of an overhead attachment. This is due to the need for portability. The BodyBoss 2.0 System strikes the right balance between adaptability and portability. The BodyBoss 2.0 System is built on a basic VectorFit Base and does not limit your attachment options. 
More portability with less space
BodyBoss has designed a solution that requires less room and fewer additional attachments than other suspension trainers, thanks to the VectorFit Base's innovative design. The foundational base is a superior choice for full-body workouts for people with limited home gym space or who spend a lot of time bouncing from hotel to hotel. The base may also be folded and carried like a briefcase, making it compact and convenient to take with you.
Cost
The BodyBoss 2.0 System is less expensive than many other similar goods. The company has strived to maintain the cost of its systems below that of some of its top competitors to make fitness accessible to everyone.
Buy Bodyboss 2.0 Workout System Online
Buy TRX Tactical System on Amazon
Drawbacks of Bodyboss Full Body Workout
There's no such thing as a flawless product, and the BodyBoss Total Workout System surely has room for improvement.
Bands Involved
Many consumers comment that buying a box with only two resistance bands limits the number of workouts they can do with suitable resistance. Additional bands can be acquired from the start for intermediate to experienced suspension trainer athletes to ensure they get the most out of the system. 
Foundation Weight Requirements 
Though lightweight consumers have reported that the base can shift and move while performing specific activities, this is rare. This appears to be a concern only for those who are extremely lightweight, not for most people of medium build.
Bottom-line: Bodyboss 2.0 vs TRX Tactical Gym
Despite stiff competition, the BodyBoss 2.0 System has regularly been regarded as one of the top home gym items on the market. It's the ideal system for anyone new to home workouts or wants to take their bodyweight routines to the next level.
Buy TRX Tactical System on Amazon