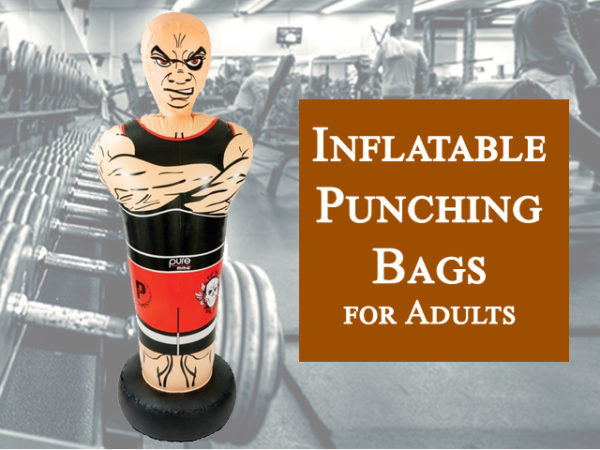 Inflatable punching bags are for kids, at least that's the normal saying. But these punching bags are also used by adults. Most adults who like to start punching use inflatable punching bags to increase their precision, accuracy, and improve reflexes.
These punching bags aren't actually useful for improving knuckle power or harden your muscles because they are lightweight and move easily.  But you can use them as an addon to sharpen your punching speed.
Most gyms have inflatable punching bags installed because they help the users to destress after a heavy day workout with punching bags. In fact, most users love to use inflatable punching bags because they are easy to punch and fun to use. They help the users relax their muscles by punching a light thing that moves with their touches.
Benefits of Inflatable Punching Bags
They rebound quickly – Great for improving your accuracy, speed and sharpen your reflexes

Help you learn how to quickly land a punch and improve cardiovascular workout

Great way to improve your body movement and perfect for kids who want to start boxing practice

Light on the price side. This means anyone who doesn't want a ceiling mounted punching bag can get it easily

Better than double end punching bag for those who can't keep up with the speed of those bags. With the inflatable punching bag they can workout at their own pace

No installation required to setup inflatable punching bags. Just put them and start punching

Some inflatable punching bags for adults are available with spots to increase accuracy of the user

Don't need to be hanged anywhere. They also don't ruin the floor because of heavy weight

Great punching bags for those who want to lose weight, burn calories, and release stress without getting impact on their hands.
Pros and Cons of Inflatable Punching Bags
Inflatable punching bags have their own pros and cons depending on how you use them. The punching bags are great for kids and adults alike. Most users prefer to use them after session on the heavy punching bag, while some prefer only to increase accuracy with inflatable punching bags.
Pros of Inflatable Punching Bags
Help the user increase accuracy and precision

Cheaper than double end or speed punching bags

Great for kids and adults alike

Filled with air; easy to repair

A powerful moving target because it moves constantly

Requires no installation

Can handle hardest punches and decrease calories faster
Cons of Inflatable Punching Bags
Not favorable for heavy punching; only suitable for beginners

Comes with a water weighted base, not suitable for carpeted floors

Bag doesn't actually bounce back up like any inflatable bag should
List of Best Adult Inflatable Punching Bags 
Here is a list of inflatable punching bags that you can buy for learning to box or improve your fitness. They are also great to help you de-stress.
Eforoutdoor Adult Inflatable Punching Bag
The best quality inflatable punching bag for adults which enables 25mm PVC Duratec material.

It ensures the durability and reliability of the punching bag, no matter how hard you train on it.

It has an awesome sort of vinyl construction (rugged) which enhances its durability that it stands long or lasts long despite of heavy punches or kicks.

You can fill its base with water or stand, it's up to you.

If you are filling it with sand, it seems to be more stable and perfect for heavy kind of training session.

You can use it as stress buster or you can use it for fitness purpose as well. it is suitable for any purpose.
A great 63" taller inflatable punching bag which is perfect for the training of adults.

This bag is especially manufactured by the professionals for the cause of heavy training and for the improvement of accuracy and speed.

The rugged PVC construction is so good which makes it so worthy for professional level training.

It's a lightweight bag and you can store it easily after training session.

This inflatable tower punching bag is suitable for both, indoor and outdoor usages.
It is a 150cm tall punching box which is of quite a great quality with amazing features.

It can be used for fitness purpose and can be used as a stress buster as well. So, now you can get your stress out on something.

It is made of anti-leak material which offers you the best chance to have it if you want to fill it with water.

YoSoo inflatable punching bag is suitable for indoor and outdoor usage. Feel free to use it anywhere.
The lightweight but high-quality inflatable bag for adults.

This bag contains two compartments. The base can be filled with water or sand as per your choice. The upper part can only be filled with air, on which you will perform your practice.

It also includes the pedal pump as well.

Durability and Reliability is at its peak for this inflatable punching bag.
Final Word
These were some of the best adult inflatable punching bags for home gym. Hope you liked our post about the benefits, pros and cons, and details about these air-filled punching bags.
Are you using any inflated punching bags? Let us know in the comments below.
Read More:
Best Tennis Ball Boxing Caps and Headbands for Practicing
Best Adjustable Speed Punching Bag Platforms For Home Gym