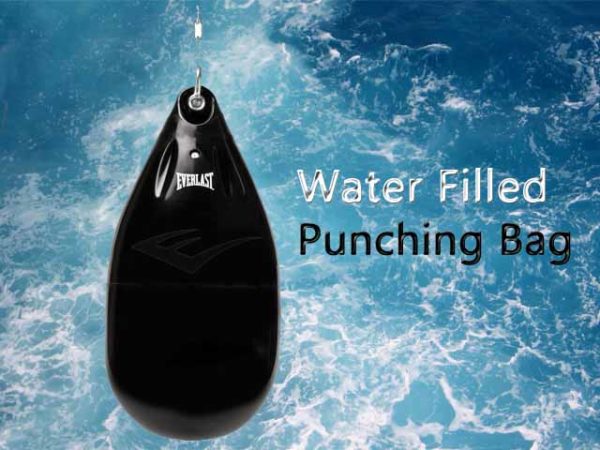 Whether you are a martial artist, or a wanna be fighter, no matter what type of person you are, if you want to punch you need a punching bag. And the best option is a water filled punching bag that lets you work on your accuracy, power, and speed. Choose from a multitude of punching bags including heavy bags, speed bags, and double end punching bags to focus and enhance your boxing skills. A lot of people are now interested in inflatable punching bags, that's why it is important to understand their benefits and how can they be used for you as a beginner.
How different is a water punching bag from a traditional sand/wood dust punching bag? Find out in this video:
Everlast HydroStrike Heavy Bag Review video showing the usage of a water punching bag.

Are Water Punching Bags Good for training?
Here is our aqua punching bag review. If compared with sand punching bags, aqua bags retain their shapes that's why most people prefer them. But at the same time they are more prone to leakage and puncturing because of the pressure. The aqua punching bag container should be thick so that it doesn't leak. This is only possible by testing different aqua bags and reading their reviews. Sometimes, it happens that you buy a water punching bag and then when you try it out it fails.
But aquabags are preferred over regular sand punching bags especially for speed punching. Because they aren't hard and land softly on the knuckles of the user.
On the other hand, a major problem with most punching bags filled with sand is that they become rock-hard when the sand settles at the bottom. This problem can only be solved if the bag is tightly closed from the top. Just turn it upside down and sand will automatically start deforming bonds.
Check Out Water Punching Bags Review
Pros of Aqua Punching Bag
The sand filled heavy punching bags are great for professional boxing training, but the aqua (water filled) heavy punching bags are the most beneficial for beginner users.

The aqua heavy bags can take plenty of hits at once.

They provides ease of use and are easy to pour in and out of the heavy punching bag.

Most of the professionals have claimed that the water filled heavy bags' have a soft impact on hand in comparison with sand and wood-dust packed heavy punching bags.

Even after getting a hit the water filled punching bags retain their shape. In this way, proper striking techniques can be used on these bags.
Cons of Water Punching Bags 
The leakage of aqua filled heavy bags can create a major problem for the user and can virtual render them useless.

These aqua punching bags sometimes form condensation during cold and humid weather, that's why these are rarely preferred.

Such sand punching bags are mostly used for static purposes, you can't expect the same from aqua punching bags because they don't move as much by hits..

These aqua punching bags are great for the beginners but not so suitable for the professionals who have to get trained for their fights or for street fights – whatever the purpose is.
Aqua vs Sand vs Rock Punching Bags
Here are our two bits on aqua and sand punching bags. Both are great and have their specific purposes. So, let's get started and see which of the two is best for you.
Check Out Water Punching Bags Review
Aqua Punching Bags Benefits
The professional fighters mostly use aqua punching bags for speed fighting. These are robust, heavy but soft, and provide a thorough workout.

The professional heavy bags are mostly not filled with anything. It is upto the owner to fill it with sand or water.

One reason I prefer aqua punching bags is because they can easily be filled and unfilled at anytime. Unlike sand, water is readily available at all places.

These aqua punching bags are mostly for those who are already experienced in the boxing field
Traditional Sand Punching Bag Benefits
If you want to keep on enhancing and improving your striking skills on the basis of super-fast decision making, then sand bag or sand filled heavy bags are best for you. These are in comparison with water vs traditional punching bags

Sand settles at the end of the bag and it becomes easier to hit the upper part.

It moves along with a single hit and you have to make a rapid decision for your next move.

Sand punching bags are more convenient in apartments because they are less at risk of getting punctured and even if the user punches the bag with full force, sand won't injure the punching bag
Rock Punching Bags Benefits
Rock punching bags are great for expert boxers. The rocks are small pebbles with rounded shapes.

They don't get leaked from screw caps and can also be used in old punching bags that have cracks.

The rocks also make a pleasant noise when they are hit. You can also use that noise to increase motivation.

Pea gravel stones are the best choice for punching bags because they have only a few disadvantages and are great for punching
---
View review of Hydrostrike punching bag by everlast
See Reviews of Everlast HydroStrike Punching Bag 
Hanging punching bags come in various sizes. They are mostly used for places where a free standing bag won't be suitable. The aqua filled punching bags are mostly used in speed bags to improve precision of the boxer.
Inflatable bags vs Aqua punching bags
Inflatable punching bags are getting popular these days because of they are easy to carry. They also improve reflexes and are great for shadow workout.
We have compared them with aqua punching bags in order to find out which one is better for users. And, if you want to increase your reflexes, which one should you buy.
Inflatable Punching Bags Benefits
The Inflatable punching bags are light in weight.

These kinds of bags are not good for hardcore training but on the other hand, these bags are good for developing your accuracy and speed.

These bags rebound quickly.

As it is difficult to hit the moving target, that's why these inflatable bags are mostly used for developing concentration and accuracy of the trainees.

These bags are usually made of weak materials that's why these are not suitable for heavy training sessions.

The inflatable punching bags comes with a water-filled base which offers the disadvantage that it can leak out. So, you can't use them on carpeted rooms.

Such punching bags are good for adults as well as kids too. You just have to purchase the right size as per requirement.

The filling of its base depends on you. whether fill it with sand or fill it with water, it's totally up to you.

The inflatable punching bags can be used without taking any tension of the environment you are using it.
Aqua Punching Bags Benefits
The aqua punching bags are best to improve and enhance your punching techniques.

It helps you to improve your footwork as well.

These bags are available in various sizes, ranges from 9", 12" (smaller versions) and 18" & 21" (Bigger sizes) for the heavy training.

Aqua punching bags are almost same in price with the regular 100lb heavy bags.

The best thing about these bags is the absorption of force by the water filled inside it. No matter how hard you hit it, you will not move from your position.

These bags enable a lot of resistance as compared to the inflatable punching bags and you will find it love by training on such type of bags.

Aqua punching bags are mostly of spherical in shape and best for every kind of punching training.

These bags are not good for those places where the temperature remains too much low. Because water expands when freezes and it may affect the material of the bag from which it is made of.
Inflatable Punching Bags for Kids and Adults
What to buy: Inflatable Punching Bags or Aqua Punching Bags?
In my opinion, both the bags are great and serve different purposes. If you are looking to just increase your reflexes than the inflatable punching bags will be a decent choice for you. However, if you want to increase your punching strength and searching for a bag that doesn't hurt your knuckles than the aqua punching bags will be a good bet.
Check Out Water Punching Bags Review 
Check Out Inflatable Punching Bags
They are easy to hang and can easily fit any small place in an apartment.
We hope this article helped you know more about water filled heavy punching bags' pros and cons.
Have something to add to this piece? Let us know through the comments below.
Best Powerlifting Books All Beginners Should Read
Do I Need Weight Lifting Belts for Home Gym Fitness?