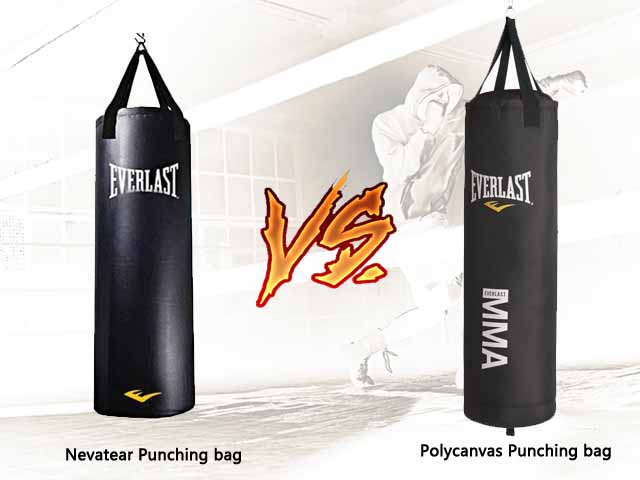 Which one of the two punching bag covers is best for you? We compared the two. The Nevatear punching bag vs the Poly canvas punching bag. Let's learn what are their pros and cons and what you need to know about them.
Nevatear vs Poly Canvas punching bags
In comaprison with Nevatear, the Poly canvas or Polyester canvas is usually made of natural fibers which are of high quality and normally cheap and affordable as well. These are the same material that you use to make tents, sheets, and boat covers.. That is the reason, why most of the punching bags are made of this material. These are also prefered to use this material for heavy bags and lightweight bags.
Everlast Nevatear 100lbs Punching Bag
On the other hand, Nevatear is made of specially blended filler mix of sanitized synthetic and natural fibers. They are shock absorbent and of highly superior construction. The bags are durable and with complete functionality.
Everlast Poly Canvas Punching Bag
What color are they: Nevatear vs Poly canvas vs Leather
The Poly canvas material offers various color schemes as well, but this material doesn't hold up so much as compared to the cotton canvases. The polyester canvas offers a plastic feel and is very cheap as well.
The nevatear punching bags are usually available in black but they can also be bought in red or yellow – depending on what type of colors are available with Everlast.
The bags are of synthetic fibers so they can easily be painted in anyway the company wants.
As the answer to your question, yes you can get nevatear and poly canvas both bags in different colors.
Read Reviews of Nevatear Punching Bags
Are they waterproof? Nevatear vs Poly canvas
The Polyester canvas is not sturdy and waterproof as well. This kind of material is not built for the lifetime serving and the most important thing to know about this material is that this material needs a protective coating is required for it. The Polyester canvas often sinks in the middle and this material is relatively considered to be low as compared to the Nevatear.
The Polyester material doesn't absorb the ink as well as it is like a plastic material on which ink doesn't settle in and same goes for the cotton canvases as well.
Nevatear bag isn't waterproof as well. But it is made of water repellant cover so the bag remains safe for quite a long time during use.
Quality comparison:
The Nevatear is of high-quality material as compared to the Poly canvases because it is specially blended filler mix of sanitized synthetic and natural fibers which offers resilient shock absorption.
The Nevatear material is of great quality as it offers durability and reliability just because of the sanitized material which maximizes its reliability. This the reason why most of the new heavy bag manufacturers are now making heavy bags of this material.
New companies are making bags of this material just to ensure the quality and durability. Now the customers are also educated and like to get the best thing for their training, at home or for their outdoor training.
Read Reviews of Polycanvas Punching Bags
What type of punching bag should i get: Nevatear or Poly canvas?
Considering that you will be using them for your home gym, both the punching bags are great. But, considering that nevatear is a blend of synthetic and natural fiber, newcomers to boxing are preferring over the poly canvas punching bag.
Both are great and equally preferred. I wouldn't be surprised if you hear negative reviews of each because there are.
[amazon_link asins='B00B7PV7XG,B00RUAC14Q,B013XST966,B015Y4ZJNE' template='ProductCarousel' store='sj0b3-20′ marketplace='US' link_id='a903e0f8-440c-11e8-8a3b-85e9f5701a88′]
Some people prefer poly canvas bags because they last longer and don't tear soon. On the other hand, nevatear bags are equally liked because they can take an impact. In fact, most professionals are now moving towards nevatear bags because of their high quality.
Note: Nevatear is a product of Everlast so that's one reason most people are using it instead of the poly canvas punching bag.
>>> Get Punching Bag Replacement Parts List
What's inside punching bags? Nevatear vs Poly canvas:
Nevatear and Polycanvas are the covers of punching bags. They have the same material that was used in bags from the beginning i.e. sand, sawdust, and even old rags.
But most of the time these bags have a mixture of all three. Because only having one thing can ruin the shape of the bag as everything settles at the bottom after sometime, making the bags as hard as a stone pillar.
By adding a mix of old rags, sawdust, and sand, they appear strong and balanced.
Most of the punching bags you buy are already filled so thinking about what they are made of shouldn't be your number one concern.
What size bag is best for you?
Both nevatear and poly canvas bags are available in multiple sizes. Now, a rule of thumb is to get a bag that is at least half your weight.
Don't forget, there are leather bags available as well. In our next article, we will focus on nevatear vs leather punching bags.
For example, if you weight is 150 lbs, the bag should be at least 80 lbs. Because then you can punch it with your full strength.
80 lbs to 100 lbs bags are available in both nevatear and poly canvas punching bag covers.
Punching Bag Cover Replacements: Nevatear vs Poly canvas
Punching bag replacement covers are those who have torn their actual bags. The covers are available at many stores. However, there is only a rare chance that you will be able to get new covers for the punching bag. Even Everlast itself doesn't offer punching bag cover replacements. You can however visit Craigslist to find replacement covers for your bags. 
Read More:
Everlast 2 Station Heavy Stand Review, Alternative, and Guide
Everlast Platinum Heavy Bag vs Everlast Omni-strike Punching Bag [Comparison]
Everlast Powercore 2228 vs Century Original Wavemaster [Comparison]