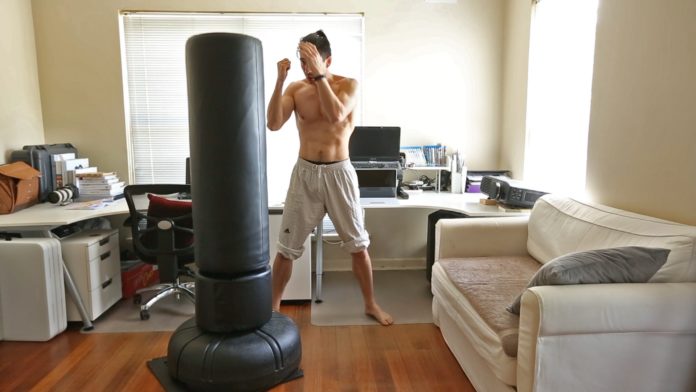 Timing is of utmost importance in a boxing match. A little late in delivering that decision making punch and you are out of the game. That's where double-end punching bags come-in to improve your boxing. The speed punching bags are of high quality and made with great precision so the fighters can improve their bodily health, physical fitness, and punching accuracy with ease.
Picture from Pinterest – MaxMMA Punching Bag
The double-end bags are tied to ropes on both ends, this gives them more room to move and increases their nimbleness. Thus, the boxer has to work his brain and hands faster to punch the bag.
Here is a short guide to help you find the best double-end speed bags. Read the tips and techniques to know how to buy the one that is comfortable for you.
Punching Techniques for Double-end Punching Bags
A double-end speed punching bag is a must-have for any boxer training regime. It is not considered an important part of the boxing training but if used wisely, it can provide drastic value to the user. The boxing bag is usually used inflated, tied with ropes on both ends. Most beginner boxers don't use it, shying away because of its lightness, not realizing that the boxing bag is meant to improve focus and precision.
From Pinterest – A girl kicking a Double-end Punching Bag – Best Double-end Punching Bags Review
That's the purpose of this guide: to help you improve accuracy naturally. Here are a few tips compiled to provide the best double-end punching bag experience.
 Start with basics
Don't go for fancy hooks and uppercut moves right in the start. Better focus on single, double and triple jabs or a mix of those. The jabs can easily be landed on the double end punching bag. Just practicing with them for starters will be enough.
Timing and accuracy
Due to the constant movement of a double end punching bag, the timing and accuracy matters a lot in these bags. These are powerful bags and you would need to utilize your constant focus to land a punch on it. Even then, these are nimble enough to doge your second punch. But these are only to improve precision, so use a heavy or dummy punching bag instead if you want to improve strength.
Reflexes and Rhythm
Hand to eye coordination matters a lot while punching the double end punching bags. But still, these are only made that way to improve your reflexes. While punching the bag, it moves so fast that you can't even land a second punch on it. When that happens, get near the bag and try to doge it with your hands. Your upper body movement reflexes will also improve due to this technique.
Hooks and upper cuts:
While punching on the training bag, you can use a mix of punches including hooks, uppercuts, and punch techniques. You will need to reset and set your rhythm again before you work out. You can use even more techniques when you become a more advanced user of it.
List of the Best Double-end Punching Bags to Buy:
SGODDE Double-End Speed Punching Bag for MMA Boxing
Buy Sgodde doubl-end punching bag for MMA
Everlast Double-end Punching Bag for Beginners
Buy Everlast Double-end Punching Bag at Amazon
Max MMA Double-end Punching Bag Kit
Best MaxMMA Double-end Punching Bag kit
TITLE Classic Advanced Double End Bag
Buy Title Double-end Punching Bag from Amazon
Final word: 
These are the best double-end punching bags and hold the most reviews on Amazon. As stated above, while searching for the best speed bag to improve your speed, stamina and agility, remember that double-end punching bags matter a lot in improving all that. So, choose your bags wisely based on their quality, material used and price point.
Happy shopping.