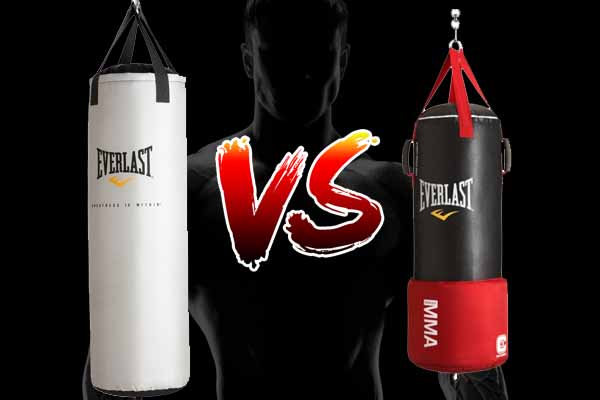 Everlast is a great punching bag manufacturer. It has manufactured boxing bags for all types of workouts. We have compared two of its punching bags in order to know if they fit home gyms. These two are platinum heavy bag and omni-strike punching bags.
Table of Comparison: Everlast Platinum Bag vs Everlast Omni Strike Bag
Everlast Platinum Heavy Punching Bag
Everlast Omni-strike Heavy Punching Bag

Physical Aspects

Weight
80lbs
80lbs
Filling
Sand or Water or Wool
Sand or Water or Wool
Type
Hanging
Hanging
Height
46 inches
65 inches
Structure
Durable Nevatear heavy bag
C3 foam wrapped bottom panel for low kicks

Usage Comparison

Durability
Durable if kept safe from environment
Includes knee strike handles
Feel
Hard everhide vinyl
Premium synthetic leather
Gloves Needed
Yes
Yes
Base Type
Compact
Long lasting functionality
Price Range
Under $100
Under $100
Safety
Safe for Kids and Adults, available with Hanger
Comes with a strong base with C3 form for impact absorption
Kick and Box
Yes. It can be used for kicks and punches
Yes. It can be used for kicks and punches
Price
Check price
Check price
Everlast Platinum Heavy Bag Review
Everlast platinum is a perfect bag for anyone who wants to start boxing. It doesn't comes with hanger unlike the omnistrike punching bag so you need to buy that separately. Otherwise it is a great boxing bag for the money. It comes with punching gloves and hand wraps.
The skin of the nevatear punching bag is durable and completely breathable.
Things to Note
Reviewers of the everlast punching bag have said that it is great for the price. There weren't any flaws reported by the users in this punching bag. They have only said that don't forget the hanger because that isn't provided with the punching bag.
Punching Bag reviews website reports that the Nylons straps of the bag will wear out overtime. So, this shouldn't be used outdoors. If it is properly taken care off, it is a great punching bag for long term use.
Everlast Platinum Heavy bag kit Pros and cons
Here are the pros and cons of the everlast platinum heavy bag kit. Read them and then decide if the platinum heavy bag kit is for you or not.
Everlast Platinum Punching Bag
Pros
Pretty light in weight.

Hang it from your ceilings easily.

Adjustable chain and straps so that you can adjust this heavy bag as per your need and requirement.

The kit includes, hand wraps and gloves as well so that you can properly get ready for the training.

Not only for boxing, this heavy bag kit is good and effective for martial arts as well. You can easily use it for such purpose and can release your stress on it by staying at home.

The Bungee cord comes with the kit which adds up greater resistance to the bag.

The quality material is used in the manufacturing of this bag as the synthetic fibres are used which improves its shock absorption.

It's a durable bag because it has poly canvas outside of it. This thing also adds up into its incessant pounding.
Cons
The Everlast Platinum heavy bag is not made for the professional or heavy users who are properly trained on heavy bags.

Its material is not of such type on which you can strike it so hard. As we know that the professionals used to strike bags with full force and energy.

If the quality of the bag is not good, then it is surely not good for the professionals as they will tear them apart.

It's a cheap and affordable bag, but not for the outdoor and professional trainings.

If you are willing to improve your striking force and stamina, then this bag is not made for you. You will have to upgrade yourself and your training kit.
Everlast Omni Strike Heavy Bag  Review
The omni strike heavy bag is a perfect bag for both kicking and punching. The best thing is that it is a hanging punching bag this means you can easily hang it in your room or even in a small apartment. It is wrapped with C3 at the bottom. This saves the skin from tearing during low kicks. The overall bag is of synthetic leather and is in an excellent condition. It is long lasting and completely durable.
Things to Note:
For punching training the Omnistrike punching bag is perfect. However, if you want to keep it for longer periods, then don't take it outside the house. It isn't very environment friendly and may get ruined due to the outside heat.
Most reviewers have reported that the punching bag straps fall off after sometime.
Also, just know that the warranty of everlast omnistrike punching bag is just 120 days.
Everlast Omni-strike Punching Bag
Pros
A 80-pound heavy bag kit great for light weight training.

The hang it from your ceilings easily and comes with a ceiling hanger.

Includes adjustable chain and straps for dirty boxing.

Include gloves so that you don't have to buy them for training.

Great for indoor boxing bag training. It won't last longer if left outside because of the nevatear material

It's a durable bag because it has poly canvas outside of it. This thing also adds up into its incessant pounding.

It helps increase fighting stance and stamina both at the same time.
Cons
The Everlast omnistrike punching bag is for intermediate fighters only. If used by professionals, it won't be a tough opponent

It is pretty small in size if compared with other 80 lbs punching bags

The omni strike punching bag is affordable for outdoor professional training.
Conclusion:
For starters, both the bags are perfect. I would however tilt a little towards the Omnistrike punching bag because it has an extra cushion for kickboxers.
However, the everlast platinum punching bag isn't a bad bag at all. In fact, it would be a great fit for people who train in their personal dojos and gyms.
Do you need a heavy bag stand?
In case you are wondering do you need a heavy bag stand for these two punching bags, then the answer it yes. The punching bags require something to hang against. You can either get a wall hanger to hang the punching bags, or you can get a ceiling hanger. But most people think that by rapidly punching the bags, they damage the wall and ceiling. So, for they, the best option is to get a heavy bag hanging stand.
Everlast Dual Station Heavy Bag Stand is one great heavy bag stand that can hold a wait of at least 100 lbs with ease. It can also hang a speed bag at the same time, since the word 'dual' in the title of the everlast bag station.
Read More
Everlast 70lb Youth Poly Canvas Heavy Bag Kit Review
Best Five Vitamins to Help You Grow Taller – Review
Five Grow Taller Supplements That Work – Reviews