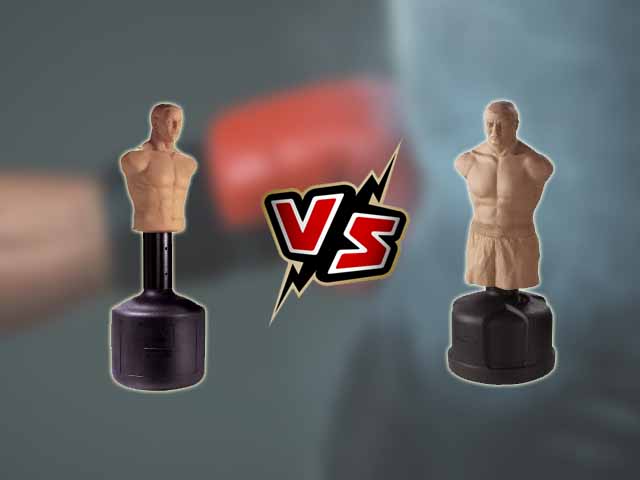 The Century Body Opponent Bag also known as BOB bag is a freestanding punching bag available in regular and XL sizes. Unlike the regular oval punching bag designs, the century Bob punching bags are designed in the shape of a human torso. The bags are highly popular as they provide realistic training and easier to maintain. We have written a considerably detailed review on the century Bob punching bags. Read it and make an aware decision of buying your next punching bag.
Comparison Chart: Century Bob vs Century Bob XL
| | | |
| --- | --- | --- |
| Specifications | Century Bob Punching Bag | Century Bob XL Punching Bag |
| Weight | 270 pounds | 270 pounds |
| Size | Regular | XL |
| Height | Adjustable | Adjustable |
| Warranty | One Year | NA |
| Base Type | Low profile base fills with sand or water; | Polyethylene base Creates more striking surface for head or body shot training |
| USP | Seven height adjustments | Rolls easily for transport |
| Height in Inches | from 60 to 78 inches | 61 inches |
| Price | Check Price | Check Price |
| Body Type | high-density foam interior | High-strength plastisol body filled with urethane foam |
Century Bob Punching Bag Review
The Century punching bag stands between 60 to 78 inches with adjustable height feature. It comes with seven adjustable height options which offers the consumer to set this bag for their training.
The century Bob punching bag body is tougher than the head and comes with a base that reaches the upper torso. It is a plastisol surface figure so make sure you use gloves while punching it. Scathing punches can lead to skin rupturing.
Check Price of Century Bob Punching Bags
Key Points:
It weighs about 270 pounds along with its base which can be filled with sand or water.

It's a very stable punching bag which is amazingly designed. It doesn't move around the floor when it is hit with force. It just rotates about its axis.

The base of this Century Bob bag is rounded and is easy to roll and store when it is not in use.

The high-quality and high-density urethane foam is filled in this century bag. This quality makes it more accurate and best for the training.

This bag weighs about 270 pounds.

The body is attached by the help of 6 screws to the base, this is a drawback of this bag as there is a chance to lose over the course of a workout.

It is pretty expensive but durable and offers a great joy for the person who is training on it.
What reviewers said about Century Bob Bag?
Great for realistic targets
The punching bag is great for realistic targets as it helps the user know what places he can actually kick. In fact the users of the century Bob punching bag can mark the spots on the bag that they should kick.
It moves, all else is fine
One user of century bob punching bag has said that the only drawback is that it moves a lot. So, while punching it a person will have to continuously resettle the bag to actual position while punching.
Century Bob Bag XL Punching Bag Review
Century Bob XL version is similar to the original version in body type and strength. It has the same muscular build and comes with an extended torso. The punching bag has two height adjustments that range from 5.6 feet to 6.1 feet. The punching bag weighs around 270 pounds and is perfect for anyone who would want to get serious about punching bag fights.
The base of the bag is made of hard polyethylene plastic that makes it easier to move the bag from one place to another.
Check Price of Bob XL Punching Bags
The XL century Bob punching bag is made with versatility in mind. It is perfect for fighters, especially kickboxers who would like to use the bag for both kicks and punches.
The bag is a precise stimulation of a real person and is ideal for martial artists and fitness users alike. The bag is a combination of accurate power and cardio fitness. It is great for working out.
Key Points
It is large or bigger version of Century Bob punching bag. It comes with the same angry looking muscular body bag which comes in bob bag. But it is huge in size for the people who are bigger in size.

It is one of the biggest size punching bags of all times which is made of high-quality material.

It also weighs about 270 pounds and its height is fully adjustable for people who have height of 6 feet.

Its surface is not so smooth as compared to the original one. but this bag is so much good for the martial arts training and for the punching bag training as well. When it is filled with sand or water then it will not move so long when it is hit with force.

It is best for the people with bigger size bodies and who are looking for heavy duty training.

It manages the hit force so well that doesn't move so much during practice.
[amazon_link asins='B0039VAO8U,B07ND13TCZ,B07CQ8FFN2,B07CQ6FRZZ' template='ProductCarousel' store='sj0b3-20′ marketplace='US' link_id='ba237bcf-3530-4174-b5e4-bcb1c447de01′]
Reviews of Bob XL Punching Bag
Great for MMA and Krav Maga
A person has said that he regularly trains on the Bob XL punching bag and the bag has helped him improve the level of his training.
He says the bag is great for striking sensitive parts of the human body because it outlines all the parts.
Also, the skin is soft so it doesn't hurt even without the gloves.
Another reviewer has said that the bag comes with highly defined cheekbones, groin, and other striking points. It is great for use even without hands and feet. THe bag is heavy and require a fair amount of force.
Did we miss something in this Century Bob vs Bob XL punching bag comparison piece? Let us know through the comments below.
FAQs for Century Bob Body Bag:
What Century Bob Body Bag alternative options are available?
The best alternative to Century Bob Body Bag is to get a non-human punching bag from Title, Everlast, or RDX punching bags. These allow users to easily kick, punch, and improve their performance without problem.
What is the lowest price of Century Bob Body Bag?
The lowest price of Century Bob Body Bag is around $290 as of writing of this report. However, the price varies between $290 aand $370 on Amazon. You can learn more about Century Bob Body Bag prices here.
Is Century Bob Body Bag the right choice for home gym?
Well, it varies on a case by case ratio. For starters, a Century Bob Body Bag is fine if you are new to practicing. But after sometime you will want to increase your workout and when that time comes, you may need a human-shaped punching bag like Century Bob Body Bag.
Final Word
Whether you like century Bob punching bag or century Bob XL punching bag, both are great in our opinion. The comparison chart is in front of you. So check it and make an aware punching bag shopping decision.
Read More:
Wavemaster vs Wavemaster XXL – Free Standing Punching Bags [Comparison]
Nevatear vs Poly Canvas Punching Bags – What's the difference
Everlast Platinum Heavy Bag vs Everlast Omni-strike Punching Bag [Comparison]