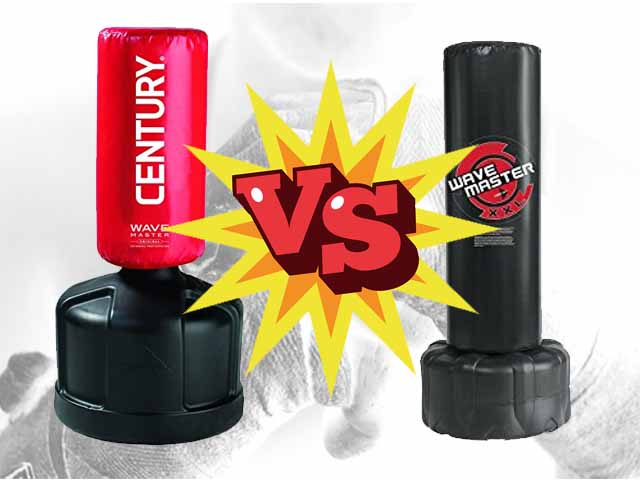 One of the best punching bags in the market are by Century. It has also manufactured a great bag called Wavemaster. Wavemaster freestanding punching bag is available in multiple variations. In this article, we will compare to variants of wavemaster punching bag including Wavemaster vs Wavemaster XXL.
The good thing about Wavemaster punching bags is that they are flexible, resilient, and portable.
A free standing heavy bag is a necessity for training at home because it has all the basic requisites needed for punching. Due to their flexibility, you can place them anywhere you want. They are versatile and perfect for fitness due to their cardio workout.
Here we will compare Wavemaster and Wavemaster XXL of the most popular models below.
| | | |
| --- | --- | --- |
| Punching Bags | Century Wavemaster XXL Punching Bag | Century Wavemaster Punching Bag |
| Quality | Extra-large martial arts training bag | Regular size freestanding punching bag |
| Weight | Weighs roughly 270 pounds when filled | Weighs about 250 pounds when filled |
| Height | Stands 69 inches tall | 8 height adjustments ranging from 47-68-in |
| Filling | Fills with either sand or water | Fills with either sand or water |
| Base Type | High-quality striking surface | 13 diam. in. x 26H in |
| Surface Type | Durable vinyl cover and high-density foam | Round base |
| | Fill is tough yet forgiving | Unit can be rolled away |
| | Low-profile base and ultra-stable weight distribution | Bounces back quickly |
| Price | Check price | Check price |
>>> Nevatear vs Poly Canvas Punching Bags – What's the difference
Century Wavemaster Punching Bag Review
Century Wavemaster punching bag is a great punching bag for anyone who is just trying out boxing. If you don't like to go to gym everyday but still want to remain fit, then the Century Wavemaster punching bag provides you a simple way to do that. Just start boxing on the punching bag and you will be like that in no time.
The bag is ideally made for families and fellows who live in a single apartment. It is shipped unfilled with the best punching bags.
Key Points of Century Wavemaster
The Original Century Wavemaster punching bag is made of high quality material and is equipped with high density foam.

It has a vinyl cover on it and is height is totally adjustable & ranges from 47 to 68 inches.

This heavy bag comes in several and eye-catching colors which includes red, blue and black. Most of the people likes to have black or red punching bags at their homes or at gym. That is why this high-quality punching bag is easily available in such insignias.

The vinyl cover by which it is loaded with, is of great quality that it lasts long and is durable and reliable. You can enjoy your practice or training on this punching bag without having tension of its tears or holes.

For some people, it may be so much tough or hard, this is why it is recommended to wear proper gloves or take protection measures before starting your training.

This punching bag comes with a form filler as well and it weighs about 250 pounds including base.

The Wavemaster punching bag is good for average height adults or for children as well.
Check Reviews of Wavemaster Punching Bag
Century Wavemaster XXL Punching Bag Reviews
The century Wavemaster XXL punching bag is around 69 inches tall and with a 18 inch diameter. It is great for striking and punching. The bag is of high quality and made of durable vinyl for kicking and punching.
Key Points of Century Wavemaster XXL
The Wavemaster XXL will be so much helpful if you are a bigger person and looking forward for a heavy duty punching bag, then this will be the right choice for your training.

It's a heavy bag with a height of 69 inches and it is 18 inches in diameter.

Its height is not adjustable as it is designed for the people who are bigger in size or for taller ones.

It contains a heavy-duty vinyl cover which will not tear apart in case of hardcore training session.

If you don't want to cut your knuckles, then don't forget to wear punching gloves.

It is pretty difficult to move this bag because of its size and dia. It weighs about 270 pounds including base.

This bag is so much helpful for the training of martial arts.

It's a high-quality punching bag, for training of martial arts and boxing as well. It is specially designed for the people with heavy and bigger bodies.
Check Reviews of Wavemaster Punching Bag
>> Everlast 2 Dual Station Heavy Stand Review, Alternatives, Guide
FAQs:
Can wavemaster xxl punching bag help you stay strong?
yes, if you workout with the wavemaster xxl punching bag on a daily basis you can improve your workouts and your body's strength. And you can then replace the wavemaster xxl with a better and heavier punching bag. But for starters, it is a great fit.
Is wavemaster xxl better than other punching bags in the market?
I wouldn't say that it is better than all punching bags, but it is better than most punching bags. You can easily use the wavemaster xxl to train for ring fights. Or if you just train to improve your physical fitness, then wavemaster xxl will still serve the purpose.
Are wavemaster xxl replacement parts easily available?
Yes, you can find most wavemaster xxl replacement parts from Amazon easily. If you are not sure which parts are available, directly contact Century and they will send the spare parts to your address.
How much sand do I need for wavemaster xxl?
You will need three packs of 80lbs sand to fill the wavemaster xxl punching bag's base. The sand in total will weight around 270 lbs (pounds) when completely filled.
Compare prices of wavemaster xxl with other punching bags?
What other options of punching bags do you have available? First decide about a particular punching bag type. Do you need a hanging punching bag or do you need a free standing punching bag?
You have three options in free standing punching bags that can compete with this bag. Including:
– Century Versys bag
– Everlast Power Core
– Century Bob Fitness dummy
All these are great options between $200 and $400 range.
[amazon_link asins='B000EZWPM2,B00FX6NC3I,B07BL36JD4,B07N177XVP' template='ProductCarousel' store='sj0b3-20′ marketplace='US' link_id='e4fa81f0-ddb9-47c9-bf1a-2ff591dfd926′]
Final Word
Both the punching bags are great. Whether you are trying to become a boxer or are already one, the Wavemaster XXL punching bag is great for all your punching needs.
Read More:
Everlast Platinum Heavy Bag vs Everlast Omni-strike Punching Bag [Comparison]
Everlast Powercore Free standing Heavy Bag Review – Should You Get it?