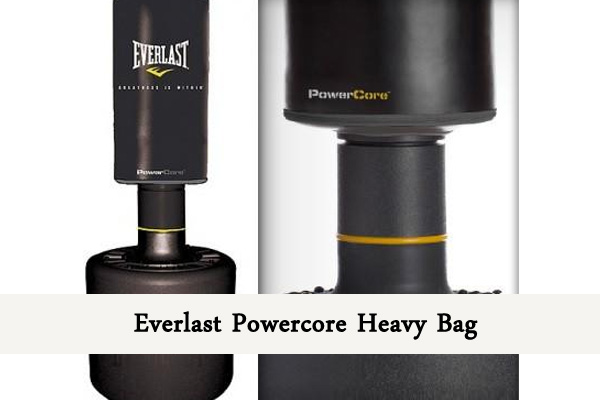 Everything you need to know about Everlast Powercore Freestanding Punching bag – the good, the bad, and the ugly.
Specifications:
250 pounds weight

Complete Ease of assembly

Complete with instruction manual

Structure type: Tri-disc foam structure for maximum energy dispersion

Provides superior impact absorption and re-coil

Complete accessibility for compact base

Height adjustment 52 inches to 65 inches
Everlast Powercore Punching Bag
Everlast 2228 PowerCore Free Standing Heavy bag is a durable bag made of a mixture of synthetic leather and vinyl. It is filled with sand or water to maximize the impact and further solidified with high-density plastic to improve your boxing. The base and the pillar leading to the base is also constructed of the same material. But there is a design flaw. The neck can't take on muich pressure and may crack.
>>> Read More Reviews of Everlast Powercore Freestanding Punching Bag <<<
However, it is made of high-quality plastic and can easily withstand regular kicks and punches. You need to make sure that if you are buying this punching bag you have a weight of a maximum of 200 pounds. This is because 250 pounds is the weight of the bag and you don't want that the bag cracks, do you?
If that happens, the bag will be rendered useless and it won't be of any use to you.
But at the same time most people have said that it works perfectly. In fact, a black belt has also tested it and he said that it survived.
Therefore, nothing can be said with certainty about the bag. It may work for you or it may not work for you. We can only inform you about what people have already faced.
In our opinion, it is a good fit for people who want to improve their cardio routine. The bag can easily take a few punches and kicks on the upper surface.
At the same time, we would like to mention that even kids can use it with ease. The everlast powercore freestanding punching bag supports small kids if the height setting is adjusted properly.
The heavy bag is easy to set up and take apart. You can easily roll it around to move around the room.
Features of Everlast Powercore Heavy Bag
Here is a list of powercore heavy bag features that make differentiate it from others. Learn what makes it stand out.
Solid Design
The powercore freestanding model is made of three metal rings placed on equal distance from each other to provide strength to the design.
Easy to Assemble
The punching bag comes with all necessary instructions to assemble it. You won't need a professional to help you out because the instructional documents and tools needed for assembly are available with it.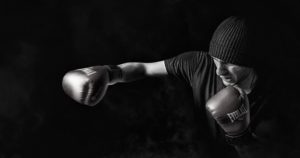 Disperses Energy to the Maximum
The powercore punching bag is available with tri-disc support, this Everlast Punching bag offers maximum dispersion of energy so that you can train with full force.
Greater recoil
The powercore freestanding heavy bag is available with power transfer ring collar. Due to this excellent recoiling facility, it absorbs kicks and punches to the maximum.
Incredible Toughness
The Everlast 2228 powercore freestanding heavy bag is solidified further with the Power Core steel plates to improve the overall strength, making them more durable and perfect for training.
Perfect Price and Increased Accessibility
The everlast powercore freestanding punching bag is available at a moderate price considering the weight it can support. Moreover, it can also comes with a compact base that makes the whole punching bag accessible to the users.
Everlast 2228 Powercore Punching Bag
Pros:
One of the best bag which is professionally designed and is best for outdoor and indoor workout.

This high-quality heavy bag weighs about 250lb when filled with water and up to 370lbs when it is filled with sand.

It enables air-foam chamber which provides high-quality and realistic feel.

It stabilizes your workout as it is professionally designed, and it maximize the force dispersion.

It has a round design which enables your easy movement across it and in this way you can easily target it in the best way.

It is exceptional for leg conditioning and hand-eye coordination.

The powercore power transfer ring absorbs the impact in exceptional way so that you won't hurt your wrist when you are hitting it in full force.

Its height is adjustable from 54 inches to 65 inches.

The solid base of this amazing heavy bag enables you to hit the target effectively and efficiently.
Cons:
This bag is not suitable for force training. If you love to hit heavy bags with force, then this is not the right bag for your training.

Everlast powercore heavy bag is quite a bit tough and difficult to assemble. Most of the customers have claimed that it is very difficult to assemble before training. This is the reason that most of the people doesn't buy this heavy bag.

It is good for the ordinary trainers but not good for the boxers who are professional and loves to hit the deck hard.

The Everlast Powercore heavy punching bag doesn't come with full year warranty. This bag comes with only 120 days warranty which is really short. Because of such short warranty, customers do not get satisfied.

It is a bag which is only for beginners, not for the trained and professionals boxers.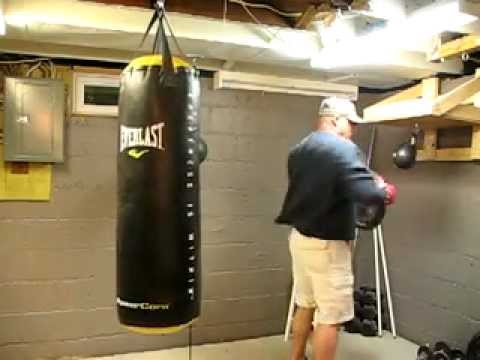 Who should use it?
Most reviewers of Powercore freestanding punching bag have said that the heavy bag is a waste of money for professional fighters. It is only suitable for people who want cardio workout and fitness only. If people are looking for professional boxing practice, then that won't be possible on an everlast powercore punching bag.
However, for beginners who want to start practicing boxing, the everlast powercore is a perfect punching bag for them. It is also great for women who want to burn fat through cardio workout. The people can also release stress through the punching bag.
Source: Pinterest
It is also great for martial artists who want to start boxing. The punching bag can also be easily moved from one place to another.
Alternatives of Everlast Punching Bag
As a professional fighter it would be difficult to use the Everlast Powercore freestanding punching bag. In that case, it is a better idea to go with Century Wavemaster XXL kickboxing bag instead.
Everlast Powercore Punching Bag
Read More:
Punching Bag Alternatives: What to Punch other than Boxing Bag
Why Everlast MMA Punching Bag is best for Muay Thai?
Everlast 70lb Youth Poly Canvas Heavy Bag Kit Review