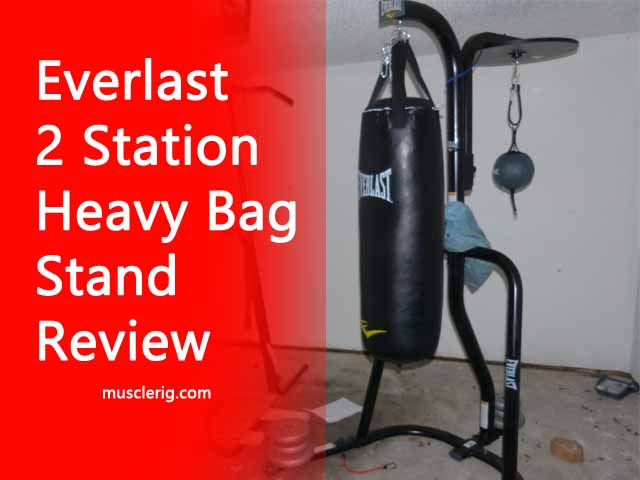 Everlast is one of the biggest sports equipment provider in United States. It provides martial arts and home gym equipment and accessories. The reason people prefer everlast is because it is one of the best punching bag sellers. Bags made by everlast are used by top professionals.
Everlast Dual Station 2 Heavy Bag Stand vs Muay Thai Kick Boxing Station
| | | |
| --- | --- | --- |
| Specs | Everlast – 2 Station Heavy Bag Stand | Muay Thai Kick Boxing Heavy Punching Bag Stand |
| Weight | Supports up to 100 pounds | 350lbs weight capacity |
| Warranty | – | 15 Year Warranty |
| Construction | 66.5 L x 47.6 W x 86.2 H inches | 7.8ft tall |
| Make | Powder-coated steel tubing construction | Heavy Duty |
| Manufacturing | – | Made in USA |
| Features | Holds both heavy and speed bags | All size up to 350lbs |
| Weight Support | Three weight pegs | Includes 4 unfilled sand bags |
| Assembly | Handles all speed bag sizes | Easy 7 screw assembly |
| Price | Check Price | Check Price |
But apart from selling punching bags, it also sells punching bag stations such as Everlast Dual Station Heavy Stand.
Let's discuss the pros and cons of Everlast 2 Station heavy stand and see if it fits your needs.
Features:
Power coated steel tube
three weight plates
88 inches height
Ideal for home gym
Maximize speed and power
Holds 100lbs weight
Reviews of Everlast 2 Station Heavy Stand
Overview of Everlast Dual Station Heavy Bag Stand
The Everlast 2 Dual Station heavy Bag Stand is made of steel construction and can hang both, a speed bag and a heavy bag. It weighs around 35kgs without any weight. It unassembled but due to a straightforward instruction manual, it can easily be assembled by anyone.
It has three pegs at the bottom where you can add weights to prevent it from moving while you punch the bags. It can also be bolted to the floor using nails. It comes with special holes for that purpose.
The Everlast 2 Station heavy Stand can easily hold at least 100 pounds of heavy punching bag.
Everlast punching bag stand is ideal for hanging punching bags because of several reasons. One, there is no fear that the bag will accidentally fall. Two, it doesn't ruin your ceiling or walls. Third, it is a great way to box indoors and outdoors.
Problem of Everlast Dual Station Heavy Bag Stand
One issue that we have observed with the 2 Station heavy Stand is that you can't practice boxing whole changing angles. As you can see, the punching bag is only on one side of the bag, you won't be able to practice boxing in complete 360 degrees. It restricts the movement a little. With that said, it is a great bag overall and comes at a moderate price.
Reviews of Everlast Dual Station Heavy Bag Stand
The bag has garnered a mix of positive and negative reviews.
Negative Reviews
Let's discuss the negative reviews first.
Low Quality
A user has said that the quality of the product is too low. After only a few uses the speed bag hook broke.
Hole Alignment issues
Some users have said that the holes of various parts of 2 everlast punching bag stand are out of place. So make sure to hammer them and get them straight before assembling.
Personally speaking, I don't think this is a fault from the manufacturer. These things can happen during the shipping of the products.
That's it.
Positive Reviews
Now a little about positive reviews.
Flexible
Some reviewers have said that it is greatly flexible. If the weights are properly placed, the bag doesn't budge and the user can easily practice punching.
Moderate for Punching
Some reviewers have said that it isn't that great but is durable. Users who want to start punching can easily do that using it. They have also added that keep it away from the wall because while punching it moves a lot and can easily bang into the wall.
Now let's see what are its pros and cons and see if you should actually buy it or go for some other everlast punching station instead.
Pros of Dual Station Heavy Stand
One of the best accessory to have at home or at your gym if you are fond of using punching bags or heavy bags.

As it is cleared from its name, 2 station or dual station stand, it is used for the training for speed and power at the same time.

It offers ease of assembly and you have to just fix the speed of bag on it and then you can use it as a speed bag stand.

On the other hand, you can use it as a heavy bag stand by fixing a heavy bag on it.

The Dual station heavy bag stand enables a sturdy foundation which holds the bag on its axis, just because of the powder coated steel tubes.

It is amazingly designed because if offers you a versatile platform to enjoy power and speed enhancing training at the same time.

It is greatly designed and offers a garnished look because of its smooth durable finish.

It offers you extreme ease of assembly and you can assemble it in minutes.

It supports the heavy bags up to 100lbs.

The Everlast Dual Station heavy bag is best to use for heavy duty or professional trainings.
Cons Dual Station Heavy Stand
The Everlast dual station heavy bag stand doesn't include the bags for trainings. You will have to get your own heavy bags for training.

It only supports heavy bags weighing 100lbs. other than this, it may fell down or may not be useful for heavy duty training.

If a heavy bag is fixed on it then it often wobbles and barely stands on its own.

This is the main reason why most of the users or trainers do not use such kinds of heavy bag stands for hardcore training.
Everlast Dual 2 Heavy Bag Station Alternatives
It is true that many people won't like the Everlast Heavy Bag Station and would like to know its alternatives. That's why we have added two of them below.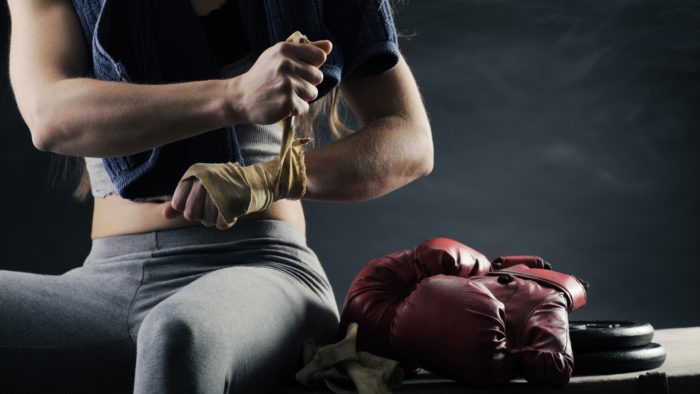 Everlast MMA Omnistrike Heavy Bag Stand
The Everlast MMA Omnistrike Heavy Bag Stand is made from steel and can hold a heavy bag weighing up to about 100 pounds. The stand itself weighs approximately 54 pounds without any bags or added weights. Like other punching bag stands, it also has 3 base pegs intended to put weight plates on order to ensure stability. It features a pull up bar on the opposite side from the heavy bag, adding an extra dimension to training routines.
Read More:
Nevatear vs Poly Canvas Punching Bags – What's the difference
Everlast Platinum Heavy Bag vs Everlast Omni-strike Punching Bag [Comparison]
Everlast Powercore Free standing Heavy Bag Review – Should You Get it?