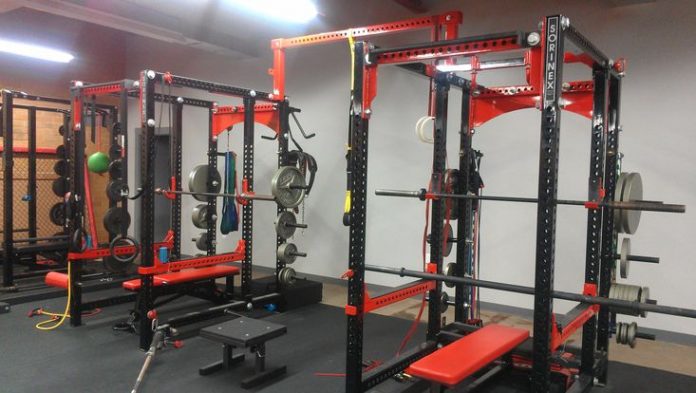 Pulley systems are flexible pieces of equipment that can be added to your home gym.
Pulley systems are far less expensive than lat pulldown machines and may be hung and hooked from any secure surface, such as a pull-up bar, the top of your power cage, or an anchored hook on your ceiling or wall.
Cable workouts, whether done with a home gym pulley system or not, provide consistent stress in the muscles and enable you to isolate and target smaller and larger muscle areas, among other benefits. Connect the pulley to your cable machine attachments of choice and you're ready to go.
Until recently, the only way to get the advantages of cable training was to visit a gym or purchase a pricey cable crossover machine.
Main features of Compact Home Gym Pulley Systems
What's Inside An Everlast Punching Bag? Let's Find Out
The following is a list of the top home gym pulley systems for every kind of lifter, athlete, and budget.
Let's get started straight now.
With over 2,000 five-star ratings, Mikolo's home gym pulley system is an Amazon's Choice and highly rated set (click here to see reviews on Amazon).
The set includes a straight-row bar, a triceps rope, and up to 90 inches of cable, giving you many workout options.
A heavy-duty buckle secures the weights on the pulley, and the tiny size and simple construction allow you to swiftly connect it to anything substantial you have at home, from your favorite power rack to a free-standing pull-up bar to metal beams.
Five Best Push-Up Bars For Wrist Pain
The pulley's maximum weight capacity is 280 pounds, making it a home gym pulley appropriate for even the strongest among us. The Mikolo is my favorite home gym pulley system for most gym users, costing slightly over $60 (see Amazon for current price and stock).
Rogue manufactures some of the most durable and long-lasting gym equipment on the market. I've never hidden my affection for their products, whether it's the Rogue Hip Thrust pad, Olympic barbells for home gyms, an adjustable weight bench, the "kettlestrap," or anything else.
So it's no surprise that Spud Inc.'s Econo Pulley (sold and supported by Rogue) is a complete pulley beast. It has a 75″ cable and a maximum weight of 550 lbs, making it by far the most powerful on the market.
The high and low pulley systems are designed to be attached to a squat rack or cage and are offered individually or as a pair (the pair costs about $200—check Rogue's website for current pricing).
The pulley systems, on the other hand, do not come with a plethora of attachments and bars. For example, the lat system features a tricep rope but no lat pulldown bar.
Best Hip Thrust Pads For Heavy Weight Training
The Spud Inc Pulley Systems are the finest for experienced lifters and athletes if you already have some bars at home or have the funds for them.
If you just need a pulldown pulley and don't require a lot of extras and bells and whistles, LFJ has the pulley system for you.
It has a pulley, a peg to hang weight plates on, a straight bar, and a triceps rope. That's all. All for less than $40, making it an excellent low-cost option to some of the more heavy-duty kits on our list.
Despite its inexpensive price, LFJ's Pulley System can hold up to 220 lbs, which is more than enough for most of us. Installation is also a breeze: just wrap the double-stitched nylon strap and carabiner over your pull-up bar, power rack, or any other secured and ready-to-hang heavy object.
The Mindful Athlete – Book Summary & Key Points
For an additional $69, LFJ offers a "premium" version with additional ankle straps, handles, and carabiners.
This SYL Fitness cable pulley system is another low-cost and inexpensive option.
Each set includes a heavy-duty rope and pulley, a nylon loop to hook and anchor to any bar, and a selection of handles and bars.
(Depending on the size of your weight plates, the set comes with 1″ and 2″ pins that suit both non-Olympic and Olympic plates.)
The additional 20″ extension chain that you can connect to the cable for activities that demand a lengthy cable and a larger range of motion is a much-appreciated feature of this pulley.
Prices range between $35 and $45 based on the pin size of your weight plates.
Which

set

of

workout

pul

leys

makes

it

easiest

to

lift

weight?
The set of workout pulleys that makes it easiest to lift a weight is a cable pulley system, which utilizes two sets of pulleys to reduce the amount of weight that needs to be lifted. A cable pulley system is composed of a cable, two pulleys, and a weight stack. The cable is connected to the pulleys and the weight stack. When the cable is pulled, the pulleys rotate, reducing the amount of force needed to lift the weight. Cable pulley systems also provide a greater range of motion and allow for more versatility in the types of exercises that can be performed. This makes them ideal for weightlifting and strength training.
What

is

the

Best

Cable

pul

ley

system

for

home

gym

?
The best cable pulley system for a home gym is one that is versatile, durable, and easy to install. The Body–Solid Pro Dual Modular Pulley System is a great choice for any home gym. It features a two–tier cable pulley design, allowing for a variety of exercises. The system is made from high–grade steel and features a sleek, modern design. Installation is easy, and the system can be adjusted to fit any home gym space. The Body–Solid Pro Dual Modular Pulley System is a great choice for anyone looking for a versatile and durable cable pulley system for their home gym.
How to Clean Dumbbells and Weights at Home?
What is best Home gym wall pulley system?
The best home gym wall pulley system is one that is adjustable, sturdy, and easy to use. Look for a wall–mounted system that has adjustable height, a wide range of cable attachments, and a wide range of resistance levels. Make sure the pulley system is made of durable material that can withstand heavy use. Additionally, look for a model that includes a built–in monitor to track your progress. Also, make sure the pulley system is easy to install and use. With the right wall pulley system, you can get a full–body workout in the comfort and convenience of your own home.
Are home workout pulley systems worth it?
It depends on what you're using them for. Home pulley systems are great for helping you build strength and improve your physical fitness. They're also relatively inexpensive, making them a good value for those looking to get a good workout at home. However, if you're looking for something to help you build muscle mass, you may want to look at other equipment like free weights or weight machines. Ultimately, whether or not a home pulley system is worth it depends on what you're trying to accomplish with your workout. If you're looking for a good way to stay fit and build strength, then it can be a great investment.