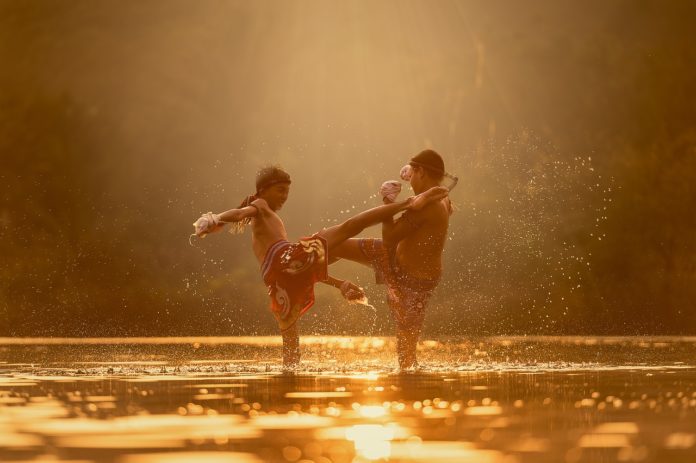 What should you wear to an MMA or UFC fight? Learn everything about the MMA attire and clothes below.
Seeing an MMA fight in person is one of the most thrilling experiences a person can have. It's common to see the UFC analysts and ring announcers decked out in full costume. What, you have to get dressed up too? What to dress for an MMA bout is covered in detail here.
MMA Shorts
Contestants must wear MMA battle shorts that have been authorized by the commission, such as board shorts, bicycle shorts, Vale Tudo shorts, kickboxing shorts, or other permitted shorts.

No Speedo shorts allowed.
Best Fitness Tracker For BJJ (Brazilian Jujitsu)
MMA Shirts
Gi tops are not permitted, and males are not permitted to compete in shirts.

Female competitors must wear commission-approved clothing.
9 Best MMA Gift Ideas You Should Know!
Protective Gear for MMA Matches
A list of protective gear that you should be wearing to an MMA fight is available below.
MMA Gloves
Fighters must wear open-fingered gloves that the commission has authorized.

Protective gloves must be no heavier than 6 ounces and no lighter than 4 ounces.

Larger gloves may be worn with permission.

The promoter must furnish the gloves; MMA athletes cannot supply their own.

To prevent injury, the knuckle region must have at least one inch of cushioning.
You may be wondering why MMA fighters wear protective gloves. They must wear commission-approved, open-fingered gloves for many reasons. For starters, a fighter's hands are his or her main weapon. Contestants need fit hands to complete their jobs and remain on track. Fingers, knuckles, and wrists are very sensitive and prone to breakage and injury. Fighters need gloves that protect them and enable them to grapple, grab, grip, and execute jaw-dropping submissions!
MMA Mouthguards
During a fight, athletes must always wear a commission-approved protective mouthpiece.

Rounds do not begin until the mouthpieces of the participants have been inspected and authorized by their attending physician and are in place.

If a mouthpiece gets knocked out of position during a bout, the referee will pause the action, clean it, and replace it.
Hand Wraps for MMA Match
Make sure you have hand wraps available for the match. Hand wraps protect your hands from unnecessary damage and they also keep the gloves from moving. Use some good headwraps for your MMA match so that they can take the beating without getting damaged.
MMA Hand Gloves
Make sure that you have fighting gloves of your size. MMA hand gloves of 8oz to 10oz are fine if you are fighting in an MMA match. However, the glove sizes also depend on the match.
Most professionals use 8oz MMA gloves for fighting in the matches. However, UFC allows glove sizes from 4oz to 6oz only. You can see the complete size chart for MMA fights on MMA gloves Wikipedia page
Groin and Chest Protection for MMA Fights
Male fighters must wear groin protection during a battle.

Female combatants are not permitted to wear groin protection.

Male combatants may wear any protection they like as long as the commissioner permits it.

A jockstrap and a protective cup are used for groin protection.

During tournaments, female fighters must wear certified chest protection.
What Is a 'No Contest' in MMA?
Breast Protectors for Female Fighters in MMA Matches
Female fighters in MMA matches MUST wear complete groin and breast protection to ensure that they are not seriously injured during the MMA fight. MMA fights usually have a knock out rule, and hits to upper body including breasts and lower body including groin are common.
Breast and groin protectors ensure that no serious injuries are caused to the female fighters during the fights.
What Martial Arts Does Black Widow Use?
Are you a fighter or a spectator to an MMA match?
If you are not fighting in an MMA match, then you have the liberty to wear anything that you like. But if you are in the game and fighting in the right, then you should follow the above MMA clothing tips we mentioned.
Can You Wear Pants to MMA Fights?
If you are fighting in an MMA match, then it is absurd to wear a pant because it will just get in the way and will probably make you fall. Pants are tight and they cause friction in your movement. This means your opponent will have more time to target and strike you.
Wearing pants to MMA fights as a fighter is a BIG NO!
Let us know in the comments below about your thoughts.