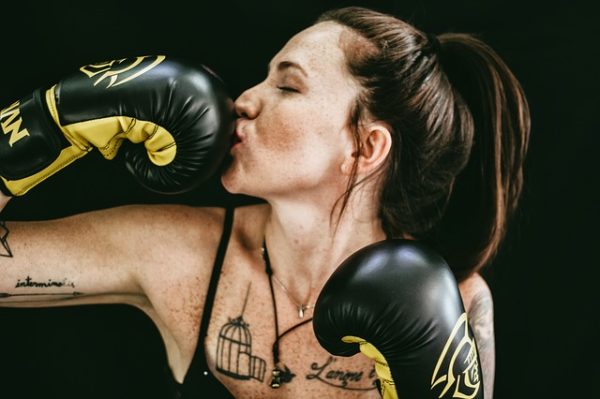 Sparring gloves are used for direct fights between boxers. The standard pair of boxing gloves are not sparring gloves because they are from 8oz to 12oz. These gloves are too small for sparring. However, the sparring gloves are either 14oz or 16oz depending upon the fighter's requirements.
Most MMA sparring gloves are between 12oz to 14oz for most male boxers. While, females use 10oz to 12oz MMA sparring gloves during practice.
They mostly use heavy gloves (more oz) during practice and less (oz) or 8oz to 10oz during actual fights because that increase hand coordination.
However, if you are still not sure here is the whole chart describing the MMA sparring gloves by the boxer's weight and hand circumference.
| | | |
| --- | --- | --- |
| BOXERS WEIGHT | HAND CIRCUMFERENCE | WEIGHT |
| 40-50 kg | 90-112 lbs | 14-16.5cm | 5.5-6.5″ | 8oz |
| 50-59 kg | 112-132 lbs | 16.5-19cm | 6.5-7.5″ | 10oz |
| 59-74 kg | 132-165 lbs | 19-21.5cm | 7.5-8.5″ | 12oz |
| 74-86 kg | 165-190 lbs | 21.5-24cm | 8.5-9.5″ | 14oz |
| 86-92 kg | 190-205 lbs | 24-26.5cm | 9.5-10.5″ | 16oz |
Even during practice with punching bag, the sparring gloves are essential. They help restrict injuries.
We made a list of MMA sparring gloves that you can choose from. These are some of the best MMA sparring gloves for regular training.
Short on time? Here is the complete MMA Sparring gloves comparison table.
List of Best MMA Sparring Punching Bag Gloves
Here is a list of the best MMA punching bag sparring gloves if you want to practice boxing at home then they are one of the best options for you.
Combat Sports is known for producing high quality MMA sparring gloves. Their products provide value for money and these regular boxing gloves are no less in terms of quality than other products manufactured by Combat Sports. The gloves are made of synthetic leather to ensure that they are durable and suitable for continual use. The padding is formed with four layers of foam and provides a decent fit and coverage which ensures wrist protection. However, a few people had a problem with the loops not fitting properly but that is mainly due to the wrong size being ordered. These gloves provide good quality for a very affordable price.
Check Reviews of Combat Sports MMA GLoves
Rdx's MMA Sparring Gloves have proved their effectiveness and have been increasingly used for sparring and training sessions. Its most attractive feature is that Maya hide synthetic leather is used in its construction which makes it very resilient. Moreover, knuckles are well protected with heavy padding over them. This not only protects knuckles against shock impact but also enables you to throw better punches. Another useful feature is that moisture wicking synthetic microfabric has been used in the manufacturing of the gloves which prevents moisture and makes it more comfortable to use these gloves.
Check Reviews of RDX MMA SParring GLove
These well-designed Everlast's gloves have an anatomical thumb padding which has proved to very popular amongst the customers as it provides better protection while maintaining mobility. They also provide decent wrist support with its 18" hook and and loop wrist strap. Moreover, the gloves have an EverFresh liner so that hands don't get sweaty and training sessions are comfortable. The gloves have open palms to access items without having to remove gloves. Apart from this, Everlast also offers 120 days warranty which is another incentive.
Check Reviews of Everlast Train MMA 7oz Gloves
The Sanabul sparring gloves are one of the best of its kind. They are perfect for transitioning between grappling and striking sessions without having to change gloves. The gloves are made of high quality durable material which is designed to last long. Most importantly, it uses Durasoft impact protection foam which is approved by all their customers as it prevents injury by providing soft protection. Another unique feature is the velcro closure system which allows you to put on and take off gloves quickly while ensuring a secure fit. It's most appreciated feature is the efficient shock absorption while striking. All in all, Sanabul is providing a great product with a very affordable price.
Check Reviews of Sanabul MMA Hybrid Sparring Gloves
These gloves provide good protection with its Durafoam closed cell padding and claim to provide wrist support as well with its tri sect closure. These are very light gloves and have contoured fits to allow you to use your punching techniques effectively. The gloves are adjustable and comfortable to wear. However, a few customers have complained about the loose stitching. Concisely, the gloves seem to do their job pretty well and considering the very low price, this might be what you are looking for.
Check Reviews of Suten MMA Sparring Gloves
Conclusion
That's it. These are some of the best MMA sparring gloves for beginners who are just starting to box. You can buy any of these but in my opinion the RDX gloves are the best, though a little costly.
On the other hand, you can go with durafoam Sanabaul and Suten punching bags but they are low on padding so you have to think carefully before ordering an MMA punching bag gloves pair.