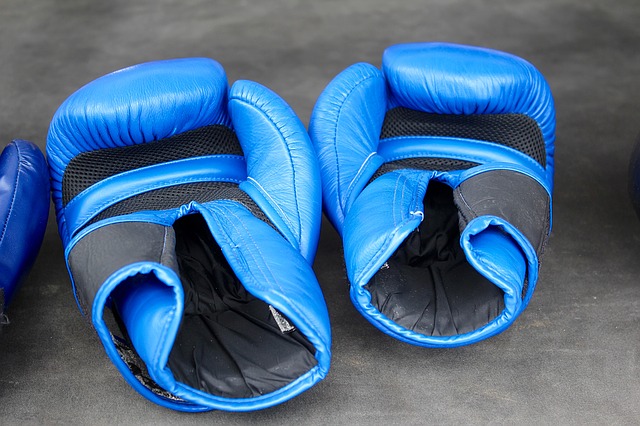 RDX is a company that has always offered its customers a wide variety of choices and have produced top quality gloves and other fitness gear over the years. It has thus, become a popular brand amongst the professionals as well as the amateurs.
Technical Specifications:
Weight: 0.5 pounds
Size: 10 oz to 16 oz
Leather Type: Maya hide leather
Material: Moisture & shock absorbing material
Remarkable Features: Tri-Slab PC3 padding curves over knuckles to deliver efficient protection against shock-impact
Alternatives: Everlast Pro Style MMA Gloves & Venum Challenger MMA Gloves
[amazon_link asins='B00Q709A6C' template='ProductAd' store='sj0b3-20′ marketplace='US' link_id='da08c65e-9f9d-11e8-8315-13d260673179′]
Check out RDX MMA Gloves' Reviews
Why Buy RDX MMA Sparring & Training Gloves?
There are four main reason to buy RDX MMA and Muai Thai Boxing Gloves.
They Ensure Safety:
These gloves are made with extra cushioning that offers maximum protection and comfort. The gloves also protects your hands from bruises and inflammation due to impact.
They Have Stronger Grip:
Usually most gloves are loose and when you punch with them the foam moves to the side of the fingers and your knuckles covered only in leather hit the punching bag. This is terrible for your fingers and can lead to excessive boxers fracture that lasts for a lifetime.
When you use RDX MMA punching bag gloves, they are body fit. It means there won't be any gap present within the glove. Even if a gap is left, it is covered with the tight wrist wrap available.
They Offer Strong Wrist Support
Experts have designed the RDX MMA hand wraps and gloves to provide an extra ordinary wrist support through wrist-lock strapping technology. This offers complete accuracy and protection during fights and practice matches.
Moreover, if your wrist remains protected you will be in a good position to fight and play boxing matches for a long time. Many boxers leave boxing just because the wrists become injury effected and there are too many cuts and bruises.
They are Reasonably Prices
It is a well known fact that professional gloves and wraps are highly expensive around the world. But the RDX MMA sparring gloves are made for the mid-tier segment so people who are interested in sports but don't want to spend too muchc on this hobby can easily get gloves that provided optimum protection and are adequately prices.
In fact, gymnasts all across the America recommend these gloves because of their high quality and professional feel.
These are the reasons why expert trainers and professional boxers recommend the use of RDX MMA Sparring hand gloves and wraps. You can easily buy them online or from the market near your town.
Features of RDX MMA Sparring Gloves
These Maya hide gloves come with a dozen features. We have selected the best ones among them to provide you an idea about how these gloves can be helpful to you.
Known as 'Indestructible'
The gloves are made of cowhide leather which ensures their durability. RDX itself describes these gloves as 'indestructible'. Customers too have approved of the strong quality.
Another highly praised feature is the gel technology used in the manufacturing. The layers of gel technology will provide you greater resistance to shocks as the layers improve shock absorbency.
Quick EZ hook and loop closure has proven to be effective in providing maximum wrist support and a comfortable fit. These MMA gloves will ensure that injuries are prevented.Many customers have claimed that this has improved their practice MMA sessions.
Ventilation for Sweaty Palms
As some customers had previously complained about their hands getting sweaty, RDX has with its triangular Nabla Palm overcome this problem.The RDX 2TGL has ventilation holes on the fingers and have a fully sleeved thumb which ensures that hands remain dry and will prevent any discomfort.  The design ensures sufficient ventilation and even though heavy padding is used, the palm remains free and does not interfere with your grappling work.
Check out RDX MMA Gloves' Reviews
Cons of RDX MMA Sparring Gloves
When looking for any downsides to these RDX T2GL gloves there are hardly any worth mentioning. Although, some customers have claimed that the gloves ended up wearing out relatively quickly for them, such complains appear to be very rare.  
Alternatives of RDX MMA Grappling Gloves
Here is a list of alternatives of RDX MMA grappling gloves that you can use instead of the RDX MMA gloves if you are searching for fine quality gloves for home gym fitness.
Cheerwing Boxing Gloves MMA UFC
One reason we have added Cheerwing boxing gloves as an alternative to RDX MMA gloves is because of their extreme durability. They are perfect for long-term use because of the soft leather they use. They also offer optimum protection from punching impacts. Though these gloves have a stiff shape, but they accurately mold to the user's hand shape.
Dimensions of Cheerwing MMA gloves:
8.74″ x 5.12″ x 1.97 " / 22.2 x 13 x 5cm
Check Out Reviews of Cheerwing MMA Boxing Gloves
Venum Challenger MMA Gloves
Venum Challenger MMA gloves are high density gloves with thread needle works. They offer layered foam protection and absorb high impact shocks delivered while punching. The Venum Challenger gloves offer adjustable straps and exclusive Velcro straps that adjust to hands of all types.
These Venum Challenger MMA gloves reinforce each finger and thumb opening and absorb all kinds of punching bag, punching mitt, and sparring shocks.
Check Out Reviews of Venum Challenger MMA Gloves
Everlast Pro Style MMA Grappling Gloves
Everlast is one of the oldest brands in sports. It produces quality sports clothing and equipment that's available for a reasonable price. The Everlast Pro Style MMA grappling Gloves were introduced in 2010. As a premium synthetic leather gloves with lasting durability, the Everlast Pro Style provide an ergonomic design that are a perfect fit for both small and large sizes.
Check Out Reviews of Everlast Pro Style MMA Gloves
FAQs
What is RDX MMA Sparring Punching Gloves size guide & chart?
RDX has provided its own chart for the MMA and boxing gloves. If you are using gloves for sparring then this size will be effective for you.
However, if you are looking for grappling gloves then head over to this blog to check out the MMA gloves sizing.
What is RDX MMA punching gloves weight?
Weight and size are the same thing. If you are thinking of buying RDX mma gloves and you are around 70kgs to 80kgs in weight, then you should go for either 10oz or 12oz MMA gloves sizes.
That's it. People often ask about the weight question when they aren't sure if size or chart or weight are the same thing.
Where can you buy RDX MMA Punching gloves online?
There is a good news for you. RDX MMA punching bag gloves are now available at all top stores online such as Amazon. It offers a diverse range of boxing gloves for anyone who is beginning boxing as a hobby.
Please see the alternatives of MMA boxing gloves that we have mentioned above or check our their reviews on Amazon.
Check out RDX MMA Gloves' Reviews
Conclusion
Conclusively, it can be said that the RDX 2TGL gloves are currently one of the best on the market and this claim can be reassured by the many positive reviews given on Amazon and elsewhere. The gloves can be bought for under $50 from Amazon. This can be a perfect purchase, considering the great quality being provided and a reasonable price.