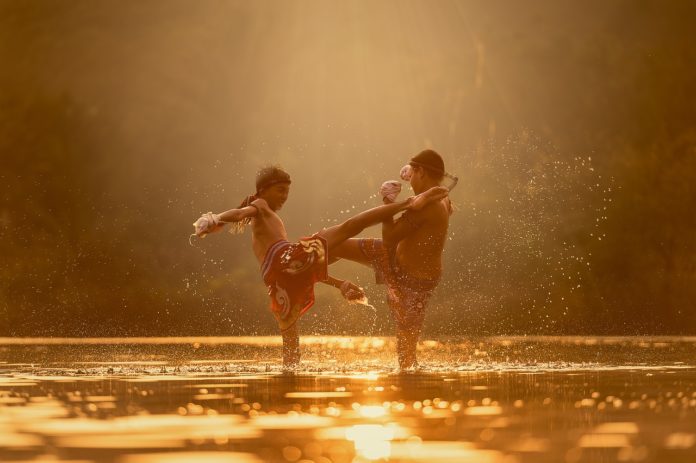 MMA is a great sports for all ages. People want their children to learn MMA boxing. It's very important to have suitable gear which is comfortable and provides protection while practicing MMA.
Below, we have mentioned some of the best MMA gear for kids. The good thing is that you can also use these MMA gear for Kick boxing and jujitsu fighting.
Cheerwing 4oz PU Kids Boxing Gloves
These gloves are amongst the best selling products on Amazon. The gloves are made of high quality PU leather and Eva foaming which makes them durable. It has an elastic wrist strap to provide a perfect fit and maximum wrist support. These gloves will ensure that kids small bones and tendons are protected while throwing punches. At an affordable price of $12+, these gloves will work well for your kids while practicing MMA sports.
But make sure that your kids are small because these are only available for kids that are between the age of five and ten.
If the kids are above that age they can then get the Sanabul MMA sparring gloves.
Pros: The MMA gloves for kids are lightweight, stylish, and offers complete comfort
Cons: Make sure you get the right size. Please read the size chart before ordering them because some users have reported that they received a size that was too small.
Buy Cheerwing PU Kids Boxing Gloves
RDX is known for producing high quality sports gear including MMA head gear for kids and youth. The head guard contour is fit for a child's head and does not wobble during sparring practice. It uses non-slip material for inner lining that wicks moisture and allow kids to remain cool and less sweaty. It has sufficient padding to provide protection and prevent any injuries to the users. The RDX boxing head guard has adjustable hook and loop straps to ensure a comfortable fit to the kids.
Pros: RDX headgear offers complete protection for eyes, ears, and head.
Cons: They don't offer protection for chin and nose othriese the RDX headgear is perfect for kids to wear for protection.
Made of synthetic leather, these shin pads by Farabi will ensure protection of the shin. It is suitable to be used for kids MMA sessions as it provides snug fit for the shins but at the same time do not limit flexibility. The farabi MMA shin pads for kids use PU injected mould for its manufacturing to increase the shock absorbency. It is great for safety and helps prevent serious injuries and strong blows.
Pros: Farabi has made the kids with strong velcro and shock absorbing pads that cover both the shins and the feet.
Cons: Some users have complained that the Farabi Shin guards come in different qualities, where pink shin guards are of low quality while red shin guards are of high quality.
While making your move, make sure you are aware about the pros and cons of these shin guards. If you are unsure, simply check the review section of the Farabi kids shin guards on Amazon.
Buy MMA Shin Guards for Kids by Farabi
Kids MMA Rash Guard Sleeves
The moisture wicking short sleeves shirts by Epic gear will protect the skin of kids by preventing rashes which are often a result of long MMA training session. The rashes can be irritating and painful for the kids, so the MMA rash guards for kids will help them practice comfortably. This shirt can be bought for $20+ at Amazon. This foam fitting shirt has been highly praised by users who have actually voted it 4.7 in ratings as of writing of this article.
Kids can wear the rash guard sleeves while practicing for MMA, Jujitsu, and other similar sports. It comes with various sizes that you can see on the QnA section of the MMA rash guard sleeve page on Amazon.
Buy Rash Guard for MMA Practice
Made of fourway stretch fabric, these shorts are perfect for MMA and UFC training sessions as they are comfortable, flexible, and provide utmost satisfaction. These kids MMA shorts for kids come with double velcro closure system as well as an inside drawstring helps to tighten or loosen the shorts as needed. These shorts by Epic MMA gear will prove to be an essential item needed for MMA.
Pros: They are perfect size and do the job pretty well. These shorts hold up perfectly on the waists of small kids.
Cons: Most users of the shorts have said they are sloppy and now sewn perfectly.
So, while buying good MMA training shorts for kids, make sure that you know both the cons and the pros so that you can make an aware decision.
Buy MMA Sports Shorts for Kids
These are some of the best MMA Gear for kids that you can easily buy from a reputable online store. Whether your kids are learning MMA in home or at a gym, these will keep them safe and are completely inline with the latest fashion trends.