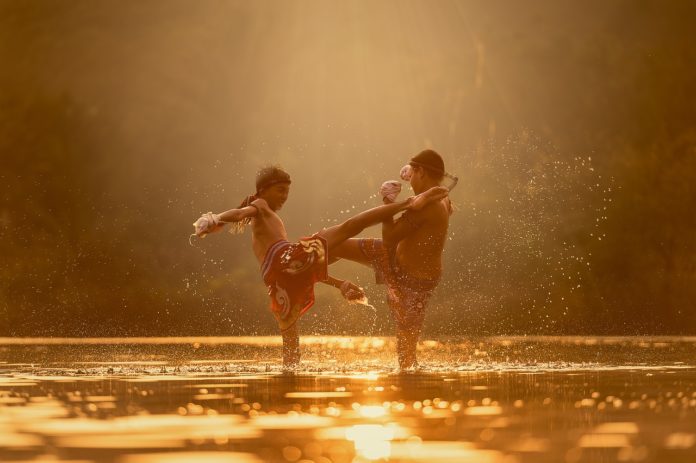 My kids love to fight at home. As I have remained a martial artists myself, I know how important it is to make your kids learn to fight. The children imitate their parents. If  the parents are a fighter or know about boxing, martial arts and other sports, they will also teach their children what actually is happening.
There are several reasons to learn MMA while young.
It gives you a boost of confidence
It helps you clear your brain and think from outside the box
Children don't do physical activities these days. They are too much engrossed in virtual activities that their muscles stop developing.
>>>We Have Some of the Best PowerLifting Books! Check them Out
By learning martial arts, the children are not only able to learn about fighting skills, but they can also get better physically. The body will develop faster, and they will feel healthy.
Youper Boys Padded Sliding Shorts
Made of 88% polyester and 12% spandex, Youper's muai thai shorts for kids are one of the most popular shorts. These are usually worn by kids that practice MMA on a regular basis. These shorts are very comfortable as special attention is paid to its design. Moisture wicking four way stretch fabric is used to allow kids to practice mixed martial arts for long periods of time by staying cool. Moreover, increased protection is provided by the protective athletic cup inculcated in the design. These shorts can be bought on Amazon under $22. These shorts are perfect for kids in the age range of 4-13.
Buy Youper Boys Padded Sliding Shorts
Epic gear has been producing good quality and affordable sports equipment and apparel since quite some time now. Amongst its most popular products are these MMA shorts for kids. They are made up of 4 way stretch fabric to allow enough room to practice all moves and to ensure flexibility. The fabric absorbs moisture quickly, preventing any discomfort. It comes in 6 colours. The shorts have double velcro closure and also an inside drawstring so that the size can be adjusted. Care must be taken while ordering the size suitable as these shorts are true to size.
Buy Epic MMA Gear Shorts
Premium MMA Training Shorts
These MMA Fighting Shorts for Kids by Ring to Cage are made of polyester fabric and have been praised for their high quality. They provide a loose fit and are perfect for practicing grappling techniques. Customers have loved the fact that they have bi-directional adjustable waistband with internal drawstring as this has overcome the problem of shorts being too loose or too tight for many customers. They do not limit flexibility like some of the other MMA shorts.
4-Time All American Elite MMA Shorts
These shorts are great for kids who want to learn MMA. The muai thai shorts come in all sizes and are suitable for kids as well as adults. The shorts are popular due to their durability and high quality material being used in its manufacturing. Kids can wear these shorts to practice and compete in all sorts of MMA activities. The polyester and Lycra-Spandex blend make these shorts stretchable and provide room for flexibility. Moreover, the sublimated pattern on the front and back of shorts will not peel or fade away.
Buy All American Elite MMA Shorts
What to Look For in MMA Shorts for Kids?
While buying Muai thai shorts for kids looks easy, it isn't so in real life. Here are a few things that you need to check while buying kick boxing shorts that fits your kid.
– Size
An obvious but relevant one. You will look for size of the MMA fighting shorts for kids before buying them. Shorts are of different sizes ranging from S, L, XL, and more. They can also range from 10 to 24 inches. Usually, the waist size is considered during the production of MMA shorts for kids.
– Durable
The durability of MMA Fighting Shorts for Kids depends on the quality of stitching and the type of cloth material used. Usually some kind of stretch fabric is used for MMA shorts. This can range from  cotton to parachute with stretch material. One thing to note here is that shorts need to have double lair stitching. You can't measure the durability of shorts without testing them or reading reviews of people who have already tested those shorts.
– Color
It completely depends on you. The MMA shorts are available in multiple colors. These can range from matt black to pure white. Green, purple, pink, blue, there are many colors that you can choose from. Most BJJ and MMA shorts for youth are now available with patterns.
– Features
Finally the wearer of MMA Fighting Shorts for Kids needs to see the features of the type of shorts he is buying. The features also lead to the price point of each types of shorts. For example, if you need MMA shorts with sweat resistance, then the shorts need to have that feature available. Or, if you need breathable fabric shorts for MMA, then those are also features that should be a part of the fabric.
>>> Check Out Why People Prefer Home Gyms