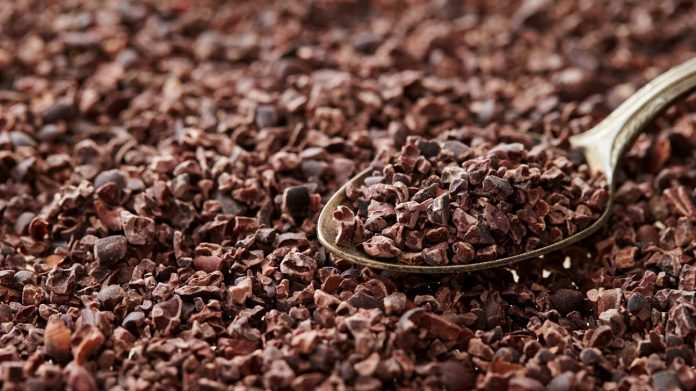 Cacao nibs are little particles of cacao beans that have been crushed. The cocoa tree produces these beans, which are typically picked in South America.
Cacao nibs have a unique flavor from the sweetened milk chocolate that many people are accustomed to. These nibs, on the other hand, have a robust flavor profile. They have a chocolate fragrance and a bitter, almost salty flavor, similar to extremely dark chocolate. They make a terrific snack or addition to smoothies or other foods, even if they don't completely fulfill your sweet taste. We looked at some of the best quality cacao nibs on the market to see which ones are the best to pick up before your next heavy deadlift or squat session.
Best Quality Cacao

Nibs
Best Organic Option: Navitas

Best For Topping: Terrasoul Cacao nibs

Best bulk buy: Viva Naturals Cacao Nibs

Best for smoothies: Healthworks Cacao nibs
The Best Organic Cacao Nibs Alternatives
When you first open a bag of Navitas Cacao Nibs, you'll probably notice a strong dark chocolate aroma. These nibs have an uneven chunky texture that gives them a genuine feel. The breakup of the nibs against consistent machine cuts is a welcome variation from a lot of the competitive market, but because the product is organic, it should go without saying. They're USDA Organic, non-GMO, and Fair Trade certified nibs.
People who want a flavor that tastes like bitter dark chocolate.

Those who like to buy organic goods.

People who were on non-GMO, Fair Trade certified cacao nibs.
People with a limited budget.

People seeking smaller serving sizes.
The Best For Toppings
This non-GMO, keto diet-friendly and vegan-friendly snack are touted as a chocolate chip substitute. They're fairly sweet, with a chocolatey fragrance and a pleasant bitterness, and they don't leave much of an aftertaste. They are from Peru and are USDA Organic certified.
Who Should Consider Buying Terrasoul Cacao Nibs?
Those who do not want a bitter aftertaste.

People who follow a vegan diet.
Who should not consider buying Terrasoul Cacao Nibs?
People who don't have a lot of time to take out shells
Buy Terrasoul Cacao Nibs Online
The Best Bulk Purchase
Viva Naturals Cacao Nibs are organic, non-GMO, vegan, and gluten-free. Even though these sugar-free nibs are marketed as "nature's chocolate chips," they have a harsh taste and a particularly brittle texture. That isn't to suggest they don't taste delicious, but if you want a smooth chocolate flavor, the marketing can be misleading. These nibs are promoted as having a variety of purposes, including eating them straight up, blending them into a smoothie, putting them into salads or breakfast cereals, and so on.
Buy Viva Naturals Cacao Nibs Online
Who Should Buy Cacao Nibs from Viva Naturals?
Anyone on a budget

Those who want a non-chocolate flavor nib to add to their meals and snacks.
Who Shouldn't Buy Cacao Nibs from Viva Naturals?
Those who like a stronger chocolate flavor

Those who want to avoid a strong aftertaste.
Best Cacao Nibs for Smoothies
The Healthworks cacao nibs are a little smaller than some of the rival cacao nibs, indicating that they've been crushed a little more — which makes them easier to blend. These organic nibs aren't as crunchy as some competitors, and the aftertaste isn't as strong.
It's advertised as being fantastic in smoothies, granola bars, and trail mix, and it comes with a recipe for avocado chocolate muffins (which are delicious).
Who Should Buy Healthworks Cacao Nibs Online?
Those seeking an excellent nib to use in baking.

Those who like a softer, less crispy snack.
Who Shouldn't Buy Healthworks Cacao Nibs Online?
Those who prefer a stronger flavor or customized flavors that are not available online.

Those that are looking for labeled brands that are only available offline.
Buy Healthworks Cacao Nibs Online
How We Made Our Selections of Best Quality Cacao Nibs?
Cacao nibs may be a good alternative to try if you want to cut down on added sugars while still obtaining some of the richness and bitterness of dark chocolate. Cacao nibs are a quick and easy method to add a rich, bitter taste to your menu. They're commonly used in salads, smoothies, trail mix, and other dishes. Additionally, they are less likely to make you feel as heavy as chocolate after eating them, which is a minor but welcome benefit if you plan to squat or lift heavyweights in the gym right afterward.
While promises that these sugar-free raw nibs may replace chocolate chips may be a stretch, they certainly provide some of the delicious bitterness of chocolate in a crunchy, compact package. Before adding one to your cart, consider a few essential aspects, like the taste, pricing, packaging, consistency, nutrients, and cost.
Cacao nibs are a natural, unprocessed alternative to chocolate. While cacao nibs will never be mistaken for a candy bar, they do have some of the bitter flavors of rich dark chocolate.