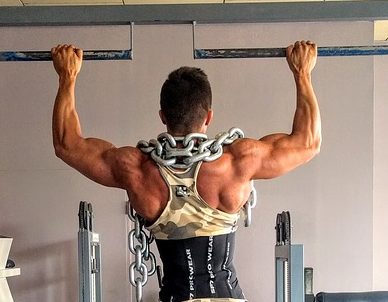 Previously, we wrote a review on top pullup bars to buy for improving trapezius muscles of your body. In this guide, we will tell about the best doorway pullup bars to buy for small homes and flats, where a pullup machine will not work.
Do you need a pullup bar?
A pull-up bar is a great choice for anyone who wants to improve his upper body while staying at home. For building a home gym, some equipment is required that is low-cost and cheap. So, the user can easily afford it.
There are many users out there, who want to improve their lifestyle and personality. The latter can be done through exercise, but the problem is, these people cannot go to a gymnasium, as they don't have time for it. That's where getting a simple doorway pullup bar will come in handy. Just get one for your home and pin it to the door through nails. Now you can do pullups at any time of the day.
Perfect Pullup Bars for Home by Reviews [Summarized]
Here is a list of doorway pullup bars and their prices.
Iron Gym Total Upper Body Doorway Bar – 3000+ reviews
Perfect Fitness Multi-Gym Pro Doorway Pullup bar – 160+ reviews
Iron Gym Extreme Total Upper Body Doorway Bar – 800+ reviews
HaloVa Doorway Pull Up Bar – 10+ reviews
ProSource Multi-Grip Doorway Pull-Up Bar – 1900+ reviews
Standard pullup bar vs Doorway pullup bar
Standard pullup bar can be any rod that you use for pullup exercises. There isn't any 'standard' in a pullup exercise. All bars are called as standard pullup bars except those that have a specific reason. Like, the doorway pullup bar is specifically made for doorways. It cannot be bolted to the ceiling because it won't hold. However, there are pullup bars specifically made for ceiling and are called as 'ceiling mount pullup bars.'
>>> Looking for the perfect pullup bar for your home?
Basic differences:
The doorway pullup bar is…
Bolted to the door
It has multiple grips
Is mainly of steel so to bolt it with the frame of the door easily
Is usually two and a half feet in width
The standard pullup bar is…
Not specific to any length, it can be six feet in width or one foot. Depends on the design and construction of the pullup rod
Is usually available in gymnasiums
Can include multiple grips, sometimes only a rod is available for doing pullups.
What to check while buying Doorway Pullup bars?
While buying a homemade doorway pullup bar make sure that it has the right size for your door. If the bar is bigger than the width of the doorway, there are chances that it will not stick properly. Though, pullup bars like iron gym pullup bar, are built in a way that they do not hinder with the door's width. The design tilts the overall pullup bar to one side, which makes them easy-to-use.
But still, one can never be too careful. Therefore, we have made a list of things that you should check while buying a homemade doorway pullup bar.
As said above, the railing should be of appropriate size so it doesn't get stuck in the doorway. Try to buy those doorway pullup bars that are tilted outwards, so the bars poke out from outer sides of the doorway.
The bars are available in multiple designs. So, choose one that provide multiple grips for doing pullups. Because, when you start doing pullups, you would want to change your exercises, after a few days. By having multiple grips on a pullup bar, it gets easier to exercise.
The first preference should be steel rod. If the rod is made of iron or some other material, it is fine as long as it stays strong and doesn't break. But most of the rods you buy for the pullup bar will be made of steel. If you buy them through amazon, most of them are steel doorway pullup bars with multiple grips. So, just be careful about the material before ordering one.
Normally, pullup bars cost between $20 and $30. Some better pullup bars, in terms of grips, quality, and handles, are more costly at around $50. Some pullup bars can even cost $100 or more depending on the brand name, their quality and what they provide.
Then we have assisted pullup machines, these can be anywhere between $600 and $1200. The body-solid weight assisted pullup machine costs around $1200 to $1400, it is a mixture of a weight assisted pullup bar, dip bar, triceps pulley and machines used for other exercises for home gyms.
List of Bestselling Doorway pullup bars to buy:
Iron Gym Total Upper Body Doorway Bar
Iron Gym pullup bar is one of the most popular doorway pullup bars in USA. It can serve multiple purposes and is mostly used for doing dips, crunches, pullups, chin-ups. Users usually buy more than one iron gym pullup bar and use them for multiple things. The bar is available with three positions to grip including narrow, wide and neutral. The iron gym pullup bar doesn't use screw. It uses leverage to hold itself over the doorframe. It also means that no screws will damage your door.
Read reviews of Iron Gym Total Upper Body Doorway Bar
Here is a video of how the Iron Gym upper body doorway bar works:
Pros
No need of screws, as the iron gym bar holds itself on top off the doorframe
Easy to install and only takes minutes to do it
Multiple grip options
Cons
Can ruin the doorframe, if it is weak and can't hold weight. Please check the door's frame before you hang iron body workout bar
Reviews:
Users on amazon have said the iron bar pullup bar is perfect for small homes, where the users cannot keep a ceiling pullup bar. It is great for small flats and houses where the ceiling is low. The user can just put the bar on top of the door frame and start doing pullup exercises. One thing to note is that it doesn't ruin the door frame. So, those who are buying iron gym pullup bar shouldn't worry about it.
Perfect Fitness Multi-Gym Pro Doorway Pullup bar
Second in our list is the fitness multi-gym pro doorway pullup bar. It is another portable pullup bar similar to the iron gym pullup rod. So, anyone with small house or a flat can easily do it. The best thing about this bar is that it can be used for multiple bodyweight exercises such as pullups, pushups and even dips.
Read Reviews of Perfect Fitness Multi-Gym Pro Doorway Pullup bar
The bar has 300 pound weight capacity and comes with three grips including close grip, hammer grip and wide grip.
The perfect fitness multi-gym bar alone weighs six pounds. It comes with one year warranty, if bought from amazon.
Pros:
Comes with one year warranty
Can be used for dips, pullups, pushups
Has a lifting capacity of 300 pounds or a man with at least 120kgs of weight
Perfect fitness multi-gym pullup bar is portable
Cons:
It won't fit door of all sizes, so make sure you measure the size before buying it (it's size is 15 x 38 x 14)
Reviews:
Users of the Perfect Fitness Multi-Gym Pro Doorway Pullup bar have said it fits perfectly in their house. Some users said that if the door is too wide, then it won't fit. So, you have to measure the width of the door before ordering one.
Iron Gym Total Upper Body Workout Bar – Extreme Edition
Third in our list is the iron gym pullup bar extreme edition. The pullup bar is similar to the iron gym pullup bar (standard) version, but it now includes safety brackets. The design is of course changed a little and the price has been raised. The bar is designed to be used for upperbody workouts such as pullups, chin-ups and muscles ups, as well as, for dips and pushups. As the bar is removable from the door frame, you can use it on the ground for doing multiple pushup exercises. The iron gym extreme pullup bar is three feet wide and features five grips for versatile workouts.
Read Reviews Iron Gym Total Upper Body Workout Bar Extreme
It can hold around 300 pounds of weight.
Pros:
Holds 300 pounds of weight
Can be used for pullups, pushups and even dips
Features five grips for versatile workouts
Reviews:
The users of iron gym extreme pullup bar have said that it won't fit on all door frames in the house. A door needs to be around 3 feet or less to have it fit on the door frame. Also note, the door frame shouldn't be too weak otherwise it will break. Be really careful while pulling it off the door frame because if the bar falls, it can hurt.
HaloVa Doorway Pull Up Bar
Halova doorway pullup bar is easy to use. It has a simple grip but it can be used in multiple ways. The best thing about it is that it can FIT ANY DOORWAY. You have to install it with screws to the doorway and it will fit with just a few twists. Though it only supports one grip but that doesn't mean you can't do multiple exercises on it.
Read Reviews of HaloVa Doorway Pull Up Bar
Here is a video of how the Halova Doorway Pullup bar will work:
Reviews:
Make sure your doorframe is strong (preferably of hard wood) so it can hold the bar in one place. Many users have reported that it won't work on weak door frames.
You may like:
Best Mini Stair Stepper Exercise Machine Reviews
15 Best Gym Duffel Bags under $50 – Reviews & Buyer's Guide