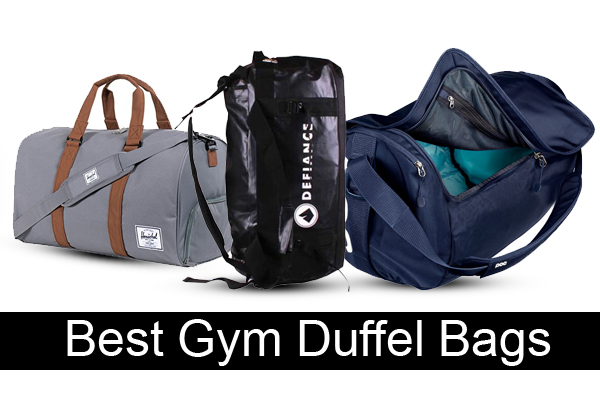 Tired of that smelly old duffel bag with crappy loose handles? Then it's time you get a new one.
Gym bags are available in many sizes to cater to your needs. And as a regular gym-enthusiast you will need a bag that is new, doesn't smell, is rain proof and have additional compartments for putting your shoes. Well, this is one checklist to have while looking for affordable gym bags.
>>> Which is better for you? Century or Everlast Punching Bags? Find Out in this post
Best Gym Duffel Bags under $50:
While searching for the perfect duffel bags for gym, you need to know what your requirements are. May be you only need a small bag that can carry your extra pair of shorts, if you only hit the weight lifting arena. If you are a multi-rounder and head to swimming, gymnastics, weightlifting and parkour arena then your requirements will be a lot more. In that case, a gym bag having more pockets, additional compartment for shoes, a few secret pockets for wallet and smartphone and a full rain coated material will be needed.
Let's compare these gym duffel bags under $50 to find which one of them will suit you the most.
We have compared them using three factors including material, pockets, durability. Because these are the most sought things while looking for a decent duffel bag for gym/travelling/school.
>>> How to buy Dumb bells for your home gym?
Best Gym Duffel bags with large pockets:
We have curated a list of some of the best duffel bags that you can buy for your gym, travel and business adventures.
This Aidonger unisex duffel bag is well built and can reach around 24 inches in size. It has a set of two grabbing handles that can be hooked together for easier carrying. Apart from that the duffel bag features a shoulder strap as well. The straps are hooked through metal hoops that are adjustable.
The travel and gym duffel bag has six zippered and two non-zippered pockets. Users can keep their cash, cell phones and other hand carrying items in the non-zippered pockets.
The stitching feels sturdy and well done. It doesn't look clumsy in anyway and will withstand long hours of rough travelling like a breeze.
Now the question is how much can it hold?
The bag can easily hold 10-20 kgs of items such as books, kettle bells, dumbbells, clothes and more. Further, the bag is not completely water-proof but it will sustain a heavy drizzle of few minutes easily.
The pockets of the bag are huge and can keep a full-size book or two water bottles at the same time.
Pros:
Huge pockets for carrying extra items
Large space for putting solid weights
Can keep 20KGs worth of stuff easily
Hard cotton material bag
Extra compartment for putting a laptop
Cons:
Doesn't have an extra shoe compartment
Editor Ratings: Good
Durability: Good
Water proof: Average
Material: Double-stitched Hard Cotton
The single strapped bag is your perfect companion for a outdoor gym tour. If can easily fit around 10Kgs worth of material or around 10 books with plenty of space to go with. A reviewer said that he fitted around 4 jeans pairs, a shoe pair, around a dozen t-shirts, a hoodie, a towel and a laptop altogether in the bag and it had still more space to occupy.
The bag has around two pockets on the front and two inner pockets for delicate items. With its leather material, the bag can be used for third-grade camping trips as well. It has a shoulder strap and two hand carry straps connected with a metal chain block that increases its durability in tougher environments.
The bag carries only a single zipper at the center, while it has small zippered pockets to keep your essential items.
I have found that the zippers of this bag are breaking sooner when people put several things in them. A solution to that is to wax the zippers once before using them so they slip without friction.
Users have said that the S-ZONE Waterproof Waxed gym duffel bag can be used traveling as well as exercising. It is made of excellent quality and provides sturdy feel when carried. The bag is made of leather, has pretty slick handles and can carry a large amount of weight. As per an estimate, it can easily fit clothes for a week of travelling or journey.
Pros:
Sizeable pockets for more items
Can be used in camping trips
Made of hard leather
Zippered pockets for essential items
Cons:
Zippers may break soon so use wax on them before usage
Editor Ratings: Good
Durability: Good
Water proof: Average
Material: Hard leather
The Toupons duffel bag is not necessarily for just gym. Whether you are going for travel, business, and adventure or camping the Toupons large men's duffle bag will be at your service.
The bag is spacious and can keep essential items of at least a weekend journey. The bag has two huge size pockets at the front that keep your essential documents while travelling or your smartphone and wallet while you are hitting gym.
The bag is extendable. So, if you are going somewhere and you get short on space, just open the zipper and the bag will be 20 percent more spacious.
Pros:
Extendable
Best for gym and business trips
Feels durable and sturdy
Can fit a 13inch laptop
Cons:
The bag is smaller than what appears in the picture
Editor Ratings: Good
Durability: Good
Water proof: No
Material: Canvas
This is one bag that you would definitely want for business and leisure activities. It is a perfect duffel bag for outdoor sports activities and might suit indoor gyms as well. But note one thing, indoor gyms do not require spacious bags. Though it doesn't have a separate shoe compartment, but you can still keep your shoes inside with a grocery bag wrapped on them. It has multiple pockets that might suit any type of essential items you want to place in it.
Apart from the specifications, the bag has its own style and suits the ambience of the room. The extra pockets outside and on front are pretty useful for placing wallet and smartphone while breaking muscles. The straps of the bag can be joined to form a single, stronger strap. Surprisingly, with all these features, the bag still doesn't feel large.
Though it is not a complete gym duffel bag, therefore you can use it in your own way. There are no limits.
Pros
Can fit laptops, tablets and books
Large strap at the top
Classic and matches gentlemen's style
Scientific pocket layout for easy item placement
Editor Ratings: Best
Durability: Good
Water proof: No
Material: Leather
Nike Boston duffel bag is a real sports bag that is light-weight and made of high-quality cotton. It is perfect for putting in various accessories while heading to gym. Many reviewers have reported that they carry shoes, towels, extra pair of shorts and shirts in the bag and there is still space for more items.
The bag is compact and has cushioning on bottom and both sides that make it turbulence safe.
Pros
Perfect for your sports accessories
Solid and sturdy. Built with high-quality fabric
Partially water resistant
Cons
The bag is marked as a shoe box but it is a bag.
Editor Ratings: Good
Durability: Average
Water proof: Average
Material: Fabric
XMBEDERT Gym Bag – Best Gym Duffel Bag with Shoe Compartment
The bag is designed to keep your clothes, shoes and books all at once. It has enough room to store a week's clothing and toiletries, towels and other similar items.
This gym duffel bag is comfortable, with removable padded shoulders and has side-pockets large enough to hold a full-sized book. One of the best things about this bag is that it carries a shoe compartment. Not many bags have a built in shoes compartment. That is the USP of this bag.
Apart from the compartment, the bag has two small pockets outside and two bigger ones inside. It is suitable for gym, camping, hiking, weekend adventures and more. Though it doesn't have a special compartment for shoes but it has enough space to store a pair with other essential items.
Pros
Best for weekend trips
Can store a week's clothing and gear
Suitable for outdoor gym adventures
Cons
Bag has an unusual smell of glue
Editor Ratings: Average
Durability: Good
Water proof: Average
Material: Polyester fabric
The gym duffel bag for men by Tibag is your regular sports bag having a size of 35L. This size is appropriate for a one-day trip. The bag will be too spacious and can carry a shoe pair, a few clothes, books, laptops and its accessories. Apart from that it has adjustable straps so you can carry it on the shoulder without dropping a sweat. The Tibag gym duffel bag for men is not specifically made for gym, you can take it to your hiking adventures and as it is water proof, the travel bag will keep your belongings free from water for a long time.
Moreover, the bag is foldable and can be folded into a disk shape once it's need vanishes. It can again open once the need arises. With double straps on the bag like a backpack, you can wear it on your back or carry it on your shoulder, whatever suits you.
Pros
Fashionable and stylish duffel come backpack
Can be folded into a disk and refolded if needed
Best for a day long trip
Suitable for camping, hiking and regular gym trips
Editor Ratings: Best
Durability: Good
Water proof: Good
Material: Polyester fabric
The bag has genuine leather and is made in Italy. It is made of large double thick cow leather and has solid large ivet and a leather handle. The reviewers of the bag have said they frequently travelled with the bag and it is still in one piece after all this time. This means the bag is durable and long lasting.
The bag has two outside zippered pockets, an inside zippered pocket, a couple of storage areas for usual items and a spacious area for placing your shoes, clothes and laptop.
Due to the design of the material, it can easily fit over or under a seat.
The bag is completely washable and can be dried by placing it in a ventilated area.
Pros
A lot of room for placing stuff
3 zippered pocket
Genuine leather
Cons:
Some people have reported having zipper issues with the bag
The straps came off loose for some people
Editor Ratings: Good
Durability: Average
Water proof: Average
Material: Cow Leather
This is a horse-leather, water-proofed bag that has detachable straps. Whether you are hitting a gym, going on a plane, moving up the mountains in a 4X4, this bag will keep you company for a long time.
Now let's talk about the different compartments and storage area. This bag has 4 small pockets on each side and a large room in the middle for putting items the size of a basket-ball.
You can either use the handles or a shoulder strap, which would leave you hands-free. The bag is perfect for week-end long tours, golfing, gym trips and even adventure trails.
Pros
4 zippered pockets
Horse leather
Detachable should strap
Rustic look with scratches due to waxed processing that makes it murky
Cons:
It might be small for adventures lasting more than a week
Editor Ratings: Good
Durability: Good
Water proof: Best
Material: Canvas Leather
The bag can hold two basket balls, one shoes pair and clean and wet clothes. This is a regular gym bag that is 28 inches long and has a adjustable shoulder strap.
The bag has a separate place for putting wet clothes so these can dry easily. Additionally, it has place for a water bottle. The bag is perfect for sports adventures like volley ball practice, ski adventures, golfing and parkour.
It is made of polyester fiber and is rain-proof.
Pros
Water proof
Shoe compartment
Extra compartment for wet clothes
Place for water bottle
Cons:
The bag cannot be used for business tours due to its look
Editor Ratings: Best
Durability: Good
Water proof: Best
Material: Polyester fabric
---
Best Duffel Bags Under $100:
Here is a list of duffel bags under $100. All the bags available in the list are rock-solid and heavily built for long traveling journeys. You can use these bags for your gym workouts, and even for camping because of their impressive reliable built.
Traveling and tourism is one industry where duffel bags work great. Because if you are not travelling through a plane, the duffel bags are best option to keep your clothes. They don't get torn easily and can easily fit in most places. Check out our list of top quality duffel bags between $50 and $100 below.
The Under Armour UA Storm Undeniable Backpack Duffel Bag is an excellent option for not only gym and exercise but also for your regular scavenges. It can be used to fill multiple roles due to its complex design and improved aesthetics. Even if you are on a business trip the UA storm will keep your look dandy and chic.
The Patagonia took inspiration for their bag design from multiple sources. And, the result is a rugged and field-ready water repellent bag with a large-U shaped opening into the main compartment. The duffel bag provides plenty of internal pockets for storage and includes ample space for luggage.
Topo duffel gym bag makes for an impressive and durable bag with rough exterior. It has a seat belt strap material for handles and the interior is of cloth liner. The duffle bag is around 22 inches and can pair with any design element due to its astounding design and color sense.
Another gym duffel bag in our list is the BluBoon Weekender Overnight duffle bag which is known for its tough length and American-made bag clothing. The bag is pretty similar to the design of the luggage of special forces because the founder was one of them. He has tried to include every bit of durability to the bag. The design is simple, no-nonsense gym bag for anyone that is keen to keep design and luggage at one place.
OGIO X-Train 2 gym duffle bag isn't like any other gym duffle bag it is for extreme fitness maestros and survival maniacs. The OGIO X-Train 2 gym duffle bag has its very own hydration bladder. It also comes with a dedicated shoe compartment, a crush-resistant pocket and also includes a helmet carry.
Ratings of Best Duffel Bags for Gym:
I have used best, good, average for rating bags from 3 to 1, where 3 being the best and 1 being the worst. If you have any problem, please comment below so we can guide you.
List of 5 most popular posts
[su_posts template="templates/list-loop.php" posts_per_page="5″ orderby="comment_count"]
Read:
Best Heavy Duty Punching Bags – Reviews and Buyers Guide
Theraband Flexbar Review: What is it for and Why use it?