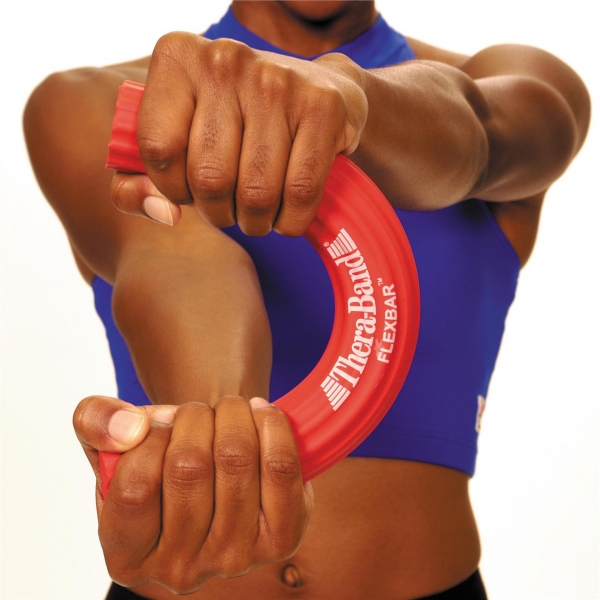 What is Theraband Flexbar and Should you buy it?
TheraBand FlexBar is a utility to improve strength of arms, hands and shoulders. Golfer's tennis players and other athletes can get pain in their arms and shoulders while hitting the ball. This unique, yet powerful twist bar helps them eliminate the paid through research-proven techniques and without surgical options.
The bands are available in multiple resistance levels ranging from 6lbs of force to 25lbs of force. The levels are color-coded for easy identification. These can be used by children, athletes and even seniors without the any fear.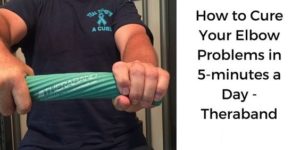 Theraband flexbar can cure:
Stretches
Sprains
Strains
Muscle pulls
Muscle spasms
Just use 5-minutes a day.
Best Theraband Flexbar (Twist bar) to buy for Golfer's and Tennis players
Many tennis players often complain about pain in elbow. The paid occurs due to stretching of the elbow muscle more than its intended limit. The resistance bar helps alleviates the pain in the muscle. There are multiple flexbar options available but the best one is:
| | | |
| --- | --- | --- |
| Product | Pounds | Price |
| Red Theraband Flexbar | 6 pounds | |
| Yellow Theraband Flexbar | 10 pounds | |
| Green Theraband Flexbar | 15 pounds | |
| Blue Theraband Flexbar | 25 pounds | |
Best Selling: Green Theraband Resistance Bar:
The green resistance bar is ideal for people suffering elbow pain, especially for golfers, baseball players, rugby players and tennis players. The green resistance bar helps increase the strength of the tendons. Its ridged design is easy to grip and provides hand rehabilitation and strength – best for musicians, painters, gardeners and people involved in occupations that require great detail of hand-craft.
Buy theraband flexbar at Amazon

It is one foot long, with 1 ¾ diameter. Besides, it is made of dry natural rubber that can only be bent by using 15 pounds of force.
---
Theraband Flexbar exercises:
A. Grasping:
Grasp the FlexBar exerciser with the injured side and extend your wrist. Hold it tight and then loosen your grip. Repeat it 5 times.
B. Double-hand grasping
Grasp the upper end of the bar with your other hand facing away from you. Now try to turn both sides in opposite directions. Do it for one second. Stop. Now repeat again.
C. Double-hand grasping (opposite)
Repeat the above exercise, but now in opposite direction
D. Front twisting
Hold the twist bar by theraband in front of you. Now turn one hand, with the grip on flex bar, in clockwise direction, (E) while repeat the second hand in the anti-clockwise direction.
Repeat all the processes for 1 minute. Now, after getting done with the job, you are lucky enough topy
Repeat 10-15 times up to 3 times a day. Begin with the red FlexBar and progress to the next color when you can easily perform 3 sets of 15. Use ice or Biofreeze for any soreness.
---
How Theraband Flexbar prevents Elbow Injury?
Theraband Flexbar is a rubber rod that can be used to exercise hand grips and ease elbow and shoulder pain. The flexbar is available in multiple colors, where green flexbar has a force of 15lbs. Users can however buy flexbars of other colors with varying force.
The twist bar provide strong grip for twisting and oscillating elbows, wrists and forearms. It is also recommended as a lateral epicondylitis therapy. The device is convenient and portable. It can be used to alliviate pain after getting elbow stretch while playing golf. 
The flexbar is also helpful for people having weak elbow, pain in lower elbow muscles or repetitive itching while moving it.
How Theraband Resistance Bar heals Elbow Injury?
Rest.
First and foremost task is to rest the muscle. The body won't heal if adequate rest is not provided to the muscle. It takes time and therefore apply heat by covering the elbow with the stretchable material that stops air from reaching it.
The twist bar can helps increase the pace of recovery if it is used on a daily basis for the exercises mentioned earlier.
Similar to the golfer's injury, the flexbar can also be used for injuries occurring during tennis and other sports. Many times the elbow injury such as sprains and strains can also occur to craftsmen including carpenters,
Theraband FlexBar Resistance Bar: What their colors mean?
Red and Yellow Flexbar:
These provide 6 pounds of force when the user grasps or twists the twist bar. The red and yellow flex bars are easy to use and lightweight. These are useful for girls wanting to improve their grips and reduce pain in elbows or wrists.
Green Flexbar:
These provide 15 pounds of force when the user grasps or twists the twist bar. This twist bar is for regular people who want a sturdy grip handle for twisting.
Blue Flexbar: 
These provide 25 pounds of force when the user grasps or twists the theraband flexbar. Blue flex bar is the toughest one to use and is made for people with strong grips.
---
Theraband Flexbar Resistance Bar Reviews:
Most people who have used the twist bar and reported it positive tool for fixing the tennis elbow situation. Some even have said that they never saw a doctor after buying this tool.
The users of the Flexbar tool also recommended the tool for people who are having weakness in hands or feel their hands getting numb from time to time. The twist motion of the rod releases tension in the muscles and loosens the nerves. This makes the user get better grip on things, which he believed was impossible, prior to using it.
Theraband academy, the company that manufactured the flex bar has made an official channel showing how to use their product. They have regular episodes of exercises that are possible using this twist bar and most of them are only 30 seconds long. That's enough time to be spared from your regular chores.
So, if you are having numbness in your hands, or having an elbow sprain or tennis or golfers elbow then this device 'theraband flexbar tool' is the best thing to buy.
You can read Theraband Twist BarReviews on Amazon
---
Six Benefits of using a Resistance Bar for Fitness
We have observed this so many times that there are a lot of people in this world who do not like to visit the gym for a workout. Some of them don't have time and some don't want to go there. The resistance bars or bands are best for those who like to perform at their homes. These are also useful at gyms too. The best thing about resistance band/bar is that this thing provides versatility in exercises. That we can do a lot of workouts using the resistance bands. Not only this, it enables convenience and effectiveness too. Following are some of the explored benefits of resistance bars/bands.
Perform Variety of Workouts:
When you will have a set of the resistance band, then you can perform a variety of workouts using those bands. This will help you as an inexpensive gym equipment.
Set your own difficulty level
These bands are best because you can set the difficulty levels for these bands. (light, medium and heavy).
Perform Strength Training Exercises
The strength training moves and exercises are done so well by using these bars or bands that you don't even need dumbbells for it.
Use Workout Books for Guidance
Most of the time, the band kits contain suggested exercise brochures or books as well for the guidance of consumer.
Store Easily, Less Space
You can keep your bands anywhere as these bands can be stored easily because they take less space.
Workout = More Energy
Your body will get a lot of energy and strength when you will perform a variety of exercise using the resistance bars. Those versatile workouts will affect your muscles in a different way every time. Moreover, no matter which muscle you are targeting the most while using resistance bands, it will be a full body workout. Athletes used to follow such training with resistance band during their competitions for keeping their strength and energy maintained.
No worrying about injuries:
No worries about injuries because these bands are easy to carry and easy to handle during a workout. The thing with resistance bars is that you aren't lifting any heavy weight. If you have stretched well, the resistance bars are great for starting fitness workouts each day.
Start small, but be consistent.
Here is an infographic on using resistance bars for home workout routines.

Read More:
Best Ab Roller Wheel – Reviews & Buyer's Guide
What's the difference between a Gym mat and a Yoga mat?