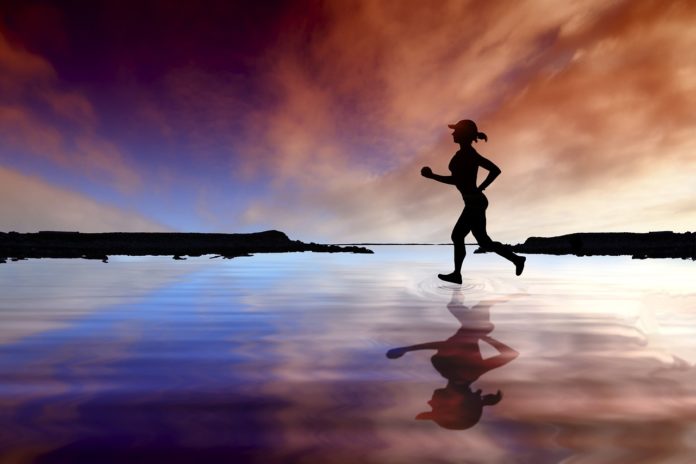 If you want to do some low impact cardio workout at home then get yourself the Exerpeutic 400XL Folding Recumbent Bike. It is among one of the few most popular exercise cycles on the internet thanks to its affordable price tag, folding capability and sturdy built quality.
It runs on a quiet transmission that is based on a V-belt system. It is built to hold up to 300 lbs and requires placement on a flat, hard surface. The seat is large, cushioned and sports a backrest as well. It can comfortably hold a person with the height of up to 6 feet and 1 inch. The bike is uniquely and compactly designed and can fold into half of its size from when it is fully assembled. It offers 8 levels of tension resistance with a magnetic control system that allows for beginner to advance level workouts.
Check Out Review of Exerpeutic 400XL Recumbent Bike
Exerpeutic 400XL Recumbent Bike Assembly
Remember, you have the option to have it delivered pre-assembled but if you enjoy putting stuff together and can easily lift 40 lbs then this assembly guide is for you. The whole process takes about 60 minutes can the feat can be achieved in lesser time depending on your expertise.
Start out by removing the safety pin from the console of the bike and open it up.

Place and install the back and front stabilizer bars next.

Now place the LCD display on its brackets and plug the wire into its back. Connect the seat and backrest to the main console of the bike.

Align the handlebars with the backrest and connect the wires under the seat.

Lastly, finish by fitting the foot pedals and clipping the straps on them. For a more detailed guide, look at the instructions given in the manual included in the packaging.
Exerpeutic 400XL Recumbent Bike Replacement Parts
Although the bike is very sturdily built, it is still prone to damage or wear and tear if not handled with care or with regular use over time. But you do not need to fret over it since most of its parts are replaceable and can easily be found both online and offline. Whether you require its LCD display, pedals, seat and backrest, handlebars or anything else; all of the parts can easily be ordered from online stores like Amazon, ebay or can be bought from any hardware store in the neighborhood.
Exerpeutic 400XL Recumbent Bike Comparison
If you are looking for an alternative product to the Exerpeutic 400XL Folding Recumbent Bike than there are many options available to you including its next model the Exerpeutic Gold 525 XLR Folding Recumbent Bike.
Other choices that you have in the folding recumbent bike category include; the Teeter Free Step Recumbent Cross Trainer, Marcy Recumbent Exercise Bike, Exerpeutic ExerWork 1000 and the Stamina Wonder Folding Semi-Recumbent Exercise Bike among many others.
While these and many other recumbent bikes are available in the market, none of them can match the build quality, sturdiness and the affordable price tag of the Exerpeutic 400XL Folding Recumbent Bike.
Check Out Review of Exerpeutic 400XL Recumbent Bike
Exerpeutic 400XL Recumbent Bike Assembly Manual
The Exerpeutic 400XL Recumbent Bike manual is for anyone who is trying to fix the bike from the ground up. It has all information that you need to fix the bike for the first time. You can also use it to add replacement parts without worry.
Further, the assembly manual is also filled with instructions and warm-up exercises that you can do before using the recumbent bike.
Here is the manual.
Exerpeutic 400XL Recumbent Bike Maintenance
Use a soft cloth to clean the bike with mild detergent. You should not use any abrasives or solvents to clean the plastic parts.

Once you have used the bike, wipe it with a cloth to clean off your perspiration off the recumbent bike.

Don't get excessive moisture on the computer display panel. it can cause an electrical hazard or electronics failure.

Keep the Exerpeutic recumbent bike and its computer console, out of direct sunlight to prevent screen damage.

Check the assembly bolts and pedals on the machine for proper tightness every week.
Exerpeutic 400XL Recumbent Bike Alternatives
Here is a list of Exerpeutic 400XL Recumbent Bike alternative options that you can use for your home gym.
Stamina Body Trac Glider 1050
Stamina Body Trac Glider 1050 is one of the best home gym category rowing machine available in the today. Sturdily built, it is strong enough for a full body workout and weighs less than 40 pounds. Despite its low price and affordability, the Stamina Body Trac Glider 1050 offers a great workout and can be compared to any competing mid-range models.
Check Out Reviews of Stamina Body Trac Glider 1050
Body Rider Fan Bike
You can use the Body Rider Fan Bike as it sits on the lower end of the price spectrum. The reason it is low cost os because it doesn't have the excessive features that most expensive exercise bike variants have, but it does the job of helping you stay fit well.
The good part is that Body Rider Fan Bike is easy to maintain and clean at home. It also offers great workout of leg muscles.
Also, the presence of a built-in fan is always welcome. Check out some of the best Body Rider Fan Bike and see if it fits your needs.
Check Out Body Rider Fan Bike Review
Concept2 Model D Indoor Rowing Machine
Concept2 Model D Rowing Machine engages all major muscle groups including work legs, core and arms with a smooth, high calorie-burning motion. It is great way to improve lats, legs, and core muscles all at once. You can easily track your progress in real-time with reliable data using the Concept2 Model D Rowing Machine. The best part about Concept2 Model D Rowing Machine is its performance monitor. It comes with self-calibrating monitor that offers features such as heart rate monitoring. The Concept2 Model D Rowing Machine is designed to fit most users. It comes with a 14-inch seat height that's adjustable with footrests and ergonomic handles.
Check Out Concept2 Model D Indoor Rowing Machine
Should You Buy Exerpeutic 400XL Recumbent Exercise Bike?
Yes. You should definitely buy the Exerpeutic 400XL Recumbent Bike because it offers all the features that you want in a fitness exercise bike. It allows support up till 300 pounds, and helps track distance, calories, time, and speed. Moreover, it comes with a quiet V-belt that helps you exercise at anytime of the day without waking your family members. So, yes. It is a great fit for your home gym.
Buy Exerpeutic 400XL Recumbent Bike on Amazon