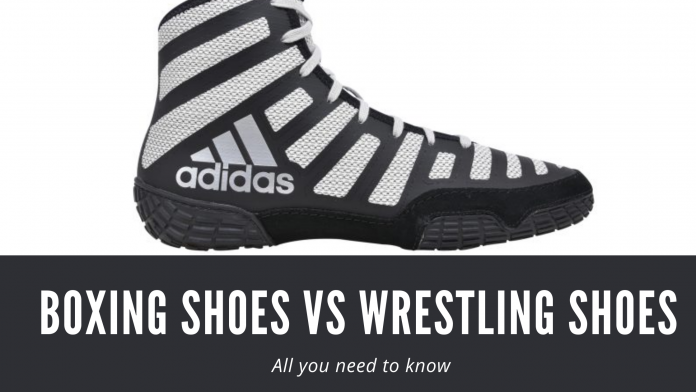 Wrestling shoes are OK for boxing; in fact, Floyd Mayweather and many other professionals and amateurs do so.
However, you should be aware that you should not do it backwards, i.e., you should not wrestle in boxing shoes.
Boxing Shoes vs Wrestling Shoes: Should You Focus On Them?
When it comes to boxing shoes, a good pair may make all the difference in the ring, but many individuals are stumped when attempting to figure out what they need. Websites provide a wide variety of them, and fitting them, like any shoes purchased online, may be a problem. When you go to your local sports goods store to try some on and see how they feel or fit, you may find that almost none of them have what you're searching for.
What you may not realize is that most sports goods stores have a reasonable alternative: wrestling shoes. In American high schools, students may take subjects like home economics, which teaches them how to cook, or workshop, which teaches them how to work with power tools and wood. While many high schools in the United States do not allow boxing programs due to liability concerns, the majority of them offer wrestling programs. Wrestling shoes are therefore in higher demand in most locations, and may be found in a variety of athletic goods and wide selection shoe stores, as well as online sellers.
Wrestling is performed on a mat indoor surface, and wrestlers require similar traction as boxers. While the material, traction, and weight of the two shoes are relatively similar, there is one important variation. Wrestlers must avoid being wrenched in multiple directions so that their opponent cannot toss them about, whereas boxers must make rapid lateral movements to escape blows and get through their opponent's guard.
Boxing Shoes Sole Pattern
You can see that boxing shoes have a regular straight pattern that pushes a person forward.
As a result, classic boxing shoes have tread patterns that only point forward, allowing each forward or backward stride to have maximum grip while lateral action, which includes sliding their foot, has the least amount of resistance possible. Wrestling shoes, on the other hand, contain tread patterns that extend in a star pattern from the ball of the foot, allowing them to maintain traction regardless of the angle at which their foot is being pressed.
Wrestling Shoes Sole Pattern
As you can see the wrestling shoes pattern, this pattern allows the user to stay in one place and avoid slippage
Many people believe that since wrestling shoes are built in a manner that is diametrically opposed to one of the attributes that boxing shoes strive for, wrestling shoes are inferior in a boxing application. This is not always the case. Many boxers prefer all-directional traction and buy wrestling shoes particularly for the extra stability they feel when forced to shift directions fast in the ring. This means you'll have to make some decisions, but maybe the information in the following paragraphs will help you make some of them simpler.
How to Choose the Right Shoes for Wrestling & Boxing?
Wrestling and boxing shoes share a lot of the same sizing. Even if you like classic boxing shoes, you should try on some wrestling shoes at a sports goods store to better decide what size you should get. If you have a pair of Nike running shoes, you'll notice that most boxing and wrestling shoes are quite similar to the Nike standard. This is especially true for boxing sneakers from the Nike brand. Finally, you'll always know if a pair of shoes you've tried on will fit you, whereas shoes you purchase online remain a mystery until they come.
Do you think your footwork includes lateral movement that might benefit from less traction when you slide your feet from side to side? If that's the case, you could choose classic boxing footwear. You could select wresting shoes if you frequently lose your balance or have a broader stance and make fast side to side direction adjustments.
Wrestling shoes and boxing shoes both have a wide price range, but none is notably cheaper or more costly than the other. A nice pair of either should cost between $50 and $100.
One factor that many people overlook when reviewing the quality of a pair of boxing or wrestling shoes is how rapidly they wear out. This, in turn, affects the veracity of their reviews. Many individuals believe that buying a more costly pair of shoes would make them last longer. The flaw in this argument is that the quality of a shoe is not determined by how long it lasts, but rather by how effectively it fulfills its function, i.e., how well it gives you with stability and traction in the ring.
In order to manufacture the bottoms of their shoes, most boxing and wrestling shoe firms use softer compounds in their production process. Unlike running shoes, which have firm bottoms designed for use on pavement, boxing and wrestling shoes do not have deep treads for water displacement and are not designed for long-term usage. This implies that no matter how well designed the shoe is, it will wear out rapidly. When making this buy, it is an inevitable truth. If you want your shoes to last as long as possible, just wear them inside and never run in them. For this, you should have a special set of running shoes.
Hi-top/boot and lo-top versions of boxing and wrestling shoes are available in the market. The sort of assistance you require will determine what you should buy. If you have a habit of rolling your ankle, a taller shoe can be a good option for you. Many people find that a higher shoe restricts their mobility, thus they prefer a lower cut. However, nothing limits your mobility like a twisted ankle at the worst possible time. Before making a final selection, I recommend putting on both types of wrestling shoes at your local sports goods store.
Bottom-line
To sum up, unless you are exceedingly particular, both types of shoes will likely work admirably in a training situation. I've worn both styles and don't think there's much of a difference between them. It's true that wearing boxing or wrestling shoes is preferable than wearing shoes that aren't designed for grip on canvas or mat, but remember that splitting hairs over the direction of traction isn't nearly as crucial as acquiring appropriate footwork in the first place.