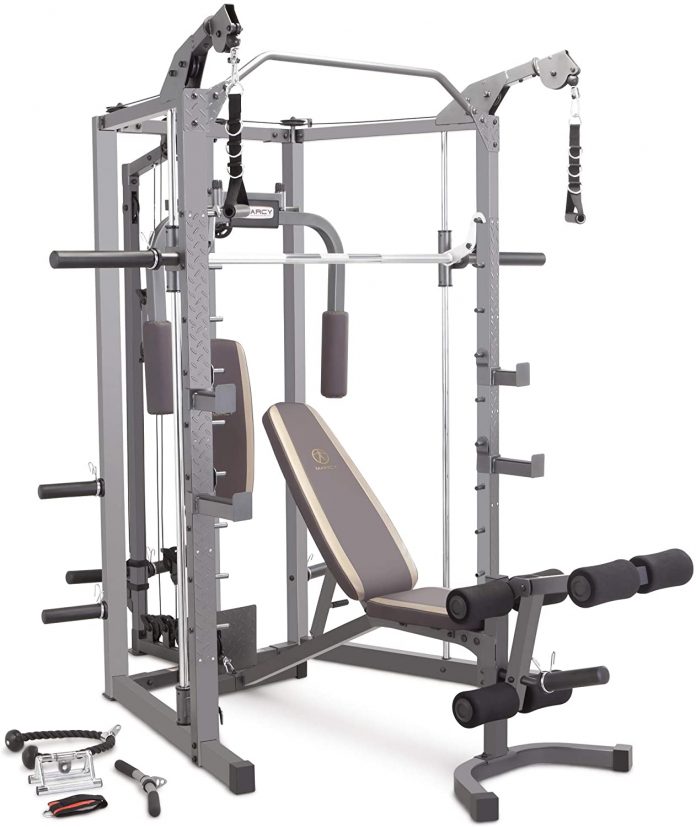 First let's talk a little bit about numbers of Marcy Half Smith Machine.
Facts and Numbers about Marcy

SM-4008
The Marcy Half Smith Machine is a compact workout station that combines three gym machines into one; a Smith machine, a leg developer, and a preacher curl pad. We can isolate our quads, hamstrings, and biceps with up to 45kg of resistance.
The arm curl and leg attachments are incorporated within the adjustable bench's 5 backrest configurations to save space. They are downhill, flat, incline (multiple), and upright, to name a few.
Although the backrest is fully adjustable, the bench is permanently attached to the rack. While this reduces the size of the TSA Smith Machine, it also makes using the bench for dumbbell training more difficult.
Buy Marcy Smith Machine Cage System
Workout stations Marcy SM-4008: Smith Machine
With a starting weight of 10 kilograms, the Smith bar can support up to 135 kilograms of plates for maximum resistance of 145 kilograms.
This is a sufficient challenge for building muscle at home, especially since you cannot use the machine for squats or deadlifts. 
There are seven hook locations on the Smith bar for re-racking the weight. So, even if you get trapped in the middle of a rep, you can re-rack the bar with a slight wrist turn and pull yourself out of danger.
Bar catches, on the other hand, give another layer of safety to your training. While these safety stops will not prevent injuries caused by bad form, they will save you if you fail a rep by accident. That is, assuming you deploy them before your set!
Marcy also adds super glide bushings to help with lifting friction. Of course, training on the Marcy smith machine will not feel like training on a commercial-grade machine. However, having a smooth lifting action increases your mind-muscle connection.
Another handy feature is the Olympic sleeve converter, which allows you to utilize 2″ discs as well as conventional 1″ plates. As a consequence, you may get a better price on weight plates these days because 2″ Olympic discs are less expensive than normal plates.
Buy Marcy Smith Machine Cage System
Adjustable Bench of Marcy SM-4008
The backrest is the only feature of this bench that can be adjusted. This implies we will not be able to utilize the bench for dumbbell practice. As a result, we have become reliant on the Smith machine for all of our training requirements.
The good part is that the backrest may be adjusted in a variety of ways. In addition to flat and upright postures, there are decline and incline angles, allowing us to hit muscles from a variety of angles and, ideally, produce greater growth with a solid enough diet.
Marcy also contains a retractable curl pad with two height settings, allowing us to extend our biceps and increase bulk to our arms. It comes with a removable handle to mimic a preacher curl machine, but you can also use it with dumbbells, barbells, and the EZ bar for a wider range of motion.
Marcy Half Smith Machin: SM-4008 Frame Parts
The frame is made of sturdy 14 gauge steel to withstand wear and tear as well as hard hauling. The steel rod that supports the bench in an inclination position is similarly strong. If you remain within the weight limit, you will not have any difficulties with safety.
The base is also slightly raised on rubber feet. An elevated base, while it may appear small at first appearance, really helps to prevent floor damage by placing rubber between the machine's metal and your flooring.
The 2.5″ thick bench upholstery serves to lessen your pain, while the rubber feet aid to reduce the discomfort of your floor. The foam cushioning, similar to that of a supportive office chair, relieves strain on your back and allows you to focus on the work at hand.
Buy Marcy Smith Machine Cage System
Marcy SM-4008 Height and Weight
The Marcy SM-4008 Half Smith Machine and Weight Bench is a rather small machine. As a result, it saves a lot of space.
Tall individuals, on the other hand, will struggle to utilize it comfortably and should look for alternatives.
Dimensions: 178cm L x 180cm B x 175cm H

Seat to floor height: 55cm

Width between rack: 104cm

Unit weight: 58kg

Max user weight: 135kg

Max bar weight: 135kg

Max leg developer weight: 45kg

Two-year warranty
Marcy SM-4008 Safety Features
Even though the Half Smith Olympic System SM-4008 is an ancient system, Marcy still performs an excellent job of keeping us safe.
There are adjustable safety latches that prevent the bar from sliding below a set position, in addition to several lockout points. This design is advantageous if you like to work out alone since you may push yourself without fear of being stuck beneath the bar. Unless, of course, the safety catches are set incorrectly, i.e. too low.
Marcy SM-4008 Assembly
The Marcy SM-4008 Half Smith Olympic System is rather simple to assemble. At the start of the handbook, all of the bolts and washers are labeled and their precise measurements are supplied. 
The Marcy SM-4008 Smith Machine is assembled in three stages and three hours, which seems too good to be true. There are a total of 29 mini-steps that make up the three main steps.
Is It Worthwhile to Get the Marcy Half Smith Machine?
Despite its reasonable price, there are better alternatives for home exercises than the Marcy SM-4008 Smith Machine, which is now rather old. It is a respectable item. However, there are just better solutions available.
Buy Marcy Smith Machine Cage System