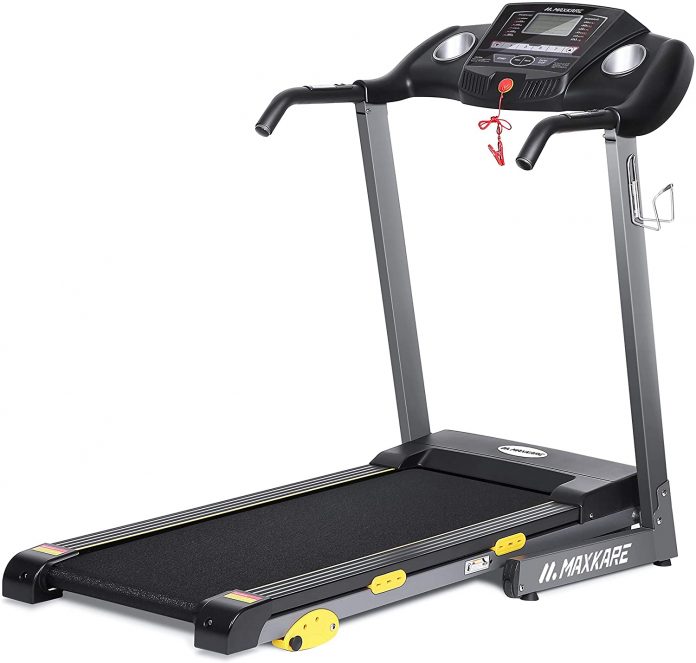 Find out everything you need to know about MaxKare folding electric treadmill machine including its specifications, features, pros & cons, and if it would be a good fit for your home gym fitness routine.
Most fitness enthusiasts prefer working out in privacy and in the comfort of their homes. They love to create their own little home gym and purchase fitness equipment that fits well with their needs and the size of their homes. Hence, a folding treadmill can work wonders if you prefer working out inside your homes. 
Maxkare folding treadmill is the ultimate choice for people looking for a decent treadmill under $500. It lets you save space and comes with a powerful 2.5HP motor to help you enjoy running and working out. It's a strong addition in the fitness world and super affordable too. 
Let's understand the usefulness of this space-saving fitness machine by evaluating its pros and cons and highlighting its features and specifications. 
MaxKare Electric Treadmill Pros
Easy to Use
If you're wondering about how to assemble Maxkare treadmill, it comes with a modern design. The equipment provides easy assembling and simple folding so you can put it under the desk or your bed and save some space too. 
Powerful Performance
Maxkare folding treadmill encompasses a powerful motor with 2.5HP that allows speed adjustment ranging from 0.5 to 8.5 mph. It also has three manual incline levels to adjust the position to your requirements. 
Smooth Design
The auto-incline folding treadmill is the best compact treadmill with a 17-inch running belt and a built-in shock system. Although it's small, it can carry a maximum weight of up to 220 lbs. The design is set to meet all your needs with its multi-layer inclination and smooth controls. 
Unique Display
The flat-folding treadmill has a unique LCD with 12 preset programs to help you choose various exercises and follow a great workout routine. You can also monitor statistics and access the touch buttons on its control panel easily. 
Warranty
The folding Maxkare fitness equipment comes with a lifespan validity and has a warranty of plus 90-days. In comparison to other treadmills, it's better folding fitness equipment as it's not too costly and also provides a feasible warranty option. 
MaxKare Electric Treadmill Cons
Limited Weight Option
As per the Maxkare superfit treadmill reviews on Amazon, the folding treadmill is strong yet it can only carry persons weighing around 200 lbs. This means that people having more weight than this have to look for a better treadmill option. 
Manual Inclination
Although Maxkare treadmill incline choices are unique, it still requires manual inclination adjustment and is not appropriate for taller people. 
Average User Manual
Compared to other modern-day treadmills, it has an average user manual which makes it more suitable for people having fewer requirements. .
MaxKare Electric Treadmill Features
2.5HP Motor– The power-packed running treadmill has a 2.5HP motor that can handle a speed up to 8.5 mph. 
3-Angle Incline– With three-angle Maxkare treadmill incline choices, the machine is easy to use and fold along with the right controls and handles. 
Compact– The folding treadmill is well-suited for people with a height ranging between 4.6ft to 6 ft as its compact and has an adjustable design for support. 
LCD Display– The LCD shows fitness statistics such as time, speed, calories, heart rate, and pulse. It has 15 pre-set programs for varying exercises. 
Running Belt– The five-layered running belt provides noise-reduction and has a shock-absorption layer. It provides great support for knees and a quiet experience to users. 
Storage– The space-saving auto-incline folding treadmill provides manual adjustment with three incline choices such as leaning it against the wall, tucking it away, and freeing up the floor space. 
MaxKare Electric Treadmill Specification Chart
| | |
| --- | --- |
| Product | Maxkare Folding Treadmill |
| Brand | Maxkare |
| Price | $330 approx. |
| Overall Dimension | 54.8Lx 25.6Wx 44.5H |
| Folding Dimension | 45.9Lx 25.6Wx32.7H |
| Running Belt Size | 16″ X 43.3″ |
| Max User Height | 6'1" |
| Net Weight | 95 lbs. |
| Weight Capacity | 220 lbs. |
| Speed and Power | 0.5-8.5mph- 2.25 HP Engine Motor |
| Comfort | Anti-shock Tread Belt |
| Technology | LED display with 15 pre-set exercise programs |

Final Verdict: Should You Buy MaxKare Electric Treadmill?
The best part about the Maxkare treadmill is its unique design and 3-angle incline feature. It's indeed the best option under $500 than most inexpensive treadmills on the list. The performance is also A++ as you don't have to worry about how to assemble maxkare treadmill or how to use it. 
Whether you live in an apartment or a house, purchasing Maxkare for your daily home workout routine can help you stay fit and running. So, it's a useful machine for people willing to work out within the comfort of their homes. 
However, it's not very flexible when it comes to increasing the expected height range. Also, it doesn't have a modernistic approach which can create troubles for people that love to keep up with the digital trends. 
Well, the machine is honestly worth the price and time. But if you're still confused, you can read more Maxkare superfit treadmill reviews on Amazon and decide yourself whether you really want this ultimate fitness machine or not.