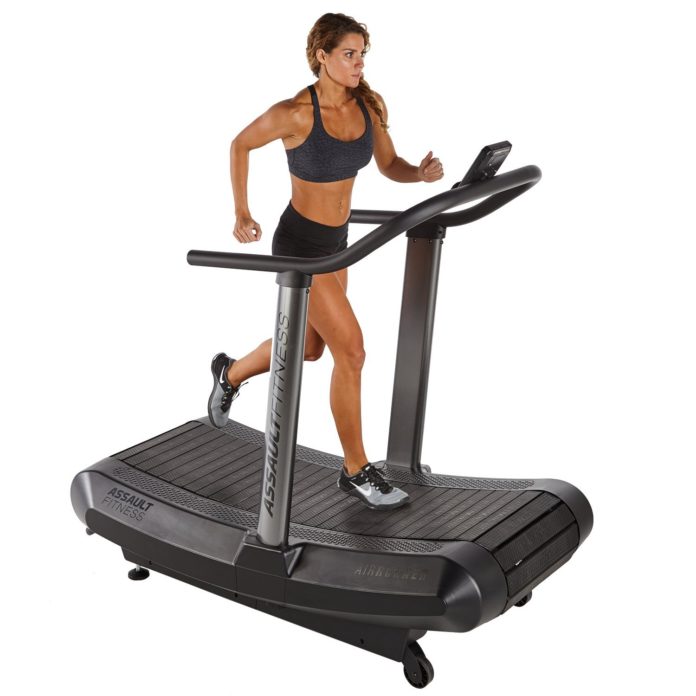 Assault Fitness AirRunner is one of the most liked curved treadmills that has redefined the concept of basic manual models. The value-adding curved shape differentiates it from the ordinary treadmills. The manufacturer is Assault Fitness that is the supplier of world famous fitness products and guarantees it offers refined durability, efficient functionality and modern design. The AirRunner Treadmill like the name says runs without electricity. It is light-weight and focuses on aesthetic designs so to help you power the machine easily. It burns 30% more calories than an ordinary home workout treadmill. Since it doesn't use electrical components it is completely favorable for the environment. It offers limitless speed depending upon how hard you hit with portability and no maintenance cost.
Check Out Ratings of Assault AirRunner On Amazon
Assault AirRunner Commercial Durability
Assault Fitness AirRunners is a commercial grade unit you can not only use in your home gym but also commercially in gyms and workout centers. 
It comes with a sturdy steel construction and rust-resistant surface so that users can use the machine comfortably to workout. 

AirRunners fitness machine has a running surface guarantee of 150,000 miles. The best part about using AirRunner Workout Machine is that it doesn't require any maintenance. 

You don't need to get into the hassle of replacing the belt or adjusting the tension. 

Since it has minimum friction because of the oversized rollers, you don't even have to oil the machine again and again.
[amazon_link asins='B075MZ6TF3,B00F74RX40,B00QIM5CMK,B00N4OX1J6′ template='ProductCarousel' store='sj0b3-20′ marketplace='US' link_id='ca3bdca1-586e-48a1-b4dd-7f9eba627bc7′]
Perfect For Interval Training
This AirRunner Assault Fitness treadmill is designed keeping HIIT in mind so it is perfect for the interval training. It comes with limitless speed and solely powered by your muscles so it will move as fast as you hit it. It runs on your energy and does not consume electricity and therefore overall good for the environment.
Features: Why Buy Assault AirRunner Treadmill?
Users have said that the Assault Fitness's treadmill workout machine offers top-notch support and painlessly works. You don't even have to worry about spare parts of this machine if you are buying a new workout machine. In its true sense, it will help you 'rediscover' a benefit I didn't mention before. It helps you run efficiently and consistently by using the "Pairing" a HR monitor with this (whether through the ANT/BLE support or just wearing one). Speed + HR = focus on gait, cadence, and consistency.
Assault Fitness AirRuner can accommodate users of approx 350lbs weight and very reliable when it comes to safety. 

It has a very safer belt that won't let you get injured.Moreover, The operation is quite smooth and quiet. 

It's way less noisy than other ordinary treadmill which start making noise when you run with more speed. 

The curved shape exert a light impact on your overall body providing a high power running as compared to the ordinary treadmill that produce an abrasive impact to your joints and muscles.
Why Assault AirRunner is better than Other Treadmill Machines?
First of all it exerts less pressure on your joints and muscles than other treadmills and provides an easy and powerpack workout that is a win-win situation.

It burns more calories than an ordinary treadmill on the same speed so if you want to burn more fat rapidly than assault AirRunner is a perfect treadmill to choose.

There is zero or very less maintenance cost because it comes with a warranty of 150,000 miles, that is more than the standard mileage warranty of most cars. However, something may go wrong with the other parts but they would require major fixing.

You can run at the speed you want. You yourself power the treadmill and move as fast as you fit the deck.

It is safer than the ordinary treadmills because it has a curved shape that won't let you fall and the parts stop to move when you stop you cause no or less injury if you slip or fall.
Drawbacks of Assault Fitness AirRunner
It is difficult to gauge the performance of AirRunner assault machine when compared to other ordinary treadmills

.

But it doesn't lack any major feature that should be added in the treadmill workout machine.

For some users, running on the AirRunner assault treadmill may look a little difficult because of the curved surface but they will get the hang of the machine pretty soon.
[amazon_link asins='B075MZ6TF3,B00F74RX40,B00QIM5CMK,B00N4OX1J6′ template='ProductCarousel' store='sj0b3-20′ marketplace='US' link_id='ca3bdca1-586e-48a1-b4dd-7f9eba627bc7′]
Verdict – Buy Assault Fitness Trainer Or Not?
The Assault Airrunner machine is perfect for anyone who would like to use a non-electric treadmill machine for workout. It isn't just the best but offers many advantages to the users. Assault AirRunner workout machine is known for its exceptional durability and almost zero maintenance. If you are looking for a workout machine that offers the most comfort, then Assault AirRunner is the perfect treadmill machine for you.