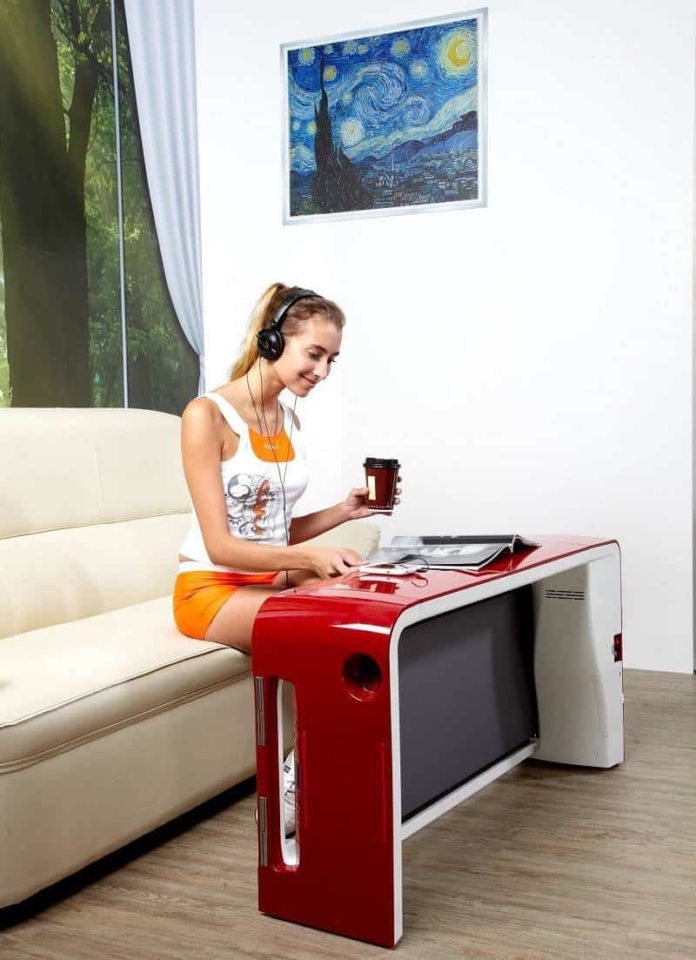 Running is hell. Period.
No one wants to get up every morning to workout. That isn't how our body works. We aren't athletes that can train every hour of the day. We want to relax after a long-stressing day at office. And, it doesn't simply count in our routine to get up and jog around the area in pants.
What if there was a better solution? Something that would allow us to get a quick jog right in our PJs or even in our birth suit?
Is it a table? Is it a Chair? It is a treadmill!
A Treadmill That Your Wife Will Love
That was our quest. And, we think we have succeeded. The Bodycraft spacewalker is one machine that fits this purpose. This light and multi-functional treadmill is designed to take little room. But it offers all the benefits of a regular gym treadmill that you ever fantasized about. Whether it is brisk walking in your bedroom, or using your treadmill as your dining table, this multi-purpose bodycraft spacewalker treadmill will do it all for you.
Check Out BodyCraft Spacewalker Treadmill on Amazon
Table for Tea or Burner for Fat?
In fact, one reason almost everyone has bought it is because it can be folded and used as a workstation as well.
So, if you work from home remotely, now you can burn weight while doing that as well. The quick weight burner has many perks that one can only discover when they have it in their home gym.
In this review of the Bodycraft treadmill, we'll go through all the great perks that this quick and easy treadmill has on offer.  
Bodycraft Spacewalker Treadmill Features
Perfect for All Workouts:

One of the most remarkable features of Bodycraft Spacewalker is that this compact treadmill can be used to perform low, medium or high-intensity cardio workouts without stress.

Designed for Person Large and Small:

Whether you are a heavyweight 120kgs person or a slim and tiny blonde of 45kgs, it can bear or load with ease. The machine doesn't even take much space. And, you can easily fold it when you're finished with training

Features Every Great Treadmill Offers:

The best part about Bodycraft spacewalker is that it has all the great features that any regular treadmill offers. Those include speed, time, distance and pulse. The display features an easy to read red LED light.
Check Out BodyCraft Spacewalker Treadmill on Amazon
Let's learn about the Bodycraft Spacewalker in detail. It comes with many features that can spice up your training and these don't just end at adjustable floor, table cum treadmill, but the real ones that actually help you workout.
Bodycraft SpaceWalker In Detail
The best purpose of spacewalker is that you don't have to stick it with cardio or endurance training. You can do bodycraft spacewalker training for casual stuff as well. Many people want to know how they can You don't have to use Spacewalker just for doing cardio because the routine can be used for all tough exercises. The bodycraft spacewalker is great for all those who enjoy walking while working on their laptops. You can do exactly that with this compact treadmill.
We didn't shed a lot of light on how the machine can be turned into an upright table to burn off more calories. With the Bodycraft spacewalker feature, you have the potential to increase your work productivity while making you lean and healthy.
Check Out BodyCraft Spacewalker Treadmill on Amazon
Perfect for Your Home Gym
The main reason we consider the spacewalker treadmill a part of our home is because of the comfort it provides. The exercise treadmill looks great because of many reasons. First, it has a safety lock system that will keep it stuck to the ground, so that you can workout as per your will.
Secondly, it will let you take the command by offering numerous treadmill running options. You can also turn it into a table if you are not in the mood to exercise. The bodycraft spacewalker will never come in your way.
What You Should Know Before Buying Bodycraft Spacewalker Treadmill?
Buy an extension cord. The machine is not available with a cord and the plug has limited length.

The bodycraft spacewalker treadmill lubricants aren't going to keep it lubricated for long. If you want a noiseless machine, better by quality lubricants.

The bodycraft spacewalker treadmill machine doesn't come with a battery. So, you will need to plug it in to use it.

It can run at a speed of 4 mph at max.
Specifications
LED display, Time, Speed, Distance, Pulse, Calories

Speed of 0.5-4 mph. Has a walking surface of 15''W x 39''L

Treadmill has a weight of 82 lbs

Treadmill has a user capacity: 300 lbs / 136 kg

Durable Steel Frame

2 Transportation Wheels

Adjustable Floor Levelers
[amazon_link asins='B01MQXTTMH,B00QIM5CMK,B00G124PV6,B06XZD9WX2′ template='ProductCarousel' store='sj0b3-20′ marketplace='US' link_id='40381eaf-2784-4943-ad64-3725bff9a5b9′]
Why Bad Reviews of BodyCraft Spacewalker – Walking Tread Desk
Problem #1:  The treadmill machine doesn't work for a long time that's what one buyer of the bodycraft spacewalker has said on Amazon.
Problem #2: It has a poor customer service. So, anyone looking to buy the machine or to get it replaced has to wait a long. This wait is frustrating because customer service representatives simply don't reply.
Read More Reviews of Bodycraft Spacewalker
Summary
Bodycraft Spacewalker is a genuine, durable, and efficient treadmill machine for beginners who are just starting to workout. It requires little space and easily fits the bill. And, most importantly, you can use it whenever you want. The multifunctional treadmill is a great addition to any home gym.
We hope that this bodycraft treadmill overview will help you make an aware choice about the type of treadmill machine you would like to buy. In the end, we value fitness and health. Our purpose is to highlight all those great machines that help users become proactive, efficient, and agile. Let us know what your opinions are about the  bodycraft spacewalker treadmill for home in the comments below.