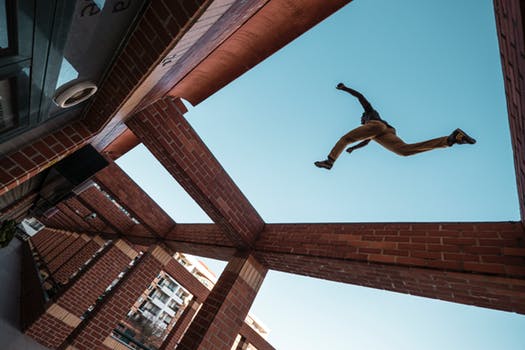 While doing parkour, you need a safe place to keep your belongings. That's why parkour bags are now becoming a necessity for parkour practitioners. Personally speaking, I don't take a parkour bag after I accidentally squished my sun glasses in a parkour bag while doing rolls – but that is a totally different matter.
Parkour Bags: How do you wear them?
Many people ask a question that do you actually wear a parkour bag while doing parkour. Nope. Not really. You can wear a parkour bag if it doesn't contain bottles, sunglasses and mobile phone. But if has all these things inside it, you simple can't risk them because they will break when you do a flip and land on your back or perform a roll.
You wear them when you are running, jumping, or moving from one destination to another. But you can't wear them when you are rolling or practicing flips because they will just come in the way.
| | | |
| --- | --- | --- |
| Best Parkour Bags for Traceurs | Condition | Prices |
| Fitmark Obstacle Course Backpack Online | 5 Star | Check Prices |
| Everest Sling Bag Online | 4 star | Check Prices |
| Fastbreak Daypack Bag Online | 5 Star | Check Prices |
| Vrypac Parkour Bag Online | 4 Star | Check Prices |
A better way to keep parkour bags with you is to keep them on the ground where you practice or tie them to a tree. This way you belongings such as wallet, phone, bottle, sunglasses, and spare clothes will remain safe.
Benefits of using Parkour Bags:
The reason parkour bags have become so popular is because they come with a lot of benefits. Here are some of them:
Whether you are moving through a jungle or urban areas, you will need to protect your belongings. Sadly, pockets aren't your best friend at protecting things because they become loose when you run. A better way is to keep things safe inside your parkour bag.
Easy way to carry things around
These parkour bags come with zipper pockets that keep wallet, smartphone, bottle and sunglasses safe and secure. You can wear the bag on your back and carry it wherever you go. And, when you decide on an area where you want to practice, just put the bag aside and start doing that.
Finally, a parkour bag will make you look cool just like the warriors in assassin's creed or prince of Persia. You can even take selfies while doing parkour and free running stunts while wearing these bags.
How to find quality parkour bags?
Parkour bags aren't any different from regular bags. You can make any bag into a traceur handheld if it is small and compact. Otherwise, you can buy these bags online directly from Amazon and other online shopping stores.
Here is a list of some of the best parkour bags based on ratings and reviews
Best Parkour Bag packs under $50
---
Fitmark Obstacle Course Race Backpack
The best and branded bag pack which is made of high-quality polyester.
It has a zipper style end which enables a very classy and stylish look.
It has a front zippered pocket and the main compartment for keeping up your corresponding, is done with zipped side entry.
Comes in different and modern colors. It is perfectly designed and lightweight, best for anyone free running.
When it comes to bag pack of such budget, then this is the best bag which one can consider to buy.
Buy Fitmark Obstacle Course Backpack Online
Everest Sling Bag for Parkour
A high-quality bag which is constructed of magnificent 100 percent polyester which is of imported quality.
Zipper style ending makes it stylish and cool.
This amazing bag is suitable for those youngsters who are looking forward to have bags which have lengthier shoulder drop. This bag offers 12" shoulder drop.
It is 15" wide and comes with two deep exterior pockets as well. So, you can keep your things in those pockets too.
The bag is spacious and can keep all necessary equipment.
Fastbreak Daypack – Allround M
If you are fond of travelling in almost all types of weather conditions, then this is a must use bag for you.
This bag is made of water repellent fabric which makes it useable for every type of climate conditions.
This amazing bag contains secret pockets inside of it. So, you can keep things secretly from your friends or someone else.
It has manageable zippers which makes it classy.
The Fastbreak Parkour Bag pack is designed so much beautifully that it looks like those bags which are used by skydivers. It is spacious and comes in various color schemes.
Buy Fastbreak Daypack Bag Online
Vrypac Parkour Bag
An amazing water-resistant backpack that's slick in design and allows you to move in your favourite position.

It is suitable for those people who are fond of outing as they can keep their cards or wallet etc. in it.
Due to its lightness, it is perfect for small jogs, obstacle courses, and even organized races.
Read More:
Parkour Bags for Training: Do you Even Need Them?

How to Buy Quality Gym Duffel Bag Online?
Why Use Parkour Backpacks?
People use parkour backpacks for various reasons. Here is a small list of products traceurs and free runners carry in backpacks.
water bottle
snacks
wallet
keys
camera
smartphone
extra pair of clothes
first aiD