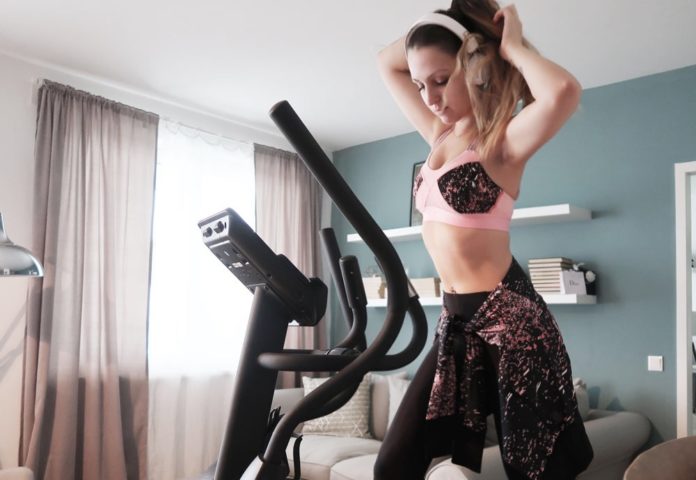 Elliptical trainers are made for exercising the joints and hips. They are perfect way to start a workout and get the most workout from your body while staying at home. But, to start your workout with elliptical trainers, you should know about the different parts they have.
Why Know About Elliptical Trainer Parts?
If you are buying an elliptical trainer for your daily workouts, it is evident that you know about various elliptical trainers. Most elliptical machines have four common parts including:
Flywheel
Roll and deck
Electronic screen
Foot pedals
These are the major parts of the elliptical trainer and if you keep them maintained, your elliptical trainer will work out great.
So, without further ado, here is a list of the top four components of elliptical trainers. Learn everything about them in detail.
Elliptical Flywheel
If you have questions about what are flywheels, then this is where you get the answer. The flywheel is the elliptical trainer's drive system; it is what swings as you add pressure to the pedals, and it also governs the resistance levels.
The flywheel weight has a clear relationship to how smoothly an elliptical trainer can move and how noisy the machine can be overall. As a result, it's an important aspect to be aware of. The flywheel is what moves the pedals and hand grips, and a heavier flywheel extends the life of your elliptical. Depending on the brand, flywheel weights will range from 13 to 35 pounds.
If the elliptical flywheel is in the front of the rig, it is referred to as a front drive trainer; if it is in the back, it is referred to as a rear drive trainer. A center drive simulator is a modern type that has the flywheel in the center of the rig.
Although any of these designs has advantages and disadvantages, most in-home, more lightweight, and less costly elliptical trainers are front drive. Rear drive trainers are usually larger, more costly, and less common for use at home. However, which is the "right" fit for users ultimately comes down to personal preference.
Front drive cross trainers act more like stair climbers, while rear drive trainers act more like a mix of running and walking. So, choose one that best fits your needs.
Buy Top Elliptical Trainers On Amazon
Electronic System
The computer interface consists of the screen and any feature that functions when the unit is plugged in, such as power control features including adjustable incline. This is an important aspect to understand for a variety of reasons.
First and foremost, the coverage applies to the computer device, please read the fine print on all warranties. Some companies will advertise a three-year parts and service warranty, although if you read carefully, this might or might not include the trainer's electrical appliance.
If you want preset exercise program and target tracking features that include heart rate monitoring, the quality of the console is also critical. Most trainers will have at least eight preset systems, but only certain standard home use and elite trainers will have portable heart rate tracking capability.
Buy Top Elliptical Trainers On Amazon
Deck and Rollers
You're hearing squeaks from the elliptical trainer but can't figure out where they're coming from. The most frequent source of squeaks is between the rails and the wheel. Though this is a pretty easy repair with some rail lubricant, learning how rollers operate and the value of solid rollers would be beneficial.
The internal roller deck is similarly important to the quality and appearance of a cross trainer. When shopping for a cross trainer, consider the length of the stride, which is the distance the rollers travel from front to back of the deck, or the length of the distance the pedals cover during the elliptical trainer's motion.
In a cross trainer, a longer stride allows more space for legs to travel from front to back, while a shorter stride allows less space for legs to move from front to back. Although this isn't really a problem thing depending on your height and tastes. While a longer stride may be suitable for a taller person or someone with longer legs, it may not be ideal for a shorter person and may also create discomfort.
If you are unsure how to determine your stride length for elliptical cross trainer, here is a simple way: A taller person with a shorter stride can have similar issues, as they may feel too limited in the pedals. The best case is to find a trainer with an adjustable stride such that many people can use the same equipment easily. Most trainers have stride lengths ranging from 18 to 24 inches.
Foot Pedals
The foot pedals on a cross elliptical trainer are an essential component of the fitness regime. If the foot pedals are too tight, it can cause anything from lower back pain to stress fractures. The cushioning, shape, and height of the foot pedals on an elliptical trainer are three items to aim for. This is a genuine cross trainer problem and that's why it is important to ascertain the foot pedal size while selecting one.
Cushioning is a common characteristic of a high-quality foot pedal, and several manufacturers offer cushioning with padding to keep the foot securely planted on the pedals. Many models' foot pedals would be designed to incline slightly inward and also pivot. The inner slop is intended to ease pressure on the feet, while the sliding motion is designed to encourage greater ankle movement.
The length of the pedals is also important to remember. Most manufacturers will sell "oversized foot pedals," but what exactly does this imply, and is it a positive idea even though you have small feet? Oversized foot pedals are normally useful for most people because they provide more room for the feet and prevent cramping. Of course, cushioning and padding go synonymously with height because if the pedals are far too high and the foot is too big, the foot will slip. So, always look for elite cross trainers with adjustable foot straps.
Buy Top Elliptical Trainers On Amazon