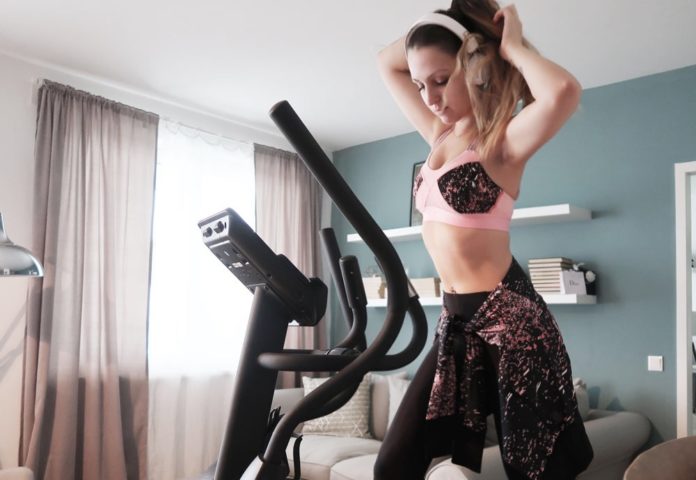 Whether you are looking to buy the best elliptical cross trainers for home or office, or just want to get one on your wishlist, this list of best amazon elliptical cross trainers will come in handy.
Here is how we choose the best elliptical cross trainers on Amazon.
You must know that Amazon offers a section on 'best elliptical cross trainers' we know that too and we don't believe that. There are many decent machines that are just not top-rated and that's because of many reasons. So, we only choose those that are within the budget of an average American. 
So, all the elliptical machines/trainers in our list are under $500 so that you can exercise easily and have fun while doing it. 
Best Amazon Elliptical Cross Trainers On a Budget 
Ancheer Elliptical machine is a sturdy trainer which you can use comfortably at home. It offers 8 levels of resistance which you can choose from according to your fitness needs. It is equipped with a uniquely designed heart rate sensor and a large LCD display. The built-in inertia enhanced fly-wheel makes your exercise quiet and comfortable and the wheels on the front make it easier for you to place it anywhere you wish.
Ancheer elliptical machine has a high rating on Amazon mainly because of the build quality of this machine. For those who are interested in an affordable but high quality elliptical trainer, then this one is for them!
Buy Ancheer Elliptical Trainer On Amazon
Aceshin offers a compact life fitness trainer for more challenging workouts. It also features 8 resistance levels assisting lower to high intensity workout. It has a sturdy tubular steel construction equipped with pulse pads helping heart rate monitoring. Moreover the large pedals prevent foot slippage and fly-wheel makes the operation smooth and quiet. The elbow mounting makes it comfortable to exercise and the large digital LCD display records speed, calories burnt and heart rate etc.
The elliptical trainer is equipped with heart monitoring sensors, heart rate sensor, and pulse monitors. 
Over 40 customers can't lie! It has an 85% positive rating which makes it an idea elliptical trainer for anyone looking for a quick workout.
Buy Aceshin Elliptical Trainer
The StreetStrider elliptical trainer provides you a full body workout which comes with an indoor trainer stand through which you can change this machine into a standing elliptical. It has 7 gears which offer lower to high resistance according to your desire. The sturdy steel construction endures up to 300 lbs. weight and the disc brakes enable you to stop effortlessly. The machine is foldable and easy to transport. You can extend the foot platform and adjust the levers according to your comfort level.
Get a Full Body Workout: This outdoor elliptical trainer offers a full body workout without adding physical stress on your joints and body. Simply, burn more muscle with over 1000 calories in just an hour by using this trainer.

By StreetStrider Outdoor Elliptical Cross Trainer
Sunny SFE902 is a unique space saving elliptical trainer offering air walk and aerobic training which enhances your cardio-respiratory health. It contains abdominal pads for extra comfort and large sized –slip foot-pads and afford about 220 lb. weight capacity. The digital monitor screen helps you to track your fitness goals on the fingertips. Moreover, the trainer offers 30 inch stride length so that you can move your legs easily.
AEROBIC TRAINING: The sunny elliptical trainer works out your whole body. Whether you want to increase your cardio respiratory fitness, or get help in burning more calories, this sunny elliptical trainer can do both for you. It comes with 5 essential components of physical fitness. Only do 20 minutes of workout with this air walker and you can easily control and maintain your weight.
It's a unique cardio machine which is portable and takes minimal space in your home or office .You can adjust the workout intensity by turning a dial and also see your progress on the small display monitor. It is specifically designed for gamers who usually exercise while gaming. You can choose to exercise while reading, watching TV or listening to music etc. You can exercise while standing and sitting as well. It also offers reverse paddling and comes in three attractive colors i.e. green, orange and silver.
GREAT FOR GAMERS: Getting fat?! Now you can get an effective workout while playing your favorite games. This elliptical trainer is purpose-built for gamers. With this passive, low-attention exercising machine, you can easily do leg movements and improve circulation in a non-distracting way while playing video games
List of the Best Outdoor Elliptical Cross Trainers Under $500 On Amazon
If you are looking for some of the best elliptical trainer machines on Amazon that are affordable and fit for home, then look no further. We are here with some of the best elliptical cross machines you can find online. And, the best part? All these machines are perfectly affordable. So, whether you want to start your elliptical training, or looking to enhance your workout regime, this is the right time to get yourself a cross trainer machine for home gym machine.
Check Out Some of The Best Elliptical Trainers at Amazon
If you need an economical outdoor elliptical trainer for a healthy workout then Body Power Elliptical Cross Trainer is worth considering. The sturdy steel fly-wheel makes your full body workout smooth and effective. You can easily adjust the resistance by turning a knob. The trainer is equipped with a slim and sleek display to showcase the calories burnt, speed, time and other stats helping to achieve your fitness goals. Moreover, The built-in wheels make it easier to move and store anywhere conveniently.

Buy Body Power Elliptical Cross Trainer
Fitness Reality 2366 X-Class 710 is a great choice possessing many of the advanced features in a reasonable budget. It has a solid construction which can bear up to 300 lbs. of weight and offers 24 levels of resistance to provide you with the healthy workout. It is equipped with Bluetooth smart technology and dual speakers in the console entertaining you while exercising. The built-in workout programs guide you throughout the exercise and help you with achieving your fitness goal. Thanks to the 44lbs fly-wheel which makes the overall workout smooth, quiet and free of jerks. Moreover, It has a 20-Inch stride length which allows easy movement.
Buy Fitness Reality 2366 X-Class 710 Elliptical
Marcy ME-704 is a regenerating magnetic elliptical you create the energy yourself by pedaling to operate the machine. It has adjustable levers and a cushioned handles equipped with pulse rate monitor in order to alter your workout's intensity accordingly. It has a large display through which you can keep a record of the time, RPM, speed and burnt calories.  There are 24 built-in programs to carry out your exercise effectively. The large textured pedals ensure your safety and the built-in wheels help you to transport the trainer easily.
Buy Marcy ME-704 Elliptical Cross Trainer
 4.   Exerpeutic GOLD 2000 XLST Elliptical Cross Trainer
Exerpeutic GOLD 2000XLST offers smooth and quiet operation assisted by a large flywheel for better momentum. It features 21 built-in workout programs, 16 levels of tension, an LCD display which displays and large pedals to prevent foot slippage. It has 275 Lbs. user weight capacity and an upgraded 3 piece crank system which ensures smooth pedaling. It comes with Bluetooth smart technology. Through MyFitQuest4 app, you can track your exercise result on your smartphone or any other android device for free.

Buy Exerpeutic GOLD 2000 Elliptical Trainer
XTERRA Fitness FS1.5 is a smartly designed elliptical trainer that is equipped with all the technologically advanced features and a competitive price an ideal trainer should possess. Despite short stride length, it has other impressive features like 13 built-in workout plans, magnetic resistance technology, 16 levels of resistance, robust fly-wheel for smooth operations and so on. It's a smart exercise machine that is suitable for outdoor as well as indoor placement with a compact and stylish design that compliments every setting in your home or office. Moreover, front wheels provide convenient relocation anywhere. It has comfortable cushioned handles and large display monitor which help you track record of speed, RPM, time, burnt calories, and heart rate. 
Buy XTERRA Fitness FS1.5 Elliptical Cross Trainer
What to look for in an Elliptical Trainer Machine?
A list of the best features you must check for elliptical trainer machine.
There should not be any jerky movement. Make sure that the machine works smoothly and that you don't get a jerk while moving on the machine. The best way to check this is when the machine is already under warranty. Since you will be buying machine online, you can't check it before purchasing. So, check the smooth motion of the elliptical workout trainer within its warranty.
If the machine is too loud, you won't be able to workout on it. So, make sure that it doesn't make much sound. People don't like noises coming from the elliptical trainers because they distract them from exercising.
Make sure that the machine has arm handles. They aren't necessary but they help keep balance on the elliptical trainers and provide a firm grip. This means you can workout more and don't get tired soon.
Adjusting incline will help you workout at your own pace. Some elliptical trainers do offer auto adjustment for incline but that's not what you will get with every workout machine.
Make sure that the elliptical trainer comes with resistance. It will push you to limits and offer you more benefits with your workout. The adjustable resistance in the elliptical trainer can also help you get fit and lean faster.\
Other features to look for in an elliptical trainer include:
Heart rate monitor
Fitness Tracker 
Preset programs
Warranty
Bottom-line
These are just some of the best ones you can find under $500. We hope our list will help you make a more aware decision while purchasing your next best elliptical cross trainer machine.