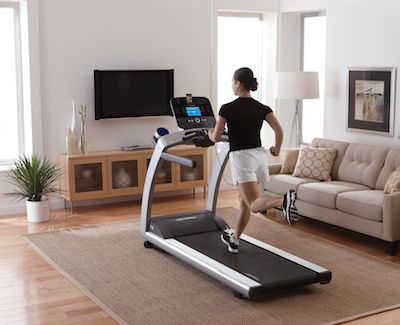 While searching for the best treadmill for your home, you will come across both manual and electric treadmill machines. But you will get stuck on one thing. Which of the two treadmill machines is best for you? 
In this article, we have tried to help you come to a decision by offering more information about the topic. We have also discussed the benefits, drawbacks, and the prices of both types of treadmill machines.
So, let's get started learning.
Choosing Between Manual Treadmill Vs Motorized Treadmill
In today's age, we all work almost 10 hours from 9-5 jobs + the traffic hours spent sitting on a bus, in a car, or on a motorbike. We have no time for our body. And, this leads us to an unhealthy life where we can't even stay fit. 
This impacts us and it leads to many problems. A few reason people should workout out on a treadmill is because people have:
More stress in their daily lives. 
People keep getting angry on simple and small things
Most people are so enraged that they try to fight anyone that comes in their way
People don't have a constructive place to put out their energies
Office going people don't have time to play outside with friends and family
This is where treadmill machines come in. Whether you or your wife wants to jog everyday, or you want to have a run, where would you go? On a treadmill available in your home, right? That's what a treadmill is for afterall.
Factors to Manual Treadmill Vs Motorized Treadmill
· Cost
· Health goals
· Motor and horse power
· Features
· Brand
· Warranty 
Let's learn why people choose Manual or a Motorized treadmill for their home gym fitness.
Manual Treadmill Vs Motorized Treadmill – Functions
The first and foremost difference between the Manual and the motorized treadmill is that in the manual treadmill you have to power the equipment yourself unlike the automatic one. These are the simple and safer exercise machines where you have to push the belt in order to move the tread.
However, the electronic treadmills as the name suggests, are equipped with the electrical motor which moves the tread. The speed is adjusted by the machine itself. There are incline levels which make the workout more stimulating and challenging.
Now, the choice is yours, whether you want to put more effort into your exercise or workout effortlessly by choosing a motorized treadmill.
Buy Motorized Treadmill On Amazon
Manual Treadmill Vs Motorized Treadmill – Price & Design
The biggest benefit of a manual treadmill is its low price.Manual treadmills are budget friendly and do not cost much. They are lesser in price as compared to the electronic treadmills which are expensive and contain various advanced features and designs. The motorized treadmills are better in construction and designs but if you want to buy a compact equipment for your home gym then the manual one should definitely be the choice. However if you want to opt for the one having innovative features and sturdy construction then the motorized one is the most suitable option.
Buy Motorized Treadmill On Amazon
Manual Treadmill Vs Motorized Treadmill – Workout Impact
The manual treadmill has a greater impact on your joints as it offers more strenuous workout. Those who have arthritis should not choose to go with this option as it may affect the joints adversely.
On the other hand, the electronic treadmill operates by a motor which does not cause straining. 
On the other hand, the manual machine is muscle-powered so it helps to burn more calories.
You put a lot of effort when it comes to control the speed rather than going with the pace.
Difference in Safety: Manual vs Electric
Manual treadmills are the simple and safer options as the parts do not move automatically however when  it comes to the more comfortable option then the electronic one causes lesser strain to joints.
TL-DR – Manual vs Motorized Treadmill Machine:
Manual treadmills are harder to run on because you are supporting the belt by your hands. In comparison, an electric treadmill allows you to move your legs with the movement of the rollers.
In a manual treadmill you will be limited to a single speed >>> the speed that your body can produce. However, in comparison you can move the speed up or down based on the electric treadmill machine.
It is not true that electric treadmills can have negative impact on your body. Instead, manual treadmills require more effort from your end and make you tired faster. This is opposite to your goal of burning fat, which requires more time on the treadmill.
Electric treadmill machines require more maintenance then a manual treadmill machine.
Electric treadmill machines cost a lot more than a manual treadmill machine and that's why most middle-class people can't think of buying them in the first place.
Electric treadmill machines can get short circuit or many other problems due to the presence of electric machinery in them. At the same time they have a large size, and require more space, unlike a manual treadmill machine that only require a small area. Sources: Quora
So, what is the end? Here is how to make an aware decision while buying a treadmill machine for your home.
Buy Motorized Treadmill On Amazon
Making the right choice
The treadmill proves to be a great cardio workout machine for you gym but it is important to choose the right type of treadmill machine for your home, focus on
budget,
space,
portability,
physical issue
Both the types of treadmill machines have their pros and cons so now it is up to you to choose the right one according to your need and fitness goals. Best of luck!