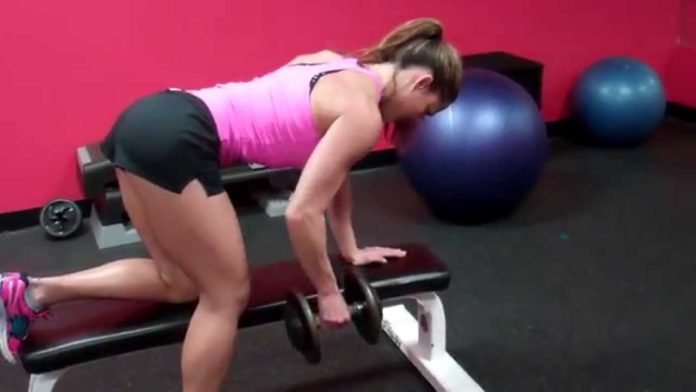 Working from home is becoming a reality. Work from home means doing everything from home. This means YOU WON'T HAVE GYM!
The whole world is on a lockdown and you literally can't go to your gym for the rest of the year or for at least a few months. So, what is the best option available to you in such a scenario? That is where the York Fitness Folding Barbell Bench machine comes in handy.
It is the perfect bench press machine for fitness lovers who would like to get a decent workout machine that can help them keep their upper body pumped up at all times.
Here is why we believe the York Barbell Folding Bench machine is awesome! Check out the specifications of how this York fitness bench can help you build a steady body fast and easy.
See York Barbell Folding Bench 
York Barbell Bench Machine: Specifications 
| | |
| --- | --- |
| Product brand  | York Fitness |
| Department  | Unisex |
| Product type | Foldable/adjustable weight bench |
| Product dimensions  | 162 x 102 x 102 cm |
| Available colour | Black/grey |
| Weight capacity | 200 lbs |
| Shipping weight | 55 lbs |
A weight bench is a fundamental workout gear that is essentially needed for basic pressing and weight lifting exercises. You can perform these exercises without a weight bench too but, with a weight bench, you can have a more organic and athletic workout experience. A good workout bench can go a long way in helping you with better weight lifting and barbell weight training.
If you're a beginner level workout person searching for the best weight bench to assist you in your home workouts, the York Fitness folding 54041 barbell bench is surely your last stop.
York fitness barbell bench machine is a great option for people who are just starting their home gym and want to practice strength training. It is ideal for entry-level workouts and home fitness maintenance. With the upgraded features like butterfly arms for pectoral exercises and barbell retaining hooks, this bench is the perfect choice for your workouts.
See York Barbell Folding Bench 
York Barbell Fitness Bench: Features 
Here is a list of features of the barbell fitness bench machine and how it can help you create an attractive body fast!
York fitness 54041 folding barbell bench is an upgraded version of the 54000 weight bench manufactured by York fitness, one of the leading gym equipment manufacturers. The bench is comfortable and convenient as it folds when not in use so you can save a lot of extra space. The bench also features butterfly arms that help in pectoral exercises like curls and others. Other features include:
Multi-incline Positioning systems
York fitness barbell bench has a three-position backrest system which means you can change the position of the backrest according to your will. You can either incline, decline or keep the back flat for your desired workouts. This three-position backrest system gives you a wide range of motion to perform an uncountable number of exercises. 
Source: Pinterest
Butterfly arms for pectoral exercises
Unlike the regular and simple weight benches, the York 54041 weight bench has many upgraded gears like the barbell retaining hooks and butterfly arms at the side. The butterfly arms can help you with a number of pectoral exercises including chest flyes, bench presses, barbell incline chest bench press and many others.
Foamed leg rollers
The York fitness barbell folding bench is equipped with a leg unit having foam rollers. The foam rollers ensure comfort and ease while you perform abdominal exercises. It locks down your legs in a safe position providing support to the legs and back.
See York Barbell Folding Bench 
Mounted butterfly arms
On either side of the bench, there is a butterfly arm which is designed to help you while performing chest flyes and other arm exercises. The butterfly arms add an extra factor to the bench and give it a smart look so you can enjoy your fitness routine.  
Safe and handy weight change option
The sturdy frame just above the backrest of the bench has two barbell retaining hooks. These hooks hold the barbell in place when not in use. You can keep your barbell on the hook while changing the weight plates. The hook makes your weight changing really convenient and easy.
Compact and foldable
One of the most liked features of the York fitness barbell bench is its foldable disposition. You can easily fold the bench when it is not in use to make some room. The compactness of the bench makes it ideal for the fitness maniacs who crave for a home gym setting in a limited space. 
Sturdy metal frame 
York Fitness, undoubtedly, is a prominent and leading brand manufacturing fitness gears and accessories. This barbell bench is no exception when it comes to a hefty frame and a durable metal stand. The perfect combination of metal and PVC plastic gives this bench a long life without the risk of any wear and tear.
Additional fixtures
The shipped product comes with a metal frame and bench along with nuts and bolts, foam rollers and an instruction guide manual.
Product dimensions
The product has the following dimensions 
Length; 162cms, width; 106cms, height; 102 cms
Besides that the weight if the product is around 21 kgs while the shipping weight is almost 25 kgs.
See York Barbell Folding Bench 
Weight capacity
The user weight capacity of the York Fitness folding barbell bench is around 150 to 200 kgs.
Let's have a quick overview of the pros and cons of this amazing fitness product.
Pros:
Adjustable backrest

Barbell holding hooks

Butterfly arms for support

Foam rollers for leg support 

Compact and foldable

Convenient to use

Reasonable price

Easy to assemble
Cons:
Not compatible for taller individuals

Limited for entry-level only

Not suitable for professional training

Assembling takes time

Thin roller pads
Should You Buy York Barbell Bench Machine?
If you need a foldable barbell machine that can help you build your upper body without any excessive machinery, then YES you definitely should buy the York Barbell Bench Machine. However, if you believe that there is a much better option available to you, then you should choose that one.
Check out York Barbell Bench Alternatives before making up your mind!
See York Barbell Bench Alternatives