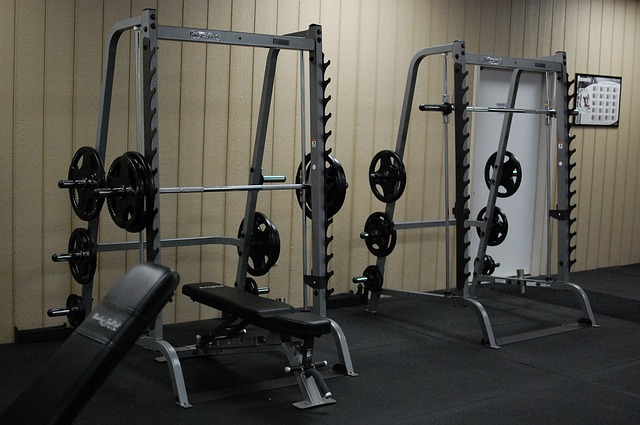 Looking to upgrade your home gym workout bench? Or buying your first weight lifting bench? Either way, it can be challenging… unless you know what type of weight lifting bench will suit your needs.
Adjustable workout benches are a crucial piece of equipment for exercising in home gym. It helps you do biceps, triceps, wings, shoulders and chest. In fact, chest exercise is next to impossible without a decent commercial Adjustable Weight bench. Because, the dumbbell or the bar exercises for chest do not work on plain ground, one needs an inclined surface to complete the laps.
Moreover, the commercial Adjustable Weight benches can be used with dumb bells, power racks, and other multiple attachments to ensure a complete workout routine.
Below is a list of possible home gym adjustable workout benches that you can buy for lowest price and most benefit.
In a hurry? Best Adjustable Workout Weight Bench list summarized:
Commercial Adjustable Weight Benches List
Bowflex 5.1 Weight Bench – Buy Here
Cap Utility Adjustable Workout Weight Bench – Buy Here
Bowflex SelectTech 3.1 Weight Bench – Buy Here
xMark Commercial XM-7630 Weight Bench – Buy Here
Marcy Adjustable Utility Weight Bench- Buy Here
Ironmaster Super Bench for Weight Lifting- Buy Here
Universal 5 Position Adjustable Workout Weight Bench – Buy Here
My research for the finest commercial adjustable weight bench for workout:
Before writing, I searched for the best adjustable bench for workout. I needed a seat/bench for my own house because I left the gym a few months ago and now wanted to setup my own home gym. As of now, I am doing chest exercises on flat ground. I needed a weightlifting seat that could handle some serious weight because I am a power lifter.
I also wanted it to be sturdy on all sides so that I can do box jumps and dabble shoulder presses and it remains intact. I found a lot of commercial adjustable weight benches that could incline, decline and remain flat. The research for the best adjustable workout seat is provided below. Hope it will help you make a better decision for yourself.
Whether you are buying an inclined bench, declined seat/bench or just a flat bench, I have provided properties of each one so you don't have to regret your decision.
Which adjustable workout weight bench is right for you?
There are lots of things to think about before buying a weight-lifting bench. First you have to consider the following questions:
How many positions do you need in a weightlifting bench?
The Universal by Nautilus bench offers five positions for weight lifting. It helps train your chest, shoulders and your triceps. The weight bench can also be used for deadlifts and decline-chest press exercises.
Do you need a adjustable weightlifting bench?
Do you target all your muscles or just the chest and upper body? The decline bench is for chest and shoulder exercises. Also, it can be used for wings. But, ask yourself first that do you even need a decline bench or you can work out without it?
There are many weight-lifting benches, but most do not have a decline bench available with them. Most people are just not into decline bench related exercises, therefore you will have to choose one that offers this functionality.
Secondly, you will need a bench that can handle high amount of weight as well.
How much weight do you lift using the bench?
The next question is to determine if the weight you lift, can be handled by the adjustable weight lifting bench. The benches usually have mentioned, the amount of weight they can handle. If you are a heavy lifter, you will need a weight training bench that is made of extra high quality and durable, so it can last long. If you lift light weight then a regular bench will work for you.
What is the size of adjustable weightlifting bench?
Usually, benches are made for people around six foot in height. If yours is more than that then not every bench may suit your body. While buying an adjustable bench for home workout, see if the dimensions suit you. It will give you an idea of what works and what doesn't.
Will you move the adjustable weight lifting bench often?
In a home-gym, the workout benches do not move more often. Will you be moving the bench more often? You will need a light-weight adjustable bench if you are going to move it more often. The bench should be foldable so it can be folded and unfolded at will. Some workout benches can even fit under the bed such as Bowflex adjustable workout bench.
How important are the aesthetics in adjustable weight lifting bench?
Then you will have to decide how your bench looks like. Do you focus on aesthetics or you want a regular bench? Does design matter to you? A traditional bench will not have modern design but it will be stronger. Modern workout benches have better aesthetics and are designed for portability, that's why most of them are portable.
What's My budget for buying a adjustable weight bench?
Finally, what budget do you have in mind? Do you want a workout bench for under $300 or are you willing to go above this price? Good workout benches are available around this price. These benches are portable, adjustable and strongly built. You can also buy entry level benches for $100 if you want, it's totally up to you.
And there is no need to fork out hundreds of dollars on the perfect bench. If you are just starting out its better to go for a simple bench and gradually move to better ones once you get the hang of it.
For beginners – Best adjustable workout weight bench for Weight Lifting?
For beginners, how many angles do you need for exercises? What types of angles do you usually do? Can you let go of one type of angle? Do you really want a bench with decline positions or a bench without decline-position work as well?
While purchasing. Consider the weight capacity of the bench, see if its ideal for beginners, and how much weight lifting capacity it has. Its good to buy a bench with higher weight capacity so to train with more weights.
Can you go with a flat bench? A flat bench doesn't have positional advantage but it is pretty low cost.
Or, maybe you can go with a folding bench press. The weight benches can be folded to a small package that you can pass even under your bed. If you are short on space having a foldable weight bench press is the best option.
Some benches come with wheels. They are good for moving around in the gym. If you are going to move the bench across the floor getting an adjustable bench with wheels will be a good idea.
Best 5 Adjustable Workout Weight Benches
Here is a list of some of the finest adjustable weightlifting benches for workout. They are movable, bendable and rotatable. This means you can use them for all types of workouts including decline bench-press, incline bench-press, normal chest exercises with weights and shoulder presses on a bench.
Bowflex 5.1 Weight Bench press has a deeper decline position than 3.1. It has adjustable seats, perfect for entry-level bodybuilders. The weight bench is ideally designed to help you stay stable while you exercise, especially while doing military presses. It weighs more than other benches in the same category. The bench is heavier and allow easy movement while exercising.
Buy Now

It has a long back rest, which is ideal for taller people.
A lot of people have purchased it because of its flexibility and strength.
Cap Utility Adjustable Weight Bench with adjustable barbell deluxe utility is an ideal choice for people looking to buy a weight bench but do not want to break the bank. The bench has anchor posts attached, which are perfect for use with resistance bands and tubes. It is lightweight but strongly built. A backrest is available for seated position. There is no decline angle available. So you won't be able to do decline bench presses on this model.
It is available with seven adjustable angles that help one narrow down the perfect position for each exercise. One thing to note is, the workout bench has 3 angles for adjustments. This help many from slipping while doing incline workouts. Due to its flexibility, it is a bestselling bench on amazon. Plus, it includes a ton of positive feedback from buyers.
The capacity of the bench is 500lbs or around 250kgs. Hence, you can confidently lift weights on this model. Some other nice things to mention are the stable position, classic style and well-built body.
Blowflex SelectTech 3.1 Adjustable Bench is similar to its successor Blowflex 5.1 design. Both have four positions and the good thing is they both include a decline position as well.
This bench is an entry-level version built for those who prefer to lift low-weight-capacity. Another important feature of this workout bench is the removable leg brace feature. Most love it, but some hate it. That's why it can easily be removed in the model. The bench has 90-degree position bend instead of 85-degree, like many benches in the market. So, if you want a literally straight bench then this one is for you.
4. xMark Commercial XM-7630 Weight Bench Review – (Perfect for Weight training)
xMark Commercial XM-7630 is a popular bench for those who like to train seriously. The seven positions provide plenty of versatility. It is a solid and stable bench with higher weightlifting capacity of almost 1500lbs. We haven't tested it at this much capacity but from its design it looks absolutely remarkable. The padding is thick and durable. The exercise bench is designed for maximum user comfort and support. It is a little expensive for entry-level benches, but it won't cost you as much as a bench like the Rep Adjustable Bench – 1000 lb.
The bench has received reviews in abundance, which only prove its reliability and sturdiness.
Marcy sb760 Adjustable bench-review:  It is one of the cheapest workout benches you will ever find. The bench is quality, style, aesthetics, all in one single body. The design is simple, made to enhance your workouts. It has six different positions and you are sure to get a full workout to target your entire upper body and the core.
It can be folded flat if you have less space and you can tuck it into a wardrobe if not in use. The workout bench can easily lift around 300lbs, so it's suited for entry-level weight lifters.
Next is Ironmaster Super Bench for Weight Lifting. The bench is best for any home gym because of its price and design. The weight lifting bench is available with a ton of options including different angles, foot-lever, ability to do decline bench-press, and it even comes with a backrest seat. The design seat is modern and provides plenty of versatility during workouts. The bench is a true work of art and can be used by beginners and expert weight lifters alike.

Buy Now
The bench has 1000lbs weight capacity enough to do heavy weight lifting, plus it can be used in variety of angles
1000lb Capacity!
Flat, Incline or Decline Bench
5 inches
7 Bench Angle Adjustments
Vinyl Cover For Easy Cleaning/li>
10 Year Warranty
Thick 2.5″ Pad
15 Minute Assembly
Weighs 85lbs
The workout bench is available with various attachments that can be bought with the bench to make the workouts attractive. It has a separate leg extension attachment, dip bar attachment, sit-up attachment, preacher curl and chin-up bar attachment, to name a few. In our review so far, we haven't seen a bench with these many options for the weight lifters.
The Universal 5 Position Adjustable Bench is great for beginner weight lifters. It saves you money because it is low cost. It can be used for decline, incline and for regular chest, wings and shoulder workouts. It has five options including the decline one, so it's ideal if you are looking for bench to allow you complete workout training. The workout bench is lightweight and has foam rollers attached to keep the legs in position, while exercising.
The seat/bench can be bought at a cheap price. Doesn't mean the seat/bench is cheap, it is made of hard metal, rust-free, can hold up to 250lbs easily. Great for beginners and experts alike.