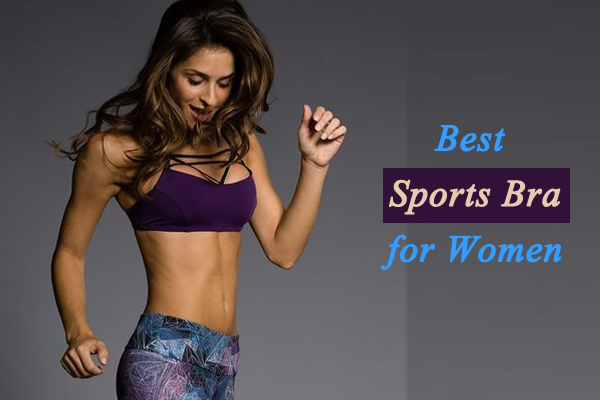 Running, weight lifting, aerobics or boxing? This guide for choosing the finest women sports bra is all you need.
A sports bra is used to keep breasts from becoming saggy while playing sports or getting involved in other adventurous activities. And you wouldn't want them to look saggy because that takes out all the attractiveness from the breasts. However, sports bras help you avoid sagginess. These bras are especially designed for sports activities such as running, martial arts, weight lifting and other activities.
Because the sports bras for women keep them intact and restrict movement, the sports women look terrific in their dresses.
| | |
| --- | --- |
| Best Sports bra for Exercise |   |
| For Running | |
| Under Armour Women's Armour Mid Sports Bra | Check Price |
| AKAMC Women's Removable Padded Sports Bras | Check Price |
| For Weight Lifting | |
| Game Gear Sweat Blocking & Odor Resistant Women Sports Bra | Check Price |
| Daisity Women's Seamless Sports Bra for Weight Lifting | Check Price |
| For High-impact workouts | |
| Mirity Women Racerback Sports Bra for high impact workout | Check Price |
| Nike Women's Fitness Sports Bra | Check Price |
| Adidas Women's Supernova Sports Bra | Check Price |
There are multiple options available when it comes to shopping for sports bras online. Let's discuss some of them to get a know-how of what will suit your personality.
Women Sports Bras by Type:
Compression Sports bras:
Off-the-shelf bras usually do not have separate cups for hold breasts. These are called compression bras because they compress the breasts in order to restrict movement. They are cheaper and preferred for low impact workout such as playing jogging, field activities, trekking and hiking.
Encapsulated Sports Bras:
Encapsulated sports bras have separate cups for holding breasts. They keep them intact and provide them room for breathing. These are much more comfortable then compression sports bras and can be worn for a whole-day without irritation. The encapsulated sports bras are usually worn while performing intense workouts like aerobics, running, martial arts, weight lifting, mountain climbing and more.
Women Sports Bras by Design:
Racerback Sports Bra:
Racerback sports bra cinch the bra to the back of the body and provide more support to the breasts. These restrict them from stretching more than the limit.
Wide Strap Sports Bra:
Wide strap sports bra have wider straps then a raceback sports bra and it spreads the weight of the breasts equally on all sides. This equal distribution saves them from any damaging impact.
How to buy a sports bra for yourself?
While buying a sports bra you need to look for the following three things:
Straps
The straps of a sports bra need to provide more comfort and should be less stretchy. To know if they are this way, wear a sports bra and then pull one strap. IT should be less stretchy and should distribute the weight equally on all sides.
Cups:
The cups needs to be neither too loose nor too tight. A good sports bra provide more motion control. Test it by wearing the bra and pulling one cup. The lesser the movement the better motion control. Repeat with second cup the same way.
Bands and Side panels
Put one finger inside the bra and move it upwards. It should not move more than an inch. Repeat the same process from the back side of the straps and on side panels. The same way, if the bra is too tight, change it as well.
How long should I wear a sports bra?
A sports bra will usually remain wearable for at least half a year. If it is still in good shape, you can wear it for longer periods. But if the fabric starts to show or the bra becomes too stretchy, it is time to change the sports bra for good.
Another way to determine if your sports bra is becoming too loose, just jump a little in it and if it doesn't restrict your breasts from movement in all positions, then you need to change it.
You can also try the same steps with sports bra while running.
How to make a Women Sports bra last longer?
Just wash the sports bra under cold water with mild detergent. Do not use fabric softeners and dry it flat or line dry it. Do not use heat as that breaks spandex.
See our list of best Sports bras for women who love sports, below.
Top Women Sports Bra for different sports:
---
Best Sports Bra for Running Sports
Our top pick is from Under Armour, a reliable sports gear and apparel company. The mid sports bra is a compression bra that deliver support and comfort. It is a mid-impact sports bra and not made for high-impact workouts. The bra dries the sweat faster, is more comfortable then other brands and maintains your mobility and shape.
This women sports bra is best for cycling, martial arts, and running.
Buy Under Armour Sports Bra here
AKAMC Women's sports bra is for all types of sports activities. The company provides three bras in a pack, which is cheaper than other bras available on Amazon. These bras come with removable pads so those who do not like padded sports bras can remove the padding themselves.
Another benefit of having these sports bra is that women with large breasts can also wear these. Not only these have a cute design, but they also provide the required coverage of the breast area to keep them for getting saggy.
If you are looking for sports bra that look cool, cover all the breast area and is specially made for women with big breasts, then these are for you.
Buy AKAMC Sports bras for big breasts here
Best Sports Bra for Weight Lifting & Aerobics
This sports bra by Game gear is a mid-impact weight lifting sports bra for women who want to stay fit for life. It is odor resistant and sweat absorber so you can focus on workout instead of reducing irritation. The bra is made of wicking liner technology that sends heat and sweat away from the body.
Weight lifting is a high-impact sports. During weight-lifting more pressure is being applied on the chest and the breasts become bouncy. In order to keep them under control, the bra has padded cups that cover the whole breast area and restrict them from showing from the arm pits or the sides.
Buy Game Gear Women Sports Bra for Athletic Women
These light-weight sports bra by Daisity are best for women of all breast sizes. Whether you are an A or a D, doesn't matter. All you need to do is focus on your workout and this bra lets you do that. Don't get irritated again due to more sweaty breasts or that incumbent smells that just wouldn't leave your nostrils. Instead, get the Daisity women seamless sports bra for yourself. These women bras are made for weight lifters. Those women that have bigger breasts due to intense workout, but would want them to stay perky, pointy and straight. Rest assured, as these light-weight sports bra will let you do that without breaking your bank.
Daisity has also included pads with the cups so you can use them during workout if you want. Usually, women prefer not to use pads because that just takes the fun out of the workout and breasts look more cushioned.
Buy Daisity Women Sports Bra today and enhance your shape
Best Sports Bra for High-Impact Workouts
The mirity Women Raceback sports bra is especially made for high-impact sports. You can wear this in gym or outside while engaged in intense workouts and it will keep the breast's motion under control. The best thing about this women sports bra is that it was made by women engaged in these activities. These women knew what the other bras for women lack and that's what they have included in it.
It has special air-flow features for those who work indoors. This increases the flow of air inside the bra and removes sweat so the wearer can work on his moves without irritation.
The sports bra is for all high-impact sports activates including martial arts, running, mountain climbing, boxing and more and it works like a charm even for less strenuous activities.
Buy mirity women sports bra here
First we have sports bras for big breasts women, then those made for high-impact sports and then we have Nike Women's sports bra that has it all. This simple to wear nike sports bra is for women having breasts of A, B and C sizes. The bra is highly comfortable and is rated one of the most satisfying sports bras for all sports. Whether you are weight lifting, cycling, running or climbing, this sports bra will keep your breasts in control and sagginess away from your breasts.
Buy Nike Sports Bra for Fitness Women
Adidas is one of the best sports apparel brands in the market. They know what type of clothes athletes wear and are a master of comfortable wear. The Supernova sports bra for women is part of the summer sports apparel that are technologically modified. This sports bra by Adidas is less binding and less bulky. It takes away sweat from your body in a second. Its chic style and climacool fabric keeps you cool and dry even during intense workout activities.
The sports bra uses formotion design that lets the bra sits neatly over your breasts without causing any hinderance in motion. Also, with clear ventilation throughout your upper body, the bra is a sure fit for anyone looking for one for high-impact workouts.
Buy Adidas Sports Bra for Women
So, how many of you haven't still found a sports bra for yourself? Look above. We have made a list of top women sports bra based on their best uses. Whether you are into running or weightlifting one of these sports bra will be your best fit.
Just remember, each sports bra has its own features and not one will provide all of them. You need to figure out what type of sports bra is good for you and then buy it. It's that simple.
Still unsure about what type of sports bra will best fit you? May you we can help. Just send us a message through the contact us page or comment below.
Happy sports bra shopping.
Read Other Guides:
Best Pants for Parkour and free running
Best Gloves for Parkour and free running
Best Shoes for Parkour and Free Running