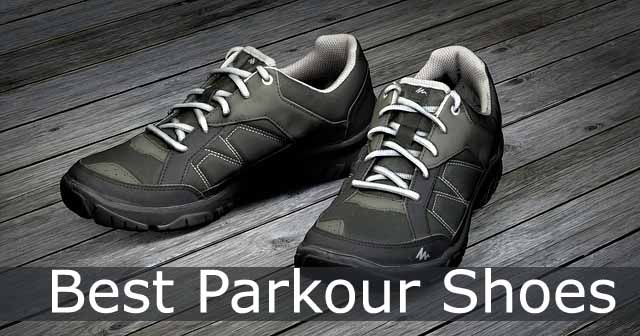 [Updated] The list of Best Shoes For Parkour has been updated again in 2018. We have added more shoes that people are now choosing for parkour and free running.
I still remember my favorite sneakers that I punctured while doing a cat leap to a wall climb last year. That was the day I decided that I need special shoes for Parkour that do not get ruined by simple flips. I searched everywhere and then I went to one of my favorite markets downtown and bought joggers that look similar to Chinese moccasins – which monks wear while doing kung fu – the shoes were perfect and they are still with me in excellent condition.
It's been 1.5 years since but I still see people doing parkour wearing usual sandals, joggers and sometimes even naked feet and I ask myself, don't they get injured doing these things?
Summary of Parkour Shoes 2017
Should You Buy Shoes for Parkour?
The right type of shoes are very important in Parkour. Not only they save your feet from external injuries but also allow you to get extra grip on rugged surfaces, thus balancing your landing and providing extra cushion not to get you injured.
A parkour enthusiast practicing flag position – Pexel
These parkour shoes are made using extra light-weight but powerful rubber or leather. Thankfully, many manufacturers have started making shoes only for doing parkour that have powerful grip and long-lastingness.
Best Shoes for Parkour by Price:
The parkour joggers includes multiple brands and models that can help you feature prices at multiple levels. These will help you shop for the best parkour boots for training and you are guaranteed to find ideal models that fit you. To help you in finding appropriate parkour shoes for you, we have added the best shoes for parkour by price.
Price range: Between $50 and $100
It isn't necessary that you buy parkour shoes. But you should know that parkour shoes are available for a small price of around $50. Considering the practice you involve in every day, you regular foot wear won't stay for long. That's why it would be an ideal choice if you can get better shoes. Two of the best shoes for parkour between $50 and $100 price line are:
Price range: Under $50
Similarly, we have ranked two best shoes for parkour under $50 price line. As you can see, both are martial arts shoes. One is tiger claw and second is Feiyue Top shoe. Both are great for gripping – one thing that parkour shoes require.
List of Shoes for Parkour
Here, I have made a list of top five shoes for Parkour just because of their durability and grip.
The take flight Ultra parkour and free running joggers are designed by take flight – a company involved in parkour training and videos. If you have seen them on their website then you must know they have some quality stuff going on there. But if you haven't you should head to Take Flight Shoes website and find yourself.
We can say by guarantee that the company knows about the type of obstacles involved in parkour training. The sole is of rubber and it has more durability and better traction due to simple pattern grip.
These light-weight shoes also help with stunts and power flips and other acrobatics that you would try to do in a park. You do not have to be afraid of ruining the shoes with these rugged solos any more.
What the Users of 

Take Flight Ultra Parkour & Freerunning Shoes 

say?
Best parkour boots for Grips:
These shoes are one of the best when it comes to traction. Whether you are running on walls or jumping on fences, the shoes will keep a stable grip and will not let you slip.
Loose threads:
Those who have bought the take flight parkour shoes have said they liked the joggers. One problem faced by the customers is that these have loose threads. This means, that the shoes threads come off pretty easily and will decrease the life-span of the joggers.
Apart from that all who shopped them have loved it.
Editor Ratings: 8/10
Pros:
Flexible
Easy traction
powerful grip
Cons:
---
The shoes are made of light-weight textile with more room for breathing thanks to thermoplastic polyurethane. I would say if you are just starting out then don't go for these shoes because they are a little expensive. But if you know your way through obstacles and won't be ruining your shoes more often, then these are one of the finest choices for you.
Another interesting fact to note about these shoes is that they are made of 100% vegan materials. That is right, no animal was harmed during the manufacturing of these Vapor Glove 2 Trail Running Shoes. And, it is one of the best shoes for parkour and free running.
The shoes also use fresh microbial agent that disallows sweat from your feet interacting with the material of the shoe, thus making it reliable and long lasting. Also, they don't smell as often as the other joggers in your cupboard do. Because the smell doesn't interact with the material.
Merrell Men's Vapor Glove 2 Trail Running Shoes are also good for those atheletes who run bare foot. These are not just made for Parkour, if you are a running fanatic, you might want to have a look at these. These are the finest parkour shoes on amazon.

What Users of Merrell Men's Vapor Glove 2 Trail Running Shoe say?
Durable:
Most users have said the shoes are easy to wear and have a nice quality. Those who have worn it said these shoes are much better than other running shoes because these are long-lasting and durable.
Still work even if torn:
Even when torn a little, the shoes will still provide good grip while running. That is why they are preferred by parkour enthusiasts.
Not so durable:
The joggers are great to wear but they are not as durable as they are showcased. See, the shoes feel great while running or doing any other sports. But when it comes to durability they lack a thing or two. According to one user, the fabrics started to fall off after just use for two months.
Key Takeaways:
– It will work perfectly for at least six months
– Best for barefoot runners looking for options
– Sole provides more comfort than counterparts
Editor Rating: 9/10
Pros:
Good grip
Nice quality
Provide better stability while running 
Cons:
May get torn soon
Not so Durable
---
These light-weight shoes are what the shaolin monks wear in China, thus they are called the feiyue Martial Arts sneaker of amazon. If you have seen Chinese movies or know about monks, then you must have realized how durable these shoes must be.
They are simple to wear, durable and perfect for all kinds of running sports activities. And, they are great shoes for parkour and free running.
And when it comes to Parkour, the reason I love these is because they provide maximum traction and better performance. I personally have them in my cupboard. And I only wear them when I am running.
Whether you are trying to climb a wall, do a cat-leap or tic-tac-toe along the wall lines in a park, the sneaker will provide better grip to you. The second reason I have them in my list is because these Chinese feiyue martial arts parkour shoes on amazon are much more affordable than others. These are the finest martial arts shoes for parkour.

What users say?
Better traction for all sports
The shoes have a rubber bottom that provide better traction while running, walking, climbing or in a rainy temperature. Besides, the inner is made of cushion fabric so they are not stiff to wear. Many have worn it for more than a year and they have said that the shoes are still in great condition.
Wear them indoors
You can wear it indoors i.e. on gym mats, naked floors, cemented floors or outdoors i.e. in dirt, on road or in parks.
Sizing Difficulty:
Many have reported that if you buy the shoes from the sizing chart you may get sizing difficulty. The reason is that these sneaker are made in China and the sizes are of course from the same country. Before buying, first check the US equivalent of Chinese shoe sizing chart and then order to avoid a problem in future.
Key Takeaways:
Can be worn indoors such as on gym floors, mats, cemented floors and other places
Better for grips in all kind of sports such as running, parkour, free running or even gymnastics
Sizing may become a problem so check the US equivalent sizes before ordering them online.
Pros
Better Grip indoor and out door
Durable for all sports activities
Best shoes for Parkour, Martial arts, Gymnastics and Free Running
Cons:
Sole is not fully balanced
Sizing may be a problem
Editor Ratings: 9/10
---
If you are a barefoot runner and would like to change that then these shoes are what you need. Vibram Men's KSO EVO shoe is light, better-gripping and inner-cushion sneaker that can absorb all kinds of small shocks. Whether you are running on a rocky track, in grass or even in water, the synthetic-sole will keep the inner shoe dry.
The Vibram Men's KSO EVO shoes are especially made for barefoot runners and parkour enthusiasts who want to explore the wilderness without wearing any kind of thread on their feet. But they are afraid of bruising their feet if they go barefoot. That is where vibram training shoes come in. These are simple to wear, provide better grip and don't look cheesy while wearing.

What users say?
For Barefoot Runners
Users have said the shoes work perfectly as their name suggest. Most barefoot runners are now wearing these training parkour shoes from amazon because they provide better grip, do not choke the feet like other sneaker and are light-weight.
Can blend with the surroundings
The Vibram Men's KSO EVO for parkour can blend with the surroundings to look even more stylish. The shoes have a better grip and therefore would help you look better while running or doing other fat eating activities.
Can trap rocks & Sand
Many have reported that the shoes are a good fit but they can easily trap rock and sand in them. This is due to their design. They look good on the surface and will work smoothly if you are having a run around a simple path, but on rocky surfaces, these will trap rocks and are not so smooth to run in.
Key Takeaways:
They can blend with surrounding providing your extra style
Provide better grip and traction to the wearer
Can entrap sand and rocks in them
Pros
Great to wear and look stylish
Durable and long-lasting
Cons
Will not work well on sandy places.
Traps sand
Editor Rating: 8/10
Reason:
The shoes are great for barefoot runners, parkour enthusiasts, free runners and gymnasts. These shoes look great to wear and have a style of their own that will make you stand out from the others in a gym or on a running path. The only con of this shoe is that it can trap sand and rocks. So avoid running in it on a beach. Though it will work great on coral reef, because of the extra grip. So, get these best shoes for parkour today.
---
Marugo Sports jog jika tabi shoes are cushioned proof training and jogging pairs. These are a mix of laces and Velcro. The runner sneaker are durable and breathable so you will not feel tight below there. The shoes are smooth and even look good to onlookers. You will feel like a ninja while wearing them.
The Marugo Sports jog jika tabi shoes are best for athletes who wear low cushion shoes. You should note that these have a thin sole so you will be feeling most of the surface on which you walk or train. The sneakers are worn by wrestlers and martial artists. But I have added them to the list of parkour shoes on amazon just because of the thin sole that can help you improve your landing and for better grip on surfaces.
What users say about Marugo Jika-Tabi Shoes?
Thin Sole:
The shoes have a thin sole, so keep that in mind before buying them. If you like cushioned shoes than these minimalist shoes are not for you. But if you like to train in thin sole shoes or bare feet, then these sneakers will come in handy.
Note: You may need an in-sole if you have flat-feet.
Smooth Movement:
The Marugo Sports jog jika tabi parkour shoes have a smooth movement. They are lighter and allow the wearer to make quick movements. These type of shoes are best for martial artists and runners.
Key takeaways:
Best thin-sole parkour shoes that can be worn by experts
Provide smooth movement to the wearer
May not be your ideal choice on rocky surfaces
Editor Ratings: 8/10
Pros:
Smooth movement
Better grip
Cons: Thin sole
---
Saucony Classic Sneakers
These are imported rubber sole sneakers with a 3.25 inch arch. The sole of the shoes are removable and provide rubber insole and outsole. These are great for running and exercising and feel very light on the body.
Most users of Saucony Classic Sneakers have rated them positively. Some have said them as SLIM SHOES. BEST FOR RUNNING and things like that. But as you can see that more than 900 reviews are available on Amazon alone. This means they are great shoes for running and exercising.
They are also priced moderately and anyone can easily get them for under $50.
>>> Check Reviews of Saucony Classic Sneakers
Nylon Imported Rubber sole Shaft measures approximately 3.25″ from arch Removable insole Rubber outsole Low profile silhouette and cross-country platform creates an authentic retro feel.
What to look for in Parkour Shoes for Running?
Shoes for parkour a little different than your ordinary shoes. They do not need style, instead the parkour shoes should be a mix of grip, featherweight and resilience.
While buying shoes for your next free running expedition keep these points in mind to make a better buying choice.
Padding:
There is a consensus among the parkour community that beginners should wear shoes with more padding and should gradually move to sneakers with less padding once they become good at doing parkour.
More padding helps protect the heels from impact while doing high-level jumps, but one should not be landing on heels in the first place. That is why technique of landing is more important than parkour shoes. Heavy padding shoes only become a hindrance in learning the right technique.
>>> Check Out Reviews of Parkour Shoes on Amazon
While buying shoes, keep a balance of padding in the shoes, so they don't heart while you run and neither are too padded to ruin a good landing.
Less padding will help you run with more elegance and flexibility, instead of stomping on the ground like an unleashed monster.
For example: The parkour shoes by nike and adidas have the most padding and they are stable as well.
Durability:
Do not think that the shoes will last longer than a year. Sneakers for parkour are more prone to wear and tear so the max they can last is around six to eight months – depending on how you wear them.
As you will be using the shoes for parkour so do not expect them to last long. If they last at least a quarter of a year they are good shoes.
To select shoes that have better durability, go to some parkour shoes website and search for reviews. You can buy the shoes that have positive reviews. If people are complaining about their shoes falling apart sooner than three months, probably they are not a decent try.
Usually shoes that have harder sole tend to last longer than shoes that have synthetic material, which can wear out easily.
Grip:
All shoe brands say their joggers have better grips but you should never go for their words. The best way to judge if a shoe has better grip is to try them on wide-range of surfaces such as bricks, stairs, wall tops, slippery surfaces, ledges and water streams. But be careful while doing all that because it can lead to some serious injuries if you are not too careful.
Of course, you cannot try all the places without buying the shoes first. So, yes. You will have to spend some money to see if the joggers are perfect for your feet.
Another way is to read reviews of shoes online and decide by consuming what the other users have said about particular pair of parkour shoes.
Rubber Shoes have a hard sole but they don't have a better grip. These need to be avoided while doing parkour because they ruin your technique of landing or doing jumps.
Also, make sure the shoe doesn't have hard plastic present in the arch of the shoe because that can lead to serious injuries in your foot, while practicing landings.
Further, a single-piece sole provides better grip because more contact is being made with the surface. These are also more durable because a sing-piece shoe doesn' t wear off as easily as a shoe with multiple layers of grips attached with it. But these shoes are thinner and not very good shock absorbers.
Winner of Best Parkour Running Shoes
The winner of Best Parkour Running Shoes is:
Merell Vapor Glove trail sneakers are your regular runners. These are better than others in grip, durability and will even work if they are get a little torn. Moreover, they are lower in price than most other shoes available in our comparison. As they have a medium sole, they can be worn easily by beginners and expert traceurs.
For home gyms, the best thing is to have a punching bag of your own. Read this guide to buy best punching bags to buy for home gyms