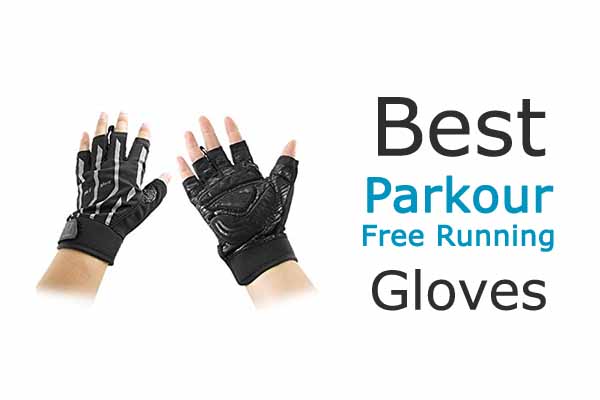 To wear gloves while doing parkour or not to?
It is a debatable topic and one answer will not be right for everyone. There are groups that encourage users to wear gloves while training but there are also people who say that the gloves only weaken your grip and you shouldn't wear them. Whatever group you support is not the matter of discussion, but if you need precision gloves for parkour training and free running then this article can help you.
Below we have listed top five precision fitness parkour training gloves that you can use to train. These gloves are simple and can be worn while training for parkour, martial arts, gymnastics, and weight lifting or even in combat training.
We used different factors to select these best precision parkour gloves including top rated products, user reviews, editorial analysis and quality of gloves. We have put a number against each gauging factor of the gloves and the total sum is given in the table below. If you are in a hurry, this table can help you make an aware decision. If you have time, don't forget to read the full review of Best parkour and Free running gloves on amazon and comment your opinion.
Comparison of Best Fluescent Parkour Gloves for Free Runners
How I made the comparison to find the Best Parkour Gloves for Free Runners:
I have given each of the glove marks against each feature. For example, if it has better durability than others than I gave it 9 or 10 depending on the reviews on various websites.
The editor ratings are a mix of pros and cons I have written about extensively below.
Nordic Fitness gloves are for beginners and seasoned professionals alike. The gloves have enhanced grip and provide protection against calluses and blisters. These are one of the best fitness workout gloves because they do not wear and tear easily, are more durable than others available in the same price and have quality padding inside them that protects your hands from bruises.
Anyone involved in power lifting, cross training, parkour, free running or any other sports activity can make use of these gloves.
What users say about Best Gloves for Parkour?
Long Lasting
The users of Nordic weight lifting gloves say the gloves are durable and can withstand high amount of pressure. As these gloves already have padding inside them, they help you get better grip of bars, or walls – whatever you are trying your hands on.
Fabric is tight – Leaves Pressure marks:
These Nordic parkour and fitness gloves have one problem though, and that is the gloves are too tight for some wearers. The fabric is tight on the corners and they leave pressure marks on the fingers. So, those who have fatty hands might see pressure marks after they take off the gloves.
Too much padding
Another problem that many have reported about the Nordic weightlifting and fitness gloves is that these have too much padding in them. This means most users who wear them might feel uneven grasp of the bars during bar training. But on a positive note, this increased padding acts as a second cushion for your landings and rolls during parkour fitness training.
Pros
Protect against calluses and bruises on hands with extra padding
Absorb impact during parkour landings
Are more long lasting due to better material used
Cons:
Leave pressure marks on hands when worn for long hours
Are a little tight on the edges – especially on bigger hands
Editor Ratings
Durability: 10/10
Padding: 8/10
Grip: 10/10
Total: 28/10
Technology makes our world easier. And this time it has made our workout easier too. Bionic men's full finger fitness gloves provide a lot of different features. These have pad relief system that is exclusively patented by them. What this system does? It increases relief and prevents hand fatigue while you lifts weight, train for parkour or any other sports activity of your choice.
Moreover, unlike other gloves in the market, the Bionic men's full finger fitness gloves have movable fingers that rotate according to the motion of your fingers. Thus providing you effortless grip and more power in your workout.
Another feature of these gloves is the use of terrycloth pads inside the gloves. So, when you sweat, it is automatically absorbed by the cloth. Also, the gloves are completely washable so you won't feel the sweat next time you wear them. Just rinse and air dry them.
The gloves are a little more on padding. But this is one benefit of the gloves because they provide you wrist support that helps to keep the weights in control while you work out.
What Users Say
Grip is perfect
Users have reported that they have the best grip in all gloves they have tried in their weight training regimes. So, if you are beginning parkour and would like the best gloves in the market then these should be your ideal choice.
Get ripped easily – Not durable
Some users have reported that the gloves are not long lasting. This is because the gloves wear out easily. One reason behind it is the use of so many features including high-padding area, sweat-absorbing cloth and auto finger rotators.
Protect against bruises
Due to their high-end fabric the gloves provide additional protection against bruises. While running on ledges or trying wall-run and power grips, these gloves help to avoid bruises on your hands.
Pros
Provide protection against hand bruises
Automatic finger rotator
Extra padding to provide more control
Sweat absorbing clothing
Pad relief system to avoid hand fatigue
Cons:
Not durable. Will last only three months max at proper use
Editor Ratings
Durability: 7/10
Padding: 10/10
Grip: 10/10
Total: 27/10
If you are a body builder as well as a parkour enthusiast (read traceur) than these washable powerlifting gloves are for you. The gloves are made from premium quality cotton and integrate blister protection. The gloves can be used in all kinds of sports activities such as rowing, hiking, mountain climbing, gymnastics, parkour training, martial arts, weight lifting or any other you could name.
The gloves can be worn by both men and women and are best for powerlifting. These are produced from breathable fabric so your hands don't become sweaty while you exercise. Moreover, the gloves have a fixed Velcro that doesn't get loose while you exercise. It provides your hand more protection against blisters and keeps your hands securely in place, so to balance the weight equally.
Even if you are doing parkour, the gloves keep your fingers safe from bruises while you do cat leaps, climb walls, or try your hands on flips.
The gloves have extra cushioning underneath the palm that keeps the hands safe and provide extra room on the side for balancing the weight on hands. This helps while doing grueling exercises.
What Users Say?
Breathable Fabric
These gloves use breathable fabric on the inner side to help separate sweat from the grip. Moreover, the clothing automatically absorbs the sweat, so you won't have to remove gloves again and again for some fresh air on hands.
Blister Protection
As parkour sports involves a lot of grueling activities that can lead to injuries especially on hands, the gloves provide blister protection.
But worn out faster
The only problem with these gloves is that they are not as durable as they should be. They do a good work at protecting your hands but they are not durable and may get ruin in less than a quarter of a year, so choose wisely.
Pros
Powerful gripping with extra cushion
Made of breathable fabric
Can be worn by both men and women
Provide Blister Protection
Cons:
Not durable, may wear sooner than other gloves
Editor Ratings
Durability: 5/10
Padding: 10/10
Grip: 10/10
Total: 25/10
Whether you are climbing walls or lifting weights, to protect your hands from injuries using a pair of gloves is a good choice. That is why Seibertron Men's Black fingerless gloves are best for all these activities. The gloves are made of durable material that protects your hands and provide solid grip in all outdoor activities.
These gloves are used by US Special Forces so they are some of the best available in the market. And as they are low-cost, you won't have to spend much on acquiring these. They are flexible and adjustable with proper grip. Use them while travelling, hiking, riding, cycling or during tactical training.
The reason I recommend them for parkour is because most parkour injuries put the player out of practice for a long time, these small obtrusive injuries can easily be avoided by having some nice pair of gloves like Seibertron Men's Black Fingerless pair.
What Users Say?
Great Quality
The Seibertron Men's Fingerless gloves are great in quality and they have better grip than most other gloves available within the same price range. One reason is because these gloves have low padding that allows better grip and balance while handling equipment.
Best for Weight Lifting & Tactical Training
Most people use these gloves for tactical training because the gloves are officially made for combat. But they equally benefit the hikers and weightlifters because of being lightweight and easy to work with.
Not so durable
One drawback of these Seibertron Men's gloves is that the Velcro starts to get loose after only a few uses. This can be fixed if you are ready for some stitching job yourself, otherwise you may need a new pair every few months.
Pros
Better grip than others in the same price
Low-cost sports gloves
Better stability in picking up objects due to low padding
Cons:
Not so durable. The gloves start to ruin after few days of hard work.
Editor Ratings
Durability: 6/10
Padding: 8/10
Grip: 10/10
Total: 24/10
While doing parkour, one needs gloves that have low padding, are resilient to friction and provide better grip. Because grip iss everything when it comes to parkour. Think about a time when you start to climb a wall and your gloves don't provide enough grip. What would be the benefit of having those gloves? None. That's why crossfit fitness gloves need to have extra grip strength. T
These Tiger Fitness crossfit gloves with extra grip are one of the top most recommended gloves because they have an integrated sweatband that allows you to wipe off sweat easily while you work out. These gloves are best for both men and women and provide easy adjustability so you can do grueling parkour training.
Further, the gloves have extra layer of silicone on the palms that delay hand fatigue and provide better grip in pull up exercises.
A problem that many traceurs face while doing wall climb exercises is hand injury. These gloves are made with neoprene and silicone and offer extra protection against hand blisters and painful calluses.
What Users Say?
Good CrossFit gloves
These are one of the best crossfit gloves you will need. The gloves are durable and can last for a long time if used in the right way.
Useful but not comfortable – Loose on the edges
Some users have reported that the gloves are not as comfortable as many think they are. They start to get loose on the edges after one wears them for some time. This leads to unbalance while lifting weight, cross fit drills or in parkour training.
Pros
Durable Gloves that can last for a long time
Affordable and priced rightly
Adequate padding for all types of sports activities
Cons:
Become loose after wearing these a few days
Editor Ratings
Durability: 8/10
Padding: 8/10
Grip: 8/10
Total: 24/10
What to look for in Parkour and Free Running Gloves before buying them?
Unlike gloves for various seasons, sports gloves are judged on different parameters such as their long lastingness, grip, protection against blisters and price.
Durability
Sports gloves need to be durable. Suppose you are training and your gloves start to tear, that would be the start of a bad day, if I tell you my personal opinion. That is why always go for gloves that are more durable than other gloves and can stay for a long time with you while you train.
Grip
Gripping is important in weightlifting and bodyweight training but it is even more important in parkour and free running training. Why? Suppose you take a cat leap and hang on to a ledge on the other side. But you find out that one of your gloves has a loose grip and you can't hang for long. At this point you can do nothing but curse the glove makers and might try to either call for help or climb using your other hand.
Make sure to search for gloves that have the best grip, if you are buying one for doing parkour. Most gloves have decent grip but they either lack padding on the inner palm or are not durable. You need a mix of all three together.
Padding
Padding is the cushioning inside a glove. This padding saves your hands from bruises while you engage in any kind of intensive physical activity such as climbing, hiking, mountain climbing and others. The padding needs to be moderate. It should be too much otherwise your will lose grasp, neither too thin, because that will make your hand more vulnerable to damage.
Gloves for Parkour & their Prices
Always go for quality that is what I advise others. But when you already have the best gloves in front of you then you should compare the price. After all you are giving your money, it is your right to look for the parkour and free running gloves that are available in the lowest price. While searching for free running gloves, first shortlist them through the review section, only choose that have five-star ratings and more than 50 positive reviews. Finally, sports gloves for parkour and free running training usually cost between $20 & $40. So, choose those that are within this budget. Make sure they are durable so you do not have to shop again soon.
If you liked this review, you may also like best parkour shoes for free runners.