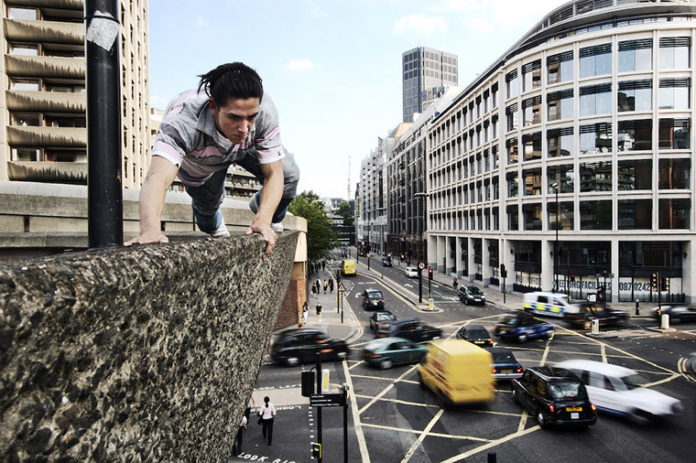 Parkour is a sports in which you defy gravity by performing stunts such as climbing, vaulting, cat leaping, and jumping from one obstacle to the next with your own body and without any kind of help.
In this sports, you cover the fastest distance between two points i.e. point a to point b by using the fastest route. This art is also known as the escape art and is practiced extensively in various first world countries including United States, France, Australia, and United Kingdom, where it is known as Free Running. As David Belle says, the purpose is to be efficient and eligible. Think of a burning house, will you be able to go in and save the residents within the shortest amount of time? That's the core purpose behind Parkour sports. People practice it in whatever clothes they find. But most parkour practitioners say that especial parkour clothing should be worn that includes pants, shirts, shoes and even hoodies.
In this post, we discuss an essential clothing for parkour known as the Parkour hoodies. These hoodies are worn by parkour practitioners also called traceurs. They wear the hoodies because it provides them protection from external weather and pointy objects and helps them easily roll on rough surfaces.
Here are some of the best parkour hoodies that beginner parkour practitioners can wear.
Best Hoodies for Parkour You Can Buy Online for Under $50
Defy Gravity Premium Hoodie Sweatshirt
Wearing clothes that are comfortable as well as provide protection is crucial while practicing parkour to avoid any scratches or abrasions. ThisWear's defy gravity hoodie is one which performs both of these functions really well. The hoodie is made up of poly blend material to ensure comfort and breathability. It has a pullover design and the design printed on the hoodie is done with the new age printing technology. Thus, the ink used is not only eco friendly, but it also ensures colour fastness and durability of the design. It comes in 7 different colours. As one of the best hoodies for parkour, it is currently listed at price of around $50 at Amazon and has been given a rating of 5 stars.
Check Out Defy Gravity Hoodies 
Russell Athletic Men's Dri-Power Pullover Fleece Hoodie
Russell Athletic is one of the leading American athletics brand and is known for producing high quality clothing for a very reasonable price. This particular hoodie is simple in design but fulfils its purpose well. This hoodie too has a pullover design and comes with muff pockets to provide storage and hand warmth. Russell Athletic uses Dri Power moisture wicking technology which will ensure that you remain cool even after intense parkour sessions. It is made up of 50% cotton and 50% polyester. This hoodie has mostly been positively reviewed and can be a good buy.
Check Out Russell Athletic Hoodies
Ohoo Mens Slim Fit Sleeveless Lightweight Zip-up Hooded Vest with Zipper Trim
Currently amongst Amazon's number one bestsellers hoodies for Parkour, Ohoo's hoodie is one of the best one in the market. Ohoo offers a number of different models with slight variations to ensure that customers have sufficient choice. The hoodie is made up of 80% cotton and 20% polyester. You can get a hoodie with a double slide zipper closure or a single one, based on your preference. The sleeveless hoodie will not only make your parkour practice comfortable but will also make you look stylish. It can be bought from Amazon at a price of $18 to $26 as of writing of this report, depending on the size and colour.
H2H Mens Casual Lightweight Sleeveless Zip-up Vest Tank Hoodies
This parkour hoodie by H2H is one of the most bought at Amazon which is a proof of its effectiveness. The hoodie gives a snug fit, keeping you warm and comfortable. It has multiple pockets to help you carry things around conveniently. The zip up hoodie does not feel overly bulky at all and gives enough room to ensure breathability. Customers have loved that this hoodie is also machine washable. If you are looking for something affordable yet stylish, this might be a perfect buy.
Check Out H2H Sleeveless Hoodies
---
Best Hoodies for Parkour Under $50
We know most people like to wear hoodies that are low cost but quality. So, here are some of the best ones you can buy online and for a low cost.
Start browsing.

Men's Parkour Free Running Climbing Vaulting Urban Hoodie
A great parkour hoodie which is suitable for normal weather conditions. When winter is coming or is getting over, this type of hoodies is so much useful.

This hoodie is stitched of 50% cotton and 50% polyester.

Such custom parkour hoodies are available in different amazing colours, so you can have your favourite one.
The high-quality parkour hoodie will offer you complete comfort as it is made of high-quality material and you don't have to worry about its washing as well.
Buy Men's Urban Parkour Hoodie at Amazon
Eat Sleep Parkour Repeat Hoodie
High-Quality printed hoodie which comes in solid colours.
This hoodie is comprised of 80cent cotton and 20cent polyester.
it is 100cent imported hoodie as you will be able to recognise by its stuff as well.
One thing to consider is that you will have to wash it with like colours and make sure to wash it with cold.

If your friends and family love parkour products, then this will be the perfect gift for them.
Buy Eat Sleep Parkour and Repeat Hoodie from Amazon
Youth Hoodie Performance Hoodies with pocket- parkour Art Sports
The 100cent high-quality cotton hoodie which has reinforced cuffs and the great waistband adds up durability for this parkour hoodie.
This hoodie is easily washable in machine and can be washed by hand too.

It is lighter in weight and offers a soften feel while handling.

It is comfortable and stylish.
Buy Youth Performance Hoodie for Parkour
Teeburon Give Blood, Parkour Boy hoodie
If you purchase this parkour hoodie then, 100cent satisfaction is guaranteed.
It is completely machine washable, and you should wash it inside for longer durability and quality consistency.
It is very soft in touch as it made of 100% high-quality cotton.

You can present this hoodie to your loved or in friend or family as they will definitely like this branded hoodie.
Buy Teeburon Parkour Boy Hoodie at Amazon
BDYJY Parkour Art Sports Full Man's Cotton New Style Pullover Hoodie
A cotton blended great parkour hoodie for men.

Machine washable, durable and reliable too.

It is comprised of stretchy material as everybody doesn't like to wear skin tight wearables.

Completely comfortable.
Buy BDYJY Parkour Pullover Hoodie for Men
What type of clothing is required for Parkour?
One of the best things about Parkour is that you don't require any special clothing to engage in this art form. It can be done in any type of loose dress. Most traceurs wear loose pajamas, shirts, or sports trousers, and good quality parkour boots while performing stunts in parkour.
Types of Parkour clothes include:
Loosely fit shirts that don't become a problem when you perform drills

Loosely fit trousers that don't restrict movement and allow complete stretching

A backpack for keeping water bottle, a first aid kit, some tissue papers, a mobile phone, and your wallet.

May be a hoodie. You don't need a hoodie in summer season. But in winter season, a hoodie is more flexible and protects your body from abrasions and scratches.
Do you even need hoodies while doing Parkour?
It isn't actually necessary to wear a hoodie while performing parkour but it depends on the user. In winter season, we wear hoodies because while running it protects our neck and ears from cold winds. Also, it provides an extra layer of protection from scratches, bruises, and abrasions that are a recurring part while performing parkour drills.
Reasons to wear Parkour Hoodies:
You stay safe while doing parkour

You stay protected from abrasions and scratches

Hoodies make you look cool during parkour and freerunning

They protect you from cold and harsh weather

They are flexible so you can easily wear them over a tank top
How to buy Best Parkour Hoodies for Cheap?
Hoodies can easily be bought online

There are many parkour hoodies available at Amazon

You can search for a parkour hoodie that looks amazin and buy it from your favourite store

You can compare prices of one hoodie from multiple stores before buying it online

Most parkour hoodies are priced less than $50

These hoodies are also used for playing other sports such as free running, weight lifting, body building and others

Hoodies also give the traceurs a fashion sense and they can wear it even if they are not practicing parkour or free-running
Why Wear Best Parkour Hoodies While Exercising?
Hoodies are a great way to save you from scratches and bruises. These are often worn while performing outdoor exercises. In fact, most athletes recommend to use hoodies because they keep you from cold and skin bruises.
However, while searching for answers about why people actually wear hoodie I came across a few Quora posts (Post 1 and Post 2).
Refuge from Personal Interactions
Most users have said that they wear hoodies because it provides them protection from others.
This is specifically coming from introverts who don't want others to engage in discussion with them. So, they keep the hoodies up while exercising. However, that is now always the case.
Sweat Absorbing
In fact, most people wear hoodies in Gyms because they keep the temperature normal. They are also sweat absorbing so the people can easily exercise in them.
Keep You Body Hidden
Most people who are working out have a fat body. So, they wear hoodies if they are not confident in showing it to others. The hoodies provide them protection so they can easily exercise while others don't even notice their body. When they become confident and smart they take off their hoodies.
Protects from Bruises
Those who are working out outdoors especially parkour traceurs, they wear hoodies because during rolls, cat leaps they can easily cut their legs and arms due to sharp objects. The hoodies provide them cover from all these and help them easily roll over pointy surfaces like rough grass.
Fashion
Another reason is because of fashion. In the 1930s, the hoodies were only worn by labourers during intense temperatures. But later in 1970s when hoodies started to bear the logos of Universities so everyone started wearing them. These were then worn by University rugby and football team players during practice matches.
They came to the limelight when the athletic apparel makers promoted them through various athletes. This surged their demand in the market and then everyone who was going to the gym started wearing hoodies.
Are Best Parkour Hoodies Needed?
No they aren't. But they will help in climbing, vaulting, and cat leaps and other parkour exercises because they protect your upper body from cuts and bruises.
I especially recommend hoodies for traceurs who are just starting out with parkour because they protect their arms and back. The wool of parkour hoodies is soft and thick. It provides extra cushioning while you practice rolls.
Final Word: Parkour and Free-Running Hoodies Reviewed
We have reviewed some of the best selling hoodies and provided you the answer WHY they are selling like hot cakes. Many times we often get questions like 'what is the best parkour clothing' we have tried to answer that in this article. Hoodies are considered a part of parkour clothing in winter regions, because they protect from cold, and keep the use safe from abrasions.
Picture credit: jonathanlucasphotography