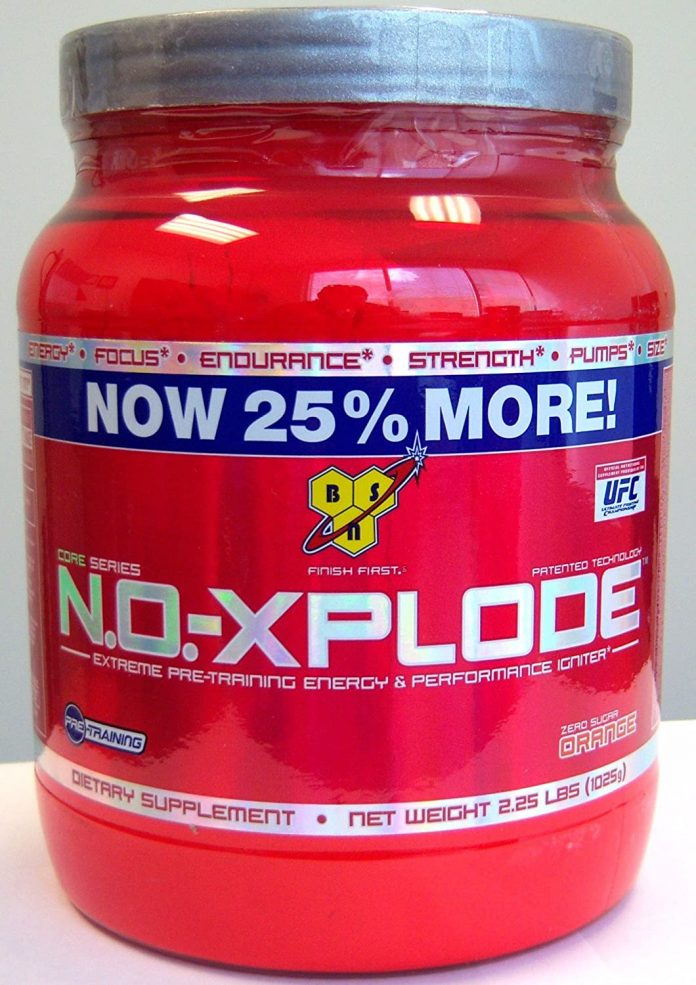 One of the most well-known pre-workout supplements has a reasonable price and a large component list.
When it comes to gaining an advantage in the gym during intensive training, having a pre-workout pill in your cupboard may be useful – assuming you know what to look for on the label. BSN (Bio-Engineered Supplements & Nutrition) has been a major supplement player for a long time, and its N.O.-XPLODE pre-workout is one of their most popular products. That stated, we put this popular pre-workout under the microscope to determine if it is still worth the hype.
Key Points of BSN N.O Xplode Igniter
BSN is a well-known supplement company, thus its N.O.-XPLODE Pre-Workout has a high level of quality control.
Most pre-workout supplements have a caffeine concentration that is somewhat greater than typical.
A vast number of secondary substances and several unique mixes provide a slew of additional advantages, while the results are varied.
Who Should Consider Purchasing the BSN N.O XPLODE?
Athletes that have some gym experience and want to improve their training.
Anyone looking for a pre-workout that not only provides energy but also improves attention and mental clarity.
Those who have a high caffeine tolerance or who are seeking for a product with a higher caffeine content.
Who Should Not Purchase the BSN N.O XPLODE?
Customers who are concerned about their caffeine intake or seek a more natural energy boost.
Anyone seeking a product that can provide amazing pumps.
Buyers who want a more transparent product, with each component stated on the nutrition label.
In this post, we go over every aspect and description of BSN's premier pre-workout.
In general, BSN's N.O XPLODE pre-workout meets the point, while there are a few places where it may be improved. Its high caffeine level and inclusion of important ingredients like beta-alanine, taurine, niacin, and creatine are nice additions, but it falls short in a couple of areas. The extensive list of additional vitamins and extra mixes is good, but they do not often assist the product to achieve its primary goal.
Pre-Workout BSN N.O XPLODE Servings by the Numbers: 
A 30-serving or 60-serving tub is available.
The 30-serving tub is priced at slightly under $30.
On BSN's website, you may choose from up to nine different tastes, albeit stock varies with each flavor.
Quantity of Caffeine 
Each serving contains 275mg of caffeine.
Price and Purchasing Choices 
The BSN N.O.-XPLODE pre-workout comes in 30 or 60 serving tubs, with the latter offering a little better value if you are serious about the product and want to get the most bang for your buck. When compared to some of its competitors, such as Legion Pulse ($1.71/serving) and MyProtein THE Pre-workout ($1.33/serving), BSN N.O.-XPLODE costs around a dollar per serving.
Formulation
When looking at the components list more closely, BSN N.O.-XPLODE sticks out – for better or worse. The caffeine level, which comes in at a robust 275mg per serving, has already been addressed, but it is the other components and mixes that deserve a closer study.
Blends that are exclusive to a company are listed below:
Taurine

Citrulline Malate 

Beta-alanine

Vitamin and Mineral 

Content of Creatine
Factors to Consider Before Purchasing BSN N.O Xplode 3.0 Igniter 
If you are on the fence about whether or not to add N.O.-XPLODE to your stack, here is a list of the most critical items we think you should think about before committing to it.
Recognized Brand

Formulation Quality

Specificity in Nutrition

Taste Appreciation
Final Thoughts on BSN N.O Xplode 3.0 Igniter 
Every supplement manufacturer these days seems to be competing to make the most bombastic, attention-getting claims about the effectiveness of their products, and BSN is no exception. Their N.O.-XPLODE pre-workout, on the other hand, has been on the market for over two decades. The fact that it has been around for so long attests to its quality and popularity among consumers, a reputation that is mostly based on the label formulation.
The most efficient pre-workout pills contain a high quantity of caffeine, which can be found in plenty here. Many other helpful components, including the amino acids beta-alanine and taurine, are also included, however, the ambiguous nature of proprietary mixes makes it impossible to know just how much customers are getting beyond a huge dose of caffeine-induced energy. While not ideal, BSN provides a pre-workout that has been shown to be effective for many years and is a good choice for most athletes looking to improve their gym performance.
PROS
Caffeine, beta-alanine, and nitrate dosages that work

Extra vitamins and electrolytes are included.

Comparatively low-cost
CONS
For some people, the caffeine content may be too high.

Blended just for you

Artificial tastes and sweeteners are used.