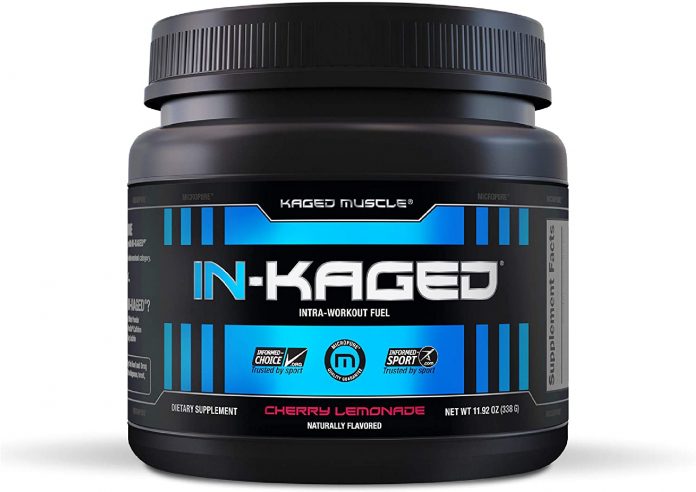 KAGED MUSCLE supplements contain citrulline, carnitine, creatine, and a range of additional powders, all of which are made in a GMP-certified facility in Idaho. When we first looked at their product portfolio, we were captivated by their branched-chain amino acids. Why? They're fermented, thus unlike other BCAAs, they're not obtained from animal sources.
IN-KAGED, their intra-workout blend, has a lot more than fermented BCAAs: it also contains substances that help with blood flow, endurance, and attention. When we uncaged the Watermelon flavor, we discovered the following.
GET COUPON HERE >>>  Get In-Kaged Coupons On Amazon
IN KAGED Intra Workout Review: Ingredients
One scoop contains 10 calories (two grams of carbohydrates) and 5 grams of 2:1:1 fermented leucine, isoleucine, and valine.
The "Endura-Pump Matrix," which contains 3 grams of fermented citrulline, 1.6 grams of beta-alanine (as CarnoSyn), and half a gram of coconut water powder, is another option.
The "Neuro-Energy Matrix," which contains 1 gram of taurine, half a gram of l-tyrosine, and 124 milligrams of caffeine derived from green coffee beans, comes next. In the following part, I'll go over the consequences of each of these elements.
Finally, there's citric acid for tasting, natural flavors, beetroot extract for color, sea salt, silicon dioxide and calcium silicate (anti-caking agents), stevia (a natural sweetener), sucralose (an artificial sweetener), and sunflower lecithin (for mixability).
It's worth noting that there's no soy in this product, nor are there any artificial flavors or colors, however it does include the artificial sweetener sucralose.
Buy In-Kaged Intra Workout Drink
IN-KAGED Intra Workout Benefits
The BCAAs themselves have been linked to increased muscle retention, focus, and endurance during workouts, and they probably aid to boost muscle protein synthesis, making them effective for muscle preservation for long periods between meals.
Citrulline is important as well, and not just because it is fermented. Citrulline has been associated with improved circulatory health as well as maybe greater strength and endurance, though the most effective amount is usually 6 grams rather than the three in this product. (4) Regardless, this is one of the most effective citrulline doses I've ever seen in a BCAA.
Beta-alanine may help with endurance, and some studies have linked it to hypertrophy, however, this could just be because those who take it do more reps than they would otherwise.
The "Neuro-Energy Matrix" is another option. Caffeine, of course, gives you energy; there's as much caffeine in this as 1.5 cups of coffee. It also contains a gram of taurine, which may help alleviate the jitteriness and lack of focus that can accompany a caffeine spike. Taurine may also help with blood flow and endurance.
Finally, the amino acid l-tyrosine is a stimulant. Studies suggest it can help the body cope with stress and increase memory and focus, and it comes in a 500mg dose, which is thought to be an effective dose based on study.
Buy In-Kaged Intra Workout Drink
PRICE OF IN-KAGED Intra Workout Supplement
It costs $26 for a total of 20 servings, or $1.30 per serving or 26 cents per gram of BCAAs.
That's expensive since the average competitor costs around 11 cents per gram of BCAAs, but the average BCAA doesn't contain all of these extra components or caffeine, and fermentation probably adds to the work involved. Overall, I didn't think this was excessively pricey.
IN-KAGED Intra Workout Review: COUPONS
If you are looking for In-kaged supplements and protein shakes for your workouts, then the best way to get supplements coupons is from Amazon. You can see the complete list of In-kaged Coupons in detail here.
GET COUPON HERE >>>  Get In-Kaged Coupons On Amazon
TASTE OF IN-KAGED Caged Workout 
I tried the Watermelon flavor, which tasted like a strawberry Starburst but also tasted like watermelon-flavored candy. It didn't have the same "pure" watermelon flavor as most BCAAs, but it was still enjoyable.
It's worth noting that the tub suggests mixing it with 2 to 4 cups of water (500ml to 1 liter), which I believe is an excellent suggestion. It was a little strong when blended with 1.5 glasses of water, as I did.
IN Kaged Intra Workout Review: Verdict
There's a lot to enjoy about this place. There are no dubious supplements like glutamine that don't have much data behind them, therefore KAGED MUSCLE chose substances with a strong reputation.
There's a lot of interesting research behind BCAAs and the substances that go with them, and they're present in what look to be quite effective dosages. I would have preferred a little more citrulline, and not everyone wants caffeine in their BCAAs. However, the fermented BCAAs and other ingredients combine to make this one of my favorite BCAAs.
Buy In-Kaged Intra Workout Drink