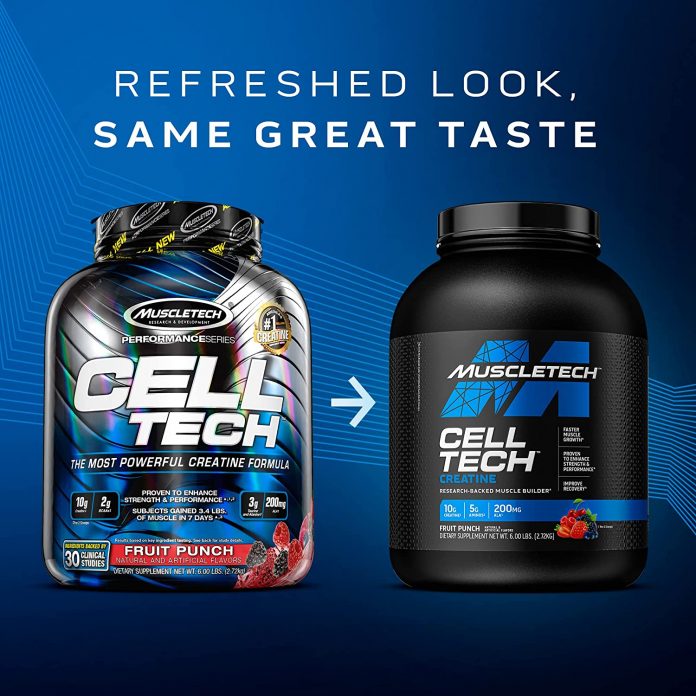 MuscleTech is owned by Iovate Health Sciences, a business based in Ontario, Canada that also owns popular supplement brands like Six Star Pro Nutrition, StrongGirl, and Hydroxycut.
While MuscleTech's Platinum Creatine is very affordable, we decided to try their more expensive CELL-TECH creatine compound. Click here to read our reviews of their Pro Series whey protein and Vapor X5 pre-workout. It claims to be "the most potent creatine compound available." Is the science credible?
Buy Muscle Tech Cell Tech Supplement Online
Ingredients and Nutrition for MuscleTech Cell-Tech Creatine
There are 150 calories per scoop in terms of nutrition. They're made up of 38 grams of carbs per serving, including 15 grams of sugar and 2 grams of fiber.
This product is also quite healthy, containing over 200 percent of your daily Vitamin C and Vitamin B6, as well as enough quantities of Vitamin B12 and magnesium, as well as sodium and potassium.
Per scoop, there are 5 grams of creatine: 2.5 grams of creatine monohydrate and 2.5 grams of creatine citrate. The "Muscle Growth and Strength Matrix" is what it's called.
Then there's a taurine and l-alanine "Cell-Volumizing Amino Acid Matrix," a 2:1:1 leucine, isoleucine, and valine "BCAA Matrix," and 100 milligrams of alpha-lipoic acid.
Artificial sweeteners (such as sucralose and acesulfame potassium) and other flavorings, as well as anti-caking agents and food dyes, make up the balance of the contents. It's worth noting that it contains ModCarbTM, which is a combination of oat bran, quinoa, buckwheat, and millet. ModCarb could explain why sugar accounts for less than half of the carbohydrates.
Buy Muscle Tech Cell Tech Supplement Online
Benefits and Efficiency of MuscleTech Cell-Tech Creatine
So, why is this so successful? First and first, I don't believe there is any compelling justification to have two types of creatine. While creatine citrate has been bonded to citric acid, it does not necessarily dissolve more quickly in water or absorb more easily in the body.
CELL-TECH, on the other hand, has two major advantages. The first is the carbohydrate boost; certain studies have indicated that mixing creatine with liquid carbs boosts the quantity of creatine in the muscles substantially.
The antioxidant alpha-lipoic acid is the other. A study found that combining creatine with carbs and alpha-lipoic acid resulted in more creatine in the muscles than simply creatine and carbs.
This study employed a thousand milligrams of alpha-lipoic acid and twenty grams of creatine, compared to CELL-100 TECH's milligrams and five grams of creatine. Nonetheless, it appears that this may be a more effective approach to consuming creatine.
The other elements, taurine, and branched-chain amino acids may aid recovery by pulling more water into muscle cells and minimizing cramping, while the taurine may aid muscle protein synthesis. However, BCAAs are typically dosed at 7 grams, whereas each serving of CELL-TECH contains only one gram. It could still help — it could adjust the nitrogen balance in a way that favors muscle growth — but I doubt it will have a substantial impact.
Nutrition may also play a role, notably Vitamin C, which may assist prevent cellular damage caused by exercise, and Vitamin B6, which aids in the retention of muscle, which we appear to lose after exercise.
Buy Muscle Tech Cell Tech Supplement Online
Price of MuscleTech CELL-TECH Creatine
For $23, you can get 3 pounds of creatine for 82 cents each serving or 16.4 cents per gram of creatine. There are cheaper ways to get creatine monohydrate, which costs approximately 4 cents per gram if that's all you care about. However, since you're paying extra for all of the extra ingredients and flavorings, you might think the price is justified.
Taste of MuscleTech CELL-TECH Creatine
Fruit Punch, Orange, Icy Rocket Freeze, and Grape varieties are available. The Grape, which tastes just like grape-flavored bubble gum, was my first choice. If you prefer grape candy (like I do), you'll enjoy the flavor, but keep in mind that if you follow MuscleTech's instructions and mix it with one cup of water, the flavor will be rather intense. I'd suggest mixing it with two glasses of water.
The Takeaways
To say the least, I was hesitant when I heard this marketed as "the most powerful creatine solution." CELL-TECH, however, out of all the creatine solutions I've seen that promise to be more effective than normal creatine monohydrate, actually delivers. I can't be too thrilled about it because it uses less alpha-lipoic acid than the study I mentioned earlier, but there's reason to suppose it will deliver more creatine to your muscles than simple monohydrate. If you're willing to spend a little more.
Pros of Cell Tech Creatine
Could be more helpful at boosting muscular creatine levels.

Taurine may help you heal faster.

Tested by a third party
Cons of Cell Tech Creatine
Calorically dense

Artificial sweeteners are used.

BCAAs are scarce.
Buy Muscle Tech Cell Tech Supplement Online