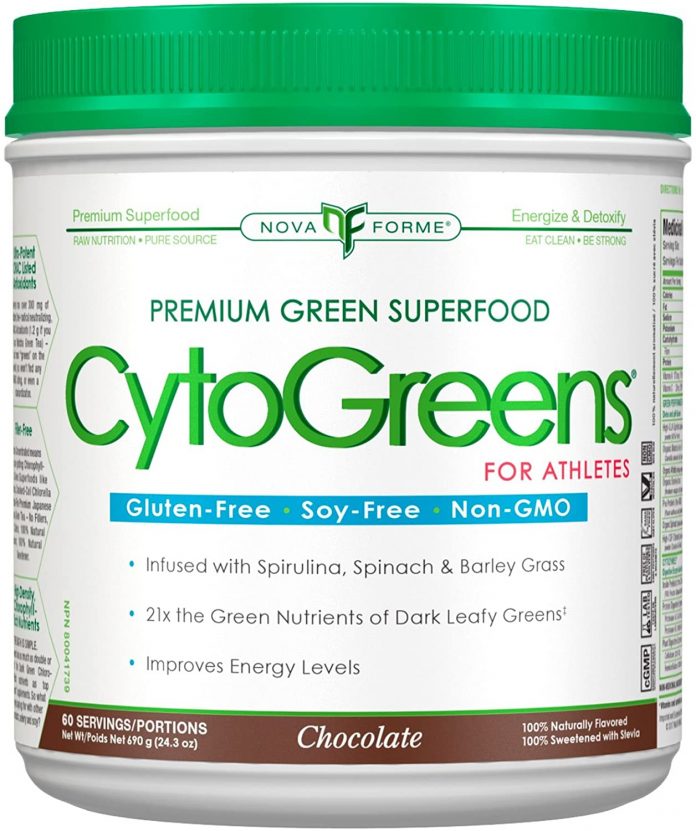 Novaforme is one of the only supplement firms to create greens supplement designed exclusively for athletes. 
Ingredients in CytoGreens 
For detox and pH balance, use the Green Performance Matrix,

Cytozymes for digestive enzyme assimilation, 

Active Energy Regenerator,

Free-Radical Defense Blend,

Flax Fiber High-Lignan for plant-based Omega-3 fatty acids, 

Liver Defense for systemic organ detox, and

Immune Defense for immune activation support
Spirulina, chlorella, and alfalfa are among the constituents, which also include three types of ginseng, two types of berries, aloe vera, and milk thistle. Because it has been linked to liver health in a couple of studies, milk thistle is a mainstay in just about every greens powder I have tried. It is framed as the catalyst for the all-important "detox" factor. Note that this does not imply that it detoxifies your body; nonetheless, it might be claimed that it aids in the natural detoxification processes of your body. 
One scoop has 25 calories, 3 grams of protein, 3 grams of carbohydrate, and 2 grams of fiber.
Buy Novaforme Cytogreens Supplement Online
Taste of Novaforme CytoGreens
The açai berry green tea flavor from Novaforme tasted just like fruit-infused green tea. (Matcha green tea powder, açai berry powder, stevia extract, and natural tastes are among the ingredients.) It is sweeter than a cup of green tea, but not as sugary as other greens powders, which try to mask the grassy flavor with a slew of sweeteners and tastes.
It is honestly one of the best-tasting beverages, and it is mild enough to be sipped rather than chugged through a squeezed nose. 
Price of Novaforme CytoGreens
It is a bit pricey at $30 for 14 servings, or just over two dollars a scoop. It is not quite as pricey as Athletic Greens ($4.23 per serving), but it is comparable to Onnit's Earth Grown Nutrients ($2.30 per serving) at $35 for fifteen servings. $30 for thirty servings of PharmaFreak Greens Freak ($1/serving), $50 for ninety servings of Sun Warrior's Supergreens ($0.55/serving), and $52 for a hundred servings of Amazing Grass's Green Superfood ($0.52/serving).
Benefits of CytoGreens 
CytoGreens is one of the few green powders on the market that does not claim to be a replacement for a balanced diet of fruits and vegetables, which is a welcome difference. It does, however, claim to deliver a lot of antioxidants, and unlike its competitors, it explains why. 
It says it contains 346 milligrams of standardized free radicals and has a high ORAC rating of 4,470 umoITE per serving, rather than "a lot of antioxidants!" ORAC (Oxygen Radical Absorbance Capability) is a lab test that examines the "total antioxidant capability" of a meal or supplement. Consequently, this product includes a significant amount of antioxidants. 
The claim is quantified by stating that it has about twenty-one times the quantity of chlorophyll as a serving of dark leafy greens. Chlorophyll is not as well-known as vitamins and minerals when it comes to established health benefits, but it has been connected to blood health and antioxidant properties. 
Buy Novaforme Cytogreens Supplement Online
It also includes nine different digestive enzymes to help you better absorb the nutrients in your meal, which is a pleasant bonus.
There is not much information about vitamins and minerals on the product's nutrition label, but it claims to provide 140 percent of your daily Vitamin A, 15% of your daily Vitamin C, 15% of your iron, 3% of your calcium, and 2% of your potassium. Those are not particularly high, but the product does not advertise itself as a multivitamin. It does claim to offer more vitamin B12 than an 8-ounce steak, which is great and particular, but the nutrition label does not include milligrams of B12, which is odd. 
It makes some strong claims about how beneficial it is for athletes, claiming that it has been proven in many clinical experiments to help athletes get the lactic acid out of their muscles and minimize pain, while also improving endurance and stamina.
However, such studies are nowhere to be found on the site, or Google. Seeing the research would have given me more confidence in an already solid product. 
Final Thoughts on Novaforme CytoGreens Review
So far, I have tried several greens powders and this is one of my favorites. It does not claim to be a replacement for a multivitamin or entire meals, but it does back up its claims with facts, and it tastes excellent.
It is a little on the pricey side, and I would like a little more information on the vitamin and mineral content, but it has a lot of consistency between what it claims and what it provides, which is all too rare in the world of greens supplements.
---
PROS
Abundant Antioxidants.

Measures how much of each component is in each serving. 

Backed up by research. 

Iron-rich.
CONS
Lack of information about the vitamin and mineral content. 

Vitamin C deficiency
Buy Novaforme Cytogreens Supplement Online