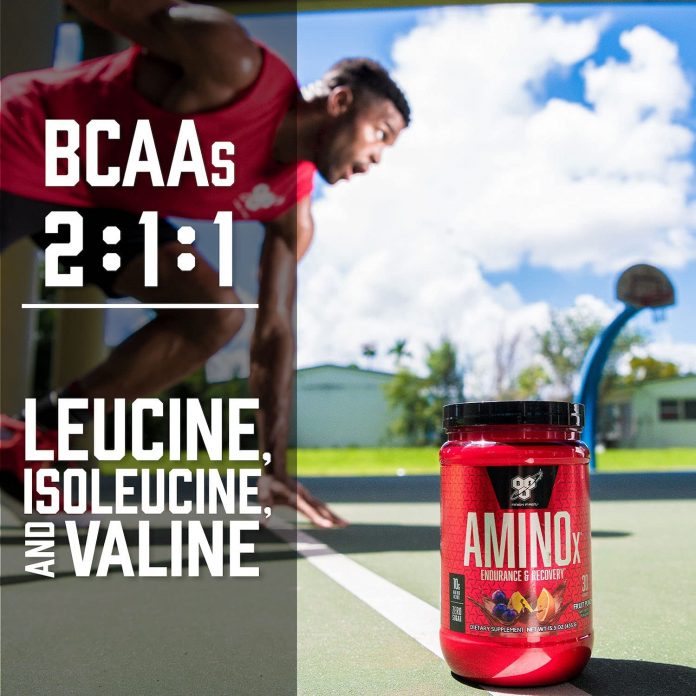 Amino supplements help in the regulation of the human muscle's growth. Adding essential amino acids to your diet can help your body absorb more nitrogen.. It can also assist in keeping the number of amino acids stored in your skeletal muscles.
Can BSN AMINOx Help With Endurance? Can BSN AMINOx Help With Endurance?
BSN (bio-engineered supplements and nutrition) is a supplement company established in Illinois that sponsors a wide range of athletes and bodybuilders, including UFC champion Connor McGregor. They have a few amino acid supplements, but AMINOx is unique in that it contains no caffeine and a considerable quantity of Vitamin D, in addition to standard amino acid supplements like taurine, l-alanine, and l-citrulline.
It comes in five different flavors, and we decided to try Fruit Punch.
Buy BSN Clean BCAA AminoX Online
Ingredients and Nutrition of BSN Clean BCAA AMINOx
A serving of AMINOx is huge at 14.5 grams (about half the size of a scoop of protein powder). However, it contains less than a gram of carbohydrate, resulting in a calorie count of less than four. (There isn't a calorie count on the package.)
Let's start with amino acids: each serving contains ten grams, which is a lot. The majority of brands provide around five grams. The issue is that because this is a proprietary blend, we have no idea how much of each amino acid is present. That's significant because it's not uncommon for athletes to choose a BCAA supplement with a 2:1:1 or 3:1:1 ratio of leucine, valine, and isoleucine. These are available from AMINOx (in that order), however, it's a terrible idea to leave out their exact weights per serving.
Following these three amino acids are l-alanine, taurine, and l-citrulline, as well as a citric and malic acid mixture, sodium bicarbonate, and cholecalciferol. In the part below, I'll go through the advantages of these ingredients.
Artificial flavors, colors, sweeteners, anti-caking agents, and soy lecithin for mix ability are also included.
Price of BSN AMINOx
For $20, you may get 30 servings or 66 cents for each serving. That's comparable to all of the less expensive BCAA supplements, such as GNC's Xtend and Scivation's Xtend. However, because each scoop contains 10 grams of amino acids, this has a significantly greater serving size. I'd want to argue that this implies it's a better deal, but because BSN doesn't provide the weight of their amino acids in each serving, I can't say whether you'll get more BCAA per serving than with their competition.
Benefits and Efficiency of BSN Clean BCAA AMINOx
I have yet to come across a BCAA supplement that does not contain L-leucine, L-valine, or L-isoleucine, all of which may help with endurance and muscle breakdown. These are also included in AMINOx, but they're followed by l-alanine, which may promote recovery and reduce muscular cramps (though this hasn't been established conclusively); taurine, which may improve recovery and reduce muscle cramps; and l-citrulline, which may improve circulation. Unlike glutamine and arginine, these additions have some scientific backing, so it's wonderful to see them included.
The "EfforsorbTM EnDura Composite" is made up of flavorings (citric and malic acid), sodium bicarbonate (which may aid endurance), and cholecalciferol (which offers 125 percent of the daily Vitamin D need). This may help with bone strength and hormone production. There are also 160 milligrams of sodium, an electrolyte.
The fact that AMINOx contains soy in the form of lecithin (for mixability) as well as the artificial sweeteners sucralose and acesulfame potassium, which are all controversial in some circles, may bother you. (They may affect the gut microbiome and insulin response, but this hasn't been established conclusively.)
Taste of BSN AMINOx
The fruit punch tasted similar to other BCAAs with a fruit punch flavor – fake cherry and watermelon flavor — but it was considerably stronger. One serving in a cup and a half of water was still extremely sweet and sour, so use at least two or three cups if possible.
The Takeaway
 AMINOx is backed by science since it contains the key BCAAs as well as various additional amino acids that have been found to provide multiple benefits that can help you improve your workouts. When you consider the cost per gram of BCAAs, it's also a steal.
The biggest problem is that you don't know how much of each amino acid you're getting, so you can't be sure if you're getting a good dose.
You could be put off by this product if you don't like soy or artificial sweeteners, but if you don't mind those things — and don't mind not knowing what BCAA ratio you're getting — it's a fairly good choice.
Pros:
Generous serving size

There are a lot of extra elements in this supplement that may help you perform better.

Inexpensive
Cons:
There is no information on the dosage of each amino acid in this proprietary blend.

Tastes sour.

Soy and artificial sweeteners are present.
Bottom-line:
BSN Clean BCAA is a great supplement to boost your body performance. It is inexpensive, doesn't seem to have any red flags, and is great for anyone that is looking for toned body and muscle endurance.