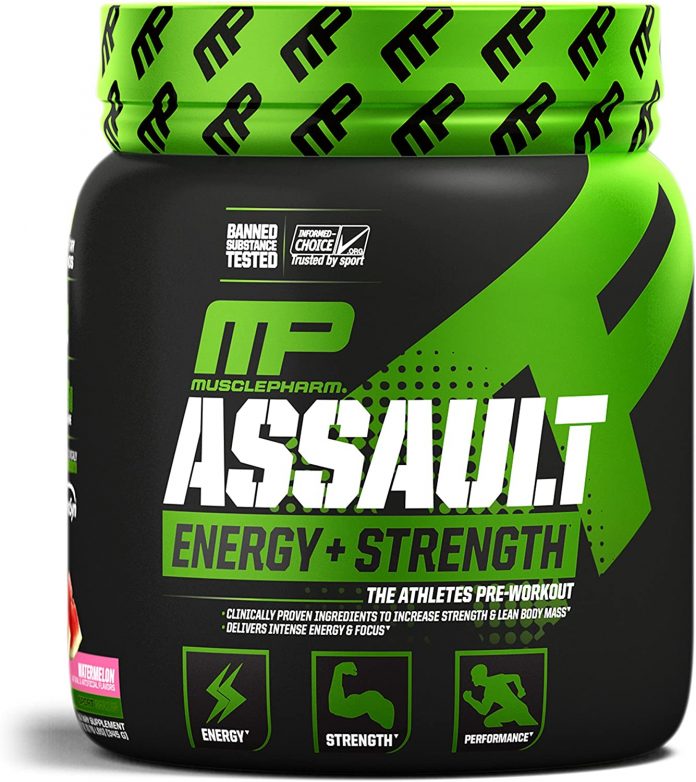 MusclePharm is a nutrition firm based in Denver that is recognized for producing some of the most affordable supplements on the market, many of which are aimed towards MMA fighters – you may be familiar with their Combat Whey protein and Combat Crunch protein bars.
Assault is their pre-workout, and it is described as "the ultimate performance and energy compound." What did we think of the Fruit Punch flavor?
Ingredients of MusclePharm Assault Pre-Workout
Per serving of MusclePharm Assault Pre-Workout, there are no calories. 
"Energy & Focus," "Muscle Fuel," "Strength & Performance," and a vitamin blend are the four components of the ingredients. The latter has 500 percent of your daily vitamin C requirement, 133 percent of your vitamin E requirement, 1000 percent of your vitamin B6 requirement, and 833 percent of your vitamin B12.
The Energy & Focus combination contains 150mg of acetyl-l-carnitine and 200mg of caffeine.
Taurine and glycine are both 500mg in the Muscle Fuel.
Then there are the Other Ingredients, which include natural flavorings such as citric acid and malic acid, artificial flavorings such as sucralose and acesulfame potassium, and anti-caking agents such as calcium silicate and silicon dioxide. This product contains no artificial colors.
Buy MusclePharm Assault Pre-Workout Supplement
Benefits of MusclePharm Assault Pre-Workout
There are a lot of useful items in the recipe of MusclePharm Assault Pre-Workout that we are going to discuss in this review. Vitamins are the most undeniable because we know their necessary daily intakes, and they are prominently labeled. They are not stimulants, but if you are deficient in B vitamins (which is unlikely), they may help you maintain normal energy levels. Vitamin C has also been related to a reduction in exercise-induced cell damage.
Buy MusclePharm Assault Pre-Workout Supplement
The 200mg of caffeine is a bit more than two cups of coffee, and it is pretty much the normal dosage in a pre-workout, in my experience. It comes with acetyl-l-carnitine, which has been related to increased blood flow and attention.
Taurine may increase anabolism and muscular cramping by pulling more water into muscle cells, while glycine has been related to cognition in the Muscle Fuel combination.
The Strength & Performance blend's components may also be beneficial. Creatine and betaine anhydrous have been connected to power output, while beta-alanine has been linked to endurance.
The major concern with Assault's ingredients is that some of the dosages are a tad low. Although caffeine and glycine are likely to have an effect, studies have shown that effective concentrations of creatine, beta-alanine, and betaine anhydrous are around twice as high as those contained in Assault. There is 150mg of acetyl-l-carnitine in particular, but research suggests that typical doses should be between 630mg and 2500mg.
Because Musclepharm assault supplement is so inexpensive, it is almost forgivable, except that you can't exactly double your serving to get an effective dose of these ingredients because that would result in a massive amount of caffeine. This implies that the components we deem underdosed have no value but don't expect outcomes as dramatic as those observed in studies.
MusclePharm Assault Pre-Workout Review: What About Price?
This pre-workout is one of the cheapest I have seen: $21 for 30 servings, or 70 cents per serving. Most pre-workouts cost between $25 and $30 per 30 servings.
Buy MusclePharm Assault Pre-Workout Supplement
MusclePharm Assault Pre-Workout Review: Is Taste Good?
Fruit Punch flavor tastes like every other Fruit Punch flavor: maraschino cherry and watermelon, despite the depiction of numerous fruit and pineapple on the tub. If you like the flavor of Fruit Punch, you'll enjoy this, but do not expect it to taste like berries and pineapple.
MusclePharm Assault Pre-Workout Review: Should You Buy?
MusclePharm Assault Supplement is inexpensive, and it packs a punch in terms of caffeine, vitamins, taurine, glycine, and beta-alanine. It's one of those cases where you get what you pay for: Numerous advantages of MusclePharm assault pre-workout.
Buy MusclePharm Assault Pre-Workout Supplement