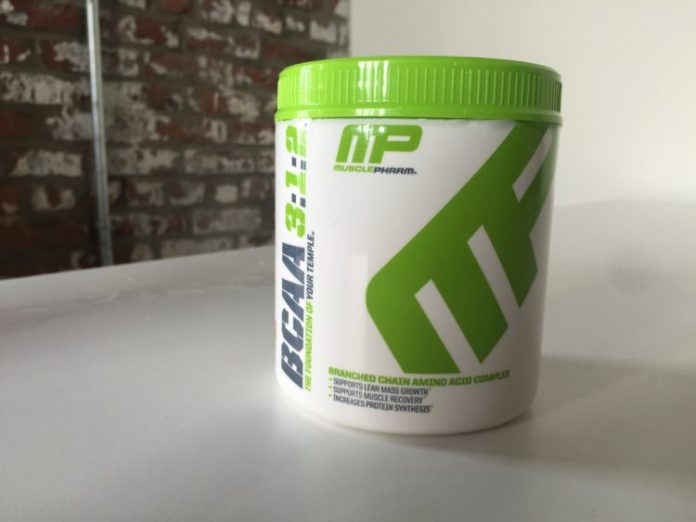 MusclePharm is a supplement company established in Colorado that has a good following among bodybuilders. They are best known for their range of "fight" products including Combat Whey and Combat Crunch protein bars. (The "Combat" comes from the fact that they support a lot of MMA competitors.)
Because of the uncommon decision to utilize it as their ratio of leucine to isoleucine to valine, their branch chain amino acid supplement is termed BCAA 3:1:2. Let us look at the Watermelon taste in more detail.
Ingredients & Nutrition of MusclePharm BCAA 3:1:2
There is no information on the calories or carbohydrates in this product, which is unfortunate.
The BCAAs themselves make up the majority of the product's content (six of the seven grams per serving): 3000 milligrams of l-leucine, 2000 milligrams of l-valine, and 1000 milligrams of l-isoleucine.
That is pretty much it for the key ingredients; it is a really basic product. The other ingredients are miscellaneous: malic acid (for seasoning), natural and artificial taste, sucralose (commonly known as Splenda®), silicon dioxide (anticaking agent), and fruit and vegetable juice for color.
While it is not included in the ingredients, the allergy notice notes that the product contains soy lecithin, which enhances mixability. It's also manufactured at a facility that handles milk, egg, soybeans, shellfish, fish, tree nuts, wheat, and peanuts.
Buy MusclePharm BCAA Supplement
BCAA 3:1:2 MusclePharm Price
For $19, you can get a 216-gram container with 30 servings, which works out to 63 cents for each serving or 10.5 cents per gram of BCAAs. There is also a caffeine-infused variant of 3:1:2 that costs 23 dollars, or 77 cents per serving.
That is cheaper than other BCAAs, and it is even less per gram than Xtend, which is one of the cheapest on the market. It is not quite as cheap as BSN's AMINOx, but the labeling is clearer – with BCAA 3:1:2, you know exactly what you're receiving, but with AMINOx, you do not know how many amino acids per gram you are getting.
Benefits and Effectiveness of MusclePharm BCAA 3:1:2
So, what is the deal with the 3:1:2 proportion? True, most BCAA supplements recommend a 2:1:1 or even 3:1:1 ratio. The amino acid leucine is strongly associated with muscle protein synthesis. For most people using BCAAs, preventing muscle breakdown and encouraging muscular development is perhaps the most important goal.
In most cases, equal quantities of valine and isoleucine follow. Isoleucine has a greater relation to fat reduction than valine, which has a stronger link to muscular endurance and attention. BCAA 3:1:2 has about the same amount of isoleucine as any other BCAA supplement, but it has a bit more valine. As a result, there is a case to be made that this vitamin is more concerned with workout performance than with body composition.
This product is created in a Good Manufacturing Practice (GMP)-certified facility, which is always a plus. However, it is worth noting that each meal contains two scoops, which equals six grams of BCAA. You may want to add a third scoop to your smoothie if you want to go closer to 7 to 10 grams of BCAA. Fortunately, the product contains no caffeine or other stimulants, which would be a concern if you increased the serving size.
However, it does include sucralose, an artificial sweetener that has sparked debate in some circles due to concerns that it may harm the gut microbiota. Because each serving contains less than a gram of the substance, it is unlikely to have a substantial impact on your system, but it's worth noting. This is not a completely natural item.
Buy MusclePharm BCAA Supplement
BCAA 3:1:2 MusclePharm Taste
We tried the Watermelon flavor, which had a candy-like flavor. What was surprising was that, despite the huge portion size and the presence of malic acid (which gives BCAAs their sweet-sour flavor), it was not too sweet or sour; instead, it was delightfully moderate.
Final Thoughts on BCAA 3:1:2 MusclePharm Review
MusclePharm BCAA 3:2:1 is a good choice. It is inexpensive, delicious, and it focuses on increasing your workout rather than weight reduction, which some individuals may prefer. Some folks may be turned off by the presence of soy and sucralose.
Buy MusclePharm BCAA Supplement
There are not any extras, so if you want your BCAA to double as a Vitamin D supplement, you will have to go elsewhere. This is a decent choice if you just want a BCAA that includes BCAAs and will not break the wallet.
PROS
Extra valine is added for endurance and focus.

Quite low-cost

Tasty 
CONS
Sucralose and soy are also present.

Produced in a facility that handles a wide range of allergies

There are no additional vitamins, minerals, or stimulants in this product.
Buy MusclePharm BCAA Supplement