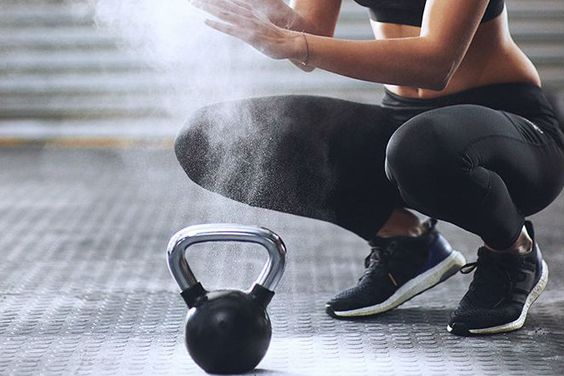 We usually think about dumbbell whenever we think of body fitness or bicep training. But there are many options available like kettlebell. Though most people are doubtful about how kettlebells can actually improve body fitness but that is the case reality. The kettlebell workouts for arms are one of the best ways to get bigger biceps in almost no time.
Most of them are almost the same as you can do with dumbbells. For example, just think about standing dumbbell biceps curl, the movement is almost the same.
However, because of the shape of it and the different grip, you can target your triceps and biceps a bit differently. I think, it is even better for beginners since it is more natural to handle.
It may take you some time to get the hand of kettlebells but the movements are almost the same. And, as you become intermediate or advanced user, the kettlebell exercises will become easier to handle.
Go Heavy or Light with Kettlebell Arm Workouts
The best part about using kettlebells for biceps exercise is that you can either go heavy or light depending upon your requirements. If you want to increase your muscle size, then going heavy with kettlebell workout is the way to go. You will do smaller number of repetitions but you will gain more muscle. Similarly, if you want to get lean and bring cutting to your hands, then you will do more repetitions and with lower weight. Both are easily achievable with kettlebells of different sizes.
Nonetheless, what training equipment you use, in the end, they will be targeting your bicep muscle groups. This means targeting the biceps, triceps, and forearms.
List of Kettlebell Bicep Exercises for Beginners
We decided to help you by providing a list of kettlebell bicep exercises for beginners. The list includes complete instructions about the exercises that you can learn to enhance your biceps and triceps.
Kettlebell Workout Routines for Biceps, Triceps & Arms
Here is a list of Kettlebell arm workouts that you can do even if you don't have time. Most of these are geared towards both men and women. So, try each one and stick with one that suits you.
Women's kettlebell arm exercises for arms
While this is labeled as a women's kettlebell arm exercise, it is also effective for men who would like to reshape their biceps for the better. The routine includes several very powerful moves to help you become fit and smart. It also helps the user burn more calories while losing weight.
[amazon_link asins='B00NLS0L0M,B07C2XBW2H,B07F1R8G93,B00I6CRMP0′ template='ProductCarousel' store='sj0b3-20′ marketplace='US' link_id='9514b645-454a-45af-8588-d7376f13e194′]
As you can see, the exercises target both shoulders and biceps. It includes triceps extension, overhead military presses, pullovers, dumbbell curls, and other effective exercises.
Kettlebell exercises for arm flab
If you want to get rid of muscle mass fast and easy then this kettlebell exercise routine is a must try for you. It is a mix of numerous kettlebell exercises to get rid of fat over your arms and make it more compact. You can also learn how to work your biceps muscles and improve the overall strength.
Super Sexy Arms Workout
This video is perfect for arms and grips. The video may looks like it is specific to girls but the training combines bodyweight moves that can help anyone who is trying to bring more mass and muscle on their biceps and triceps areas. You can count it as a complete upper body workout as it also targets the core muscles, chest and shoulders efficiently.
Kettlebell bicep workout
For those who are looking for purely kettlebell bicep workouts, the video is for them. You will learn all about strength training to improve your bicep mass. Apart from that it will also target other muscles of the body. But the main purpose is endurance and stamina. So, you will be using these exercises for a perfect upper body workout.
Kettlebell tricep exercises
We didn't forget to add kettlebell tricep workout routine to our list. The kettlebell tricep workouts target the elbow joints and upper limbs.
The exercises are almost the same that you will do with a dumbbell workout equipment.
[amazon_link asins='B00NLS0L0M,B07C2XBW2H,B07F1R8G93,B00I6CRMP0′ template='ProductCarousel' store='sj0b3-20′ marketplace='US' link_id='9514b645-454a-45af-8588-d7376f13e194′]
Kettlebell biceps and triceps workout
For total crazy kettlebell lovers, the biceps and triceps workout are a perfect fitness routine. With the kettlebell workouts you can easily tone and strengthen your triceps and biceps. . The best part is that this is a 5 minute kettlebell workout. So, anyone who doesn't have time but still want to build muscles, this kettlebell arm workout is for them.
Care for more Kettlebell arm workout routines? Here are some of the best infographics that provide details about each routine.
Kettlebell 10 minute bicep and tricep workouts that you can easily try at home. (infographics)