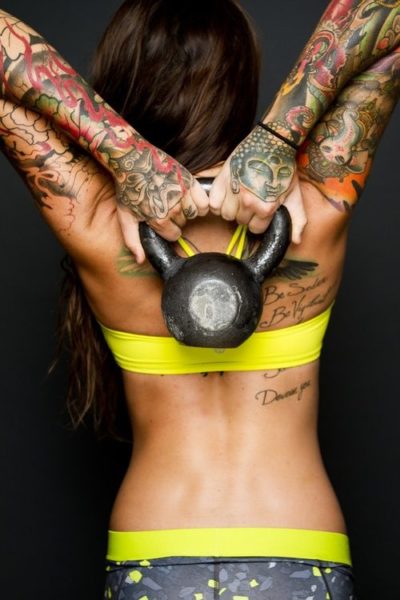 One of the most efficient fitness equipment available in the market is Kettlebell. It is used in several different ways but mostly for non-machine workout training and for bodybuilding, strength training and cardio.
Kettlebell has numerous workouts available because it acts just like a dumbbell. But the reason that differs it from the rest is its easy handling. Undoubtedly, it is also one of the most used home gym equipment available in the market. It has hundreds of workout plans available but it is not easy to find kettlebell chest exercises everywhere. This is a major gap that we found and decided to resolve it. Kettlebells are equally great in chest workouts and help users gain mass and become exceptionally powerful. Let's learn about these kettlebell workouts to improve your body shape and strengthen chest muscles.
These kettlebell exercises are harder to perform and require better focus for the whole body. You can use the kettlebell workouts for a proper bodyweight routine and to improve your overall fitness. Here are the best ways to improve your chest muscles with kettlebell pectoralis workouts.
Kettlebell Chest Fly
Chest fly exercises are usually performed with dumbbells but they can be done in the same way using kettlebells. The motion is going to be the same but the way of holding kettlebells for chest fly will be different. The motion is almost the same, and you can do it on a normal, incline or decline bench.
Improved version
If you are up for a bigger challenge then you can try the one arm kettlebell bench fly. It requires more control for your upper body to maintain balance. It also works your abs, triceps and shoulders. It is recommended that you start with the regular chest fly with kettlebell and then progress to one-arm kettlebell fly after you feel comfortable.
Both are great to improve your fitness. For those who are eager to move to heavier weights, they can use the kettlebell workout for one-month and then move to heavier weights.
Here is how to do it with one arm.
[amazon_link asins='B0731FCS7T,B00NLS0L0M,B000R11G2I,B072Z1WN4S' template='ProductCarousel' store='sj0b3-20′ marketplace='US' link_id='85f302a1-4997-4b41-bcc6-48e115bb074e']
Kettlebell chest press
The chest press exercise is performed in the same way as the kettlebell fly workouts. Instead of the kettlebell fly in which the arm moves in a circular motion, the chest press motion is upward and downward.
Kettlebell chest press is a little difficult because the weight of the kettlebell is also on the back palm of your hand. You can do the kettlebell chest press with more efficiency if you use light weights. In fact, it is recommended that you use lightweights for a month to get used to it.
For beginners, kettlebell chest press should be performed on a horizontal bench press  do it on the floor first or on a horizontal bench, then try it on decline or incline benches.
Another alternative exercise that can get you more explosive routine is to do 10 reps with one arm and then do it again with the other arm. Kettlebell is perfect for all those who want to make their chest rock-solid.
Note: If you put a fitness ball under your upper back, then you will have more balance in your body.
Kettlebell pushups
If you want strong grip then kettlebell pushups are for you. While these are great for pushups, you can do multiple variations with kettlebell. Starting from regular pushups to wide-grip and narrow grip pushups.
Because of the way kettlebells are made, you can easily balance them against your body. You should use the kettlebells to balance against your body. They will help you balance but you need to be cautious. Because if you can't balance properly you will fall.
Challenge
There is also a one-arm version of the kettlebell pushup to progress further with this exercise. But this one is extreme and only for those who already have strength, stability, and stamina.
One arm version will put all weight on a single arm and lead to faster growth of the bicep and chest muscle.
Kettlebell chest definition exercise
This tutorial by Frank Roberts is great for anyone who would like to bring detail to his body especially the upper body. Frank Robert shows how he uses the chest push/pull exercise to create depth in the muscle and bring out veins.
It is also called the kettle chest definition workout and it helps tone the chest and bicep muscles.
[amazon_link asins='B00NLS0L0M,B0093CMYSM,B0061ZLTYY' template='ProductCarousel' store='sj0b3-20′ marketplace='US' link_id='9db3384f-ba1b-4b88-807c-d9d2e86e098a']
Kettlebell upper chest press
Next we have Kettlebell upper chest press and muscle workout exercise. The upper chest press exercise mainly targets the shoulder muscles. But it still gives a great workout to the whole body. It is perfect for those who want to train the upper part of the pecs and to hold them tight.
Kettlebell bench press with bands
Alright, so while there are many kettlebell bench press workouts that you can do without extra equipment, but this one does need some equipment to be done properly. The kettlebell bench press can be done with a barbell rod and bands. In short, you will have to hang the kettle bells to the rod using bands. Now, if you don't have bands available, you can use a rope.
The benefit of this exercise is that it help you maintain stability. You can do the same exercise with weights, but when done with kettlebells, the stabilizer muscle group will be activated. Hence, kettlebells are considered a better and an improved way to workout.
That is all! I have not found any more kettlebell pectoral exercises, although I'm sure there are several other moves. Add these exercises to your workout routine to train your pecs from different angles.
[amazon_link asins='B01AVDVHTI,B0136PR5TO,B07K7G74P6,B01IL6A0I6′ template='ProductGrid' store='sj0b3-20′ marketplace='US' link_id='f8a4d97e-7505-4c1d-8a64-c9084571b961′]
Kettlebell squeeze press
Similar to the narrow grip pullups, Kettlebell squeeze press workout targets the pecs, upper body, triceps, and hand grips. These are perfect for all those who want to remain in great shape and improve upper body strength.
It is question time.
Which do you think is better? Dumbbell or Kettlebell?
We are waiting for your answer. So tell it to us in the comments below.
Get Better Workouts With Better Kettlebells!
Here are some kettlebells that can improve your overall workout because of the way they are designed. Comfortable, stable, and easy to handle – that's what you need in a kettlebell.
[amazon_link asins='B00NLS0L0M,B07C2XBW2H,B0093CMYSM,B0731CP5S4′ template='ProductGrid' store='sj0b3-20′ marketplace='US' link_id='5c4b930a-9c78-4efe-a51f-88e74c107c94′]
Bottom-line
That's it for now, we will be updating the kettlebell chest exercises and workouts in near future. So start doing these exercises and build awesome muscles.