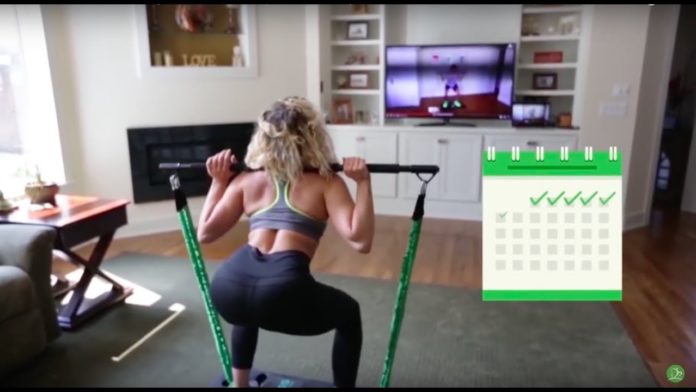 BodyBoss home gym brings all the useful functions of a gym in one equipment which makes it possible for you to do almost 300 plus exercises in your home without walking miles to the gym and bearing heavy gym membership cost. This all in one exercise equipment is compact and portable enough to place in your home.
Check Out BodyBoss Home Gym in Action
Specifications of BodyBoss Portable Home Gym
Here is a list of BodyBoss Portable accessories that are available with the gym set. Whether you have just started working out, or are a veteran trainer, BodyBoss portable home gym can still teach you a thing or two. With that said, let's learn more about the Bodyboss exercises available in the market.
Fold-up Vector Fit Base

2 Padded Handles

2 Cloth-Covered Resistance Bands

Padded Door Anchor with Ring

2 Padded Wrist/Ankle Straps

Portable Workout Bar

Durable Accessory Carry Bag

Instruction Manual
Just as we have seen, Bodyboss is not only the best, but offers tons of options to the user. For starters, it has over 300+ exercises that the users can do just with the home gym equipment available. We will get to the BodyBoss Portable Gym exercises, but before that, let's read its review.
Check Out BodyBoss Home Gym in Action
Features of BodyBoss Portable Home Gym
Lightweight and Compact
It is lightweight and compact but versatile enough to give you a healthy workout anywhere.  It is perfect for all those fitness enthusiasts who don't want to workout on machines but don't have time to go out and exercise. Now, they can easily exercise with the portable Bodyboss home gym equipment. It is available with portable stretch bar, resistance band, door anchor with rings, and wrist and ankle straps.
Available in Multiple Colors
It is available in three colors i.e., green, pink and bright gold supporting up to 500 pounds weight and weighs 10.5 lbs. It contains the cloth-covered resistance bands for burning your calories and increasing the blood flow by adding resistance to your exercise.
Made to Save Space
The folding vector fit platform provides a portable and comfortable place for you to exercise. It has a space saving design, robust and anti-slip finish with the dimensions of 22.5 x 18.75 x 4.5 inches of length, width, and height respectively. This base has anchor points in different areas where you can attach resistance straps. It also contains two handles which are used as dumbbells providing a great alternative to the heavyweights.
Perfect for Cardio Workouts
There are two wrist straps which provide good cardio exercises and fits all sizes of ankles and wrists. They allow the user to undertake cardio boxing, bun blasters and various other exercises. Moreover, there is one collapsible workout bar which provides the benefit of squats. You can use the door anchor to simulate a chest cable and lat pulldown the machine. The components also include bands having 30 inches custom length and simulate 30 lbs. The carry bag can be Used to store or transport the components of the bodyboss home gym exercises.
Comes with a Complete Manual
The package of Bodyboss Home Gym exercises also includes a getting started manual which provides a guide about how to undertake various exercises and how to assemble this amazing total workout system.
Check Out BodyBoss Home Gym in Action
How Bodyboss Portable Home Gym Exercises Help You Stay Fit?
If you don't possess a dedicated corner in your home for the gym then bodyboss home gym exercises are a perfect choice Whether it's your home or the workplace. Bodyboss 2.0 is a total workout system which is super light and convenient home gym you can bring anywhere with you. You can Simply fold it for easy storage in your closet, car, under the table or bed and anywhere else. It contains padded handles which prevent injury and comfortable workout. The package also contains a carrying bag for you to place your workout stuff safely in your home. Moreover, the system does not cost heavy to your pocket and offers a range of exercises in such a cheap price.
Pros:
 It is Compact and portable

 Economical.

 It Provides a variety of exercises

 Easy to assemble and store.

 You can adjust resistance.

 It is versatile and gives total body workout.
Cons:
 Resistance bands may fall short for tall people.
FAQs About BodyBoss Home Gym Exercises Set
Why choose BodyBoss portable machine?
Whether you are travelling or would like to workout at home, the BodyBoss portable machine is perfect for you. It has everything that you will need from resistance bands, to workout gear and handles that you can carry with you everywhere you go. The Bodyboss portable home gym equipment is lightweight and can fit in any small bag.
How Many types of exercises can you do with Bodyboss Portable?
Bodyboss portable workout machine lets you do all types of exercises related to biceps, triceps, abs, wings/lats, shoulders, legs, and even back. You should rest assured and try the workout machine because it is a single unit equipped with all the fun.
Does it offer resistance bands and handles for workout at home?
Yes, that is the amazing part of Bodyboss workout machine. It is equipped with two resistance bands, handles and a workout chart to guide you start your exercise routine fast and easy.
Is BodyBoss Home Gym For You? Find Out