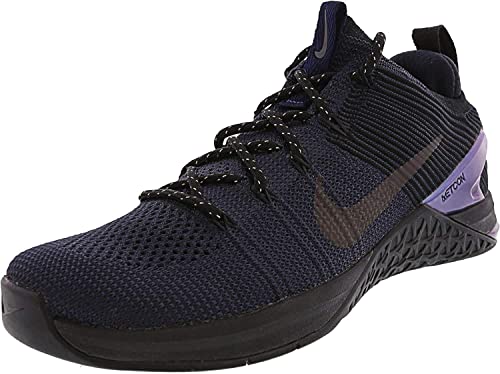 Nike released the Nike Metcon DSX Flyknit 2 in early December 2017. This model is designed to sustain hard cross-training exercises and features several unique Nike shoe features. This shoe upper is made of Nike's Flyknit technology, and it also has Nike Flywire.
In this review, I went for a run in the Nike Metcon DSX Flyknit 2 and compared it to other cross-trainers and Metcon models on the market. Everything about this shoe was considered, and you will find remarks on the construction, performance, stability, durability, and pricing of this shoe below.
Buy Nike Metcon DSX Flyknit 2 Cross Trainers Online
Design of Nike Metcon DSX Flyknit 2 Cross Trainers
Upper Shoe Material 
The Nike Flyknit material is what sets this shoe apart from its Metcon counterparts. Flyknit is a breathable, lightweight material with a boot design that allows for smooth mobility.
Most people are familiar with the Nike Flyknit from casual wear or running sneakers. If you appreciate Nike's Flyknit construction, you will probably like how the upper structure of this shoe feels. Each of the shoe's five eyelets has Nike Flywire running up the side of it. Flywire is a textile that passes beneath the shoe and links to the laces/eyelets on the opposite side.
Heel and Boot
The Nike Metcon DSX Flyknit 2 has a boot design, unlike the Metcon 4, hence there is no separate tongue. The boot is made of Nike Flyknit, which makes it a touch lighter than others available. The material rests low and below the malleolus (ankle bony process) in terms of ankle support, and it does not rise too high.
An extra piece of mesh-like material may be seen on the back of the heel which adds additional support. In terms of friction, the material does a decent job of reducing rubbing because it is a little thicker and softer. The Nike Metcon heel clip is located on the exterior of the shoe.
Buy Nike Metcon DSX Flyknit 2 Cross Trainers Online
Outsole and Midsole
The Nike Metcon DSX Flyknit 2 is extremely comparable to the Nike Metcon 4. The first is the wave-like woven thread that runs the whole length of the shoe. The substance is known as sticky rubber by Nike, and it is meant to help the shoe grip on a variety of surfaces.
The Flyknit 2 differs somewhat from the previous Metcon versions in terms of the midsole. The toe is the most noticeable change on the shoe. There is a lip on the toe of this type that rises up from the midsole, which reminds me of a conventional tennis shoe structure. The enlarged midsole on the medial and lateral sides promotes grip on rope climbs and other activities. The heel features a thick TPU layer that resists compression under high weight.
Performance 
To review, this shoe went through a series of tests to simulate how it would perform in a cross-training session. Compound exercises, cardio-based activities, and plyometrics were all part of it. 
There were no major flaws in terms of in-gym performance. This shoe was definitely on the more stable side of cross-trainers in terms of stability.
The Nike Metcon DSX Flyknit 2 excelled in the following areas.
Compression resistance under strong loads.
For plyometric activities, a comfortable, lightweight, and mobile shoe is provided.
Bringing together many distinctive Nike shoe components into a single cross-training style (Flyknit & Flywire).
Buy Nike Metcon DSX Flyknit 2 Cross Trainers Online
Where did the Nike Metcon DSX Flyknit 2 Fell Short?
With lateral motions, it provides a lot of support (Flyknit somewhat caved in).
In repeating sprints, reducing the load on the heel strike (hard TPU heel).
Stability
The steadiness of this shoe is a feature that comes with it and needs its section. This was one of the most stable cross-training shoes I have worn, and it was a close second to the Nike Metcon 4. Both the midsole and outsole are strong, and they performed a decent job of resisting compression under pressure.
The only issue I have with this shoe's stability is the ankle support it gives in lateral motions. Because it's Flyknit, it is a highly dynamic shoe, but too much mobility may be detrimental to stability. During lateral sprint motions, the upper structure of this shoe collapsed in on a few instances (shuttle runs, etc).
Durability
I did not see any difficulties with durability during my time with these shoes or during any of my exercises. The harder outsole and more Flywire in the Flyknit provided greater support for the midfoot and upper shoe which was a good touch.
To begin with, toe lips on shoes are more prone to coming off when you are dragging your toes. If you perform a lot of burpees, this building attribute is one you should pay attention to. Second, because the Flyknit is new to cross-training, it is unknown how much it will stretch with frequent exercises. 
Price of Nike Metcon DSX Flyknit 2
You may anticipate paying between $120 and $150 for this shoe in terms of pricing. Because it was published in December 2017, you will most likely be able to locate some color schemes for a lesser cost than they were initially advertised for. Although the initial asking price is a touch more than other cross-training models, this model has some unique Nike construction characteristics.
Pros of Nike Metcon DSX Flyknit 2 Cross Trainers
Flyknit Material

Stable Outsole

Flywire

Unique Aesthetic
Cons of

Nike Metcon DSX Flyknit 2 Cross Trainers
Potential Durability Issues 

Slightly high price.
Final Thoughts
The Nike Metcon DSX Flyknit 2 may be your best pick if you want a mobile shoe that can withstand intense cross-training activities. It has a number of features and the shoe is built for performance. If you appreciate Nike's Flywire design elements, then this shoe will most certainly live up to your expectations.
Buy Nike Metcon DSX Flyknit 2 Cross Trainers Online