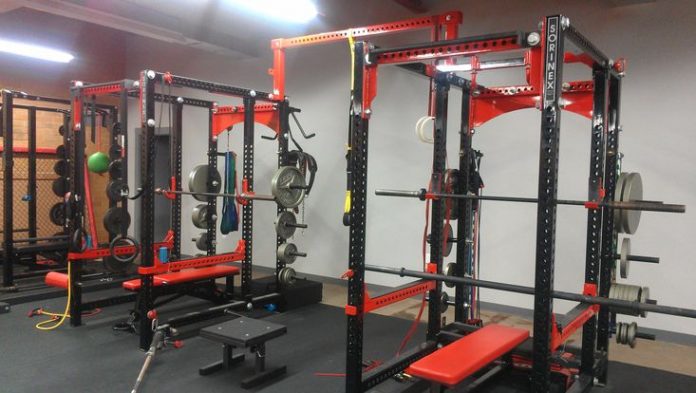 If you exercise often and want to improve your general fitness, power racks can help because they allow you to store all of your weights in one handy spot and access them easily and fast. Finding the best squat rack with lat pulldown might be difficult, we've done some research and discovered 7 of the top power cages on the market today, which we've listed below.
List of Best Power Cages with Lat Pulldown
Here is the complete list of best power cages with Lat pulldown that you can use with power cages and racks.
Monster Lat Pulldown/Low Row Rogue RML-690C Power Rack
This power rack contains everything you'll ever need to get amazing workouts every time, even if it's a little pricey at a little more than $2,500. It's a heavy-duty rack that reaches 96″ tall and weighs 555 lbs. It's composed of steel, but it's powder-coated and comes in a black pattern with red highlights, so it looks as good as it performs.
This power rack comes with a 300-pound weight stack that can be adjusted in 10-pound increments, and the foam seat measures 16.5″ x 6.25″. The foam leg roller assembly has six adjustment locations, each separated one inch in the center.
Buy Power Rack Online On Amazon
Combo of Titan T-3 Power Rack and Lat Pulley Tower
This combo rack is reasonable and easy to choose when you need a nice addition to your fitness area or garage, with prices ranging from $680 to $720. Bench presses, squats, shrugs, military presses, curls, dips, and a variety of other exercises are just a few of the many workouts made easier using this approach. The new pulley tower makes it simple to add a lat machine, and it's also simple to add your chosen weight to the two weight posts so you can start exercising right away.
You can choose from a variety of designs with this system, including short and tall power rack combos with either a 24″ or 36″ depth rack. This implies that no matter what your training routine is, you'll be able to fit it in because you'll be given a customized two-weight system that suits your exercise requirements. To make things even better, this is a well-made, durable system that will last for many years.
Buy Power Rack Online On Amazon
Power Rack with Weight Stack from NTA iFitness
This is the THEARCHY-2015 system, which includes a lat pull-down and a low row position, as well as the ability to execute dozens of exercises such as deadlifts, upright rows, pull-ups, squats, and more. A chin-up bar, extra heavy-duty steel tubing for sturdiness and safety, and a high-quality metallic powder coating to prevent scratching and rusting are also included.
Buy Power Rack Online On Amazon
Force USA MyRack with Lat-Pulldowns
This is a simple rack with a 2,000-pound weight capacity and a $400 price tag, but that doesn't mean it's not well-made or durable. The Force USA MyRack is ideal for those who have a low ceiling or limited space to store their workout equipment. It may be bolted to the floor or left freestanding, and it can suit you properly whether you're into weightlifting, powerlifting, calisthenics, CrossFit, or anything else.
Squats, overhead presses, and bench presses are just a few of the exercises you may do with this rack. This rack will not disappoint if you desire great quality without the expensive price and it also offers the lifetime structural warranty.
Buy Power Rack Online On Amazon
---
Redesigning Your Gym?
Not sure which Power Rack is best for you? Get help from the best personal trainers. Take a look at their specialist CPD courses on gym design and the latest developments in gym equipment solutions.
---
Rep PR-1100 Power Rack with Lat and Row Attachment for Home Gym
Anyone can afford this high-quality power rack with lat pulldown for only $275, but don't be fooled by the low price. This is a high-quality system that can be put up in less than 20 minutes and can be used for many years. It also has dual pull-up bars for up to two individuals, plastic-lined J-cups to protect the rack's finish and your barbell, faster and more accurate adjustments, and safeties that can be extended out and used to rack a barbell.
This home gym power rack is 83″ tall and has a weight capacity of 700 lbs. For added convenience, it has 1.25″ and 2″ pull-up bars, as well as numbered uprights on every fifth hole.
Buy Power Rack Online On Amazon
TR023 Power/Squat Rack with Lat Pull-Down by AmStaff
This power rack is just what you need to get in shape and when you need a well-made rack that is certain to suit all of your training needs, with a height of 84″ and a lat pull-down connection and grip dip bars included. It also includes four J-hooks and two stainless-steel barbell safeties, ensuring that your training is both safe and effective. 
A five-year structural warranty is included, as well as a one-year warranty on all pulleys and cables. It's also so durable and dependable that you may use it for both personal and professional purposes, and the system is so small and strong that you won't have to worry about anything breaking or malfunctioning. It's also made to last, so you'll be able to use it for many years.
Buy Power Rack Online On Amazon
High-Low Pulleys in a Cap Power Cage
This power cage has a total weight capacity of 1,300 lbs and has steel tubing for added durability, six safety catch height adjustments, and two plate storage posts for either normal or Olympic weight plates. It weighs about 110 pounds and is powder coated to prevent rust and scratches.
This is a well-made power cage at a fraction of the cost of many other versions that offer similar features. It reaches a full 84″ tall and is constructed of 12- and 14-gauge steel tube for added durability. To develop upper-body strength, you receive both an upper- and lower-lat/low pulley system, as well as a beautiful blue powder-coat finish to prevent rust and scratches.
The four cold-rolled steel catches will keep the barbell in position and provide variety throughout your strength-training program, and you'll also get six safety catch height adjustments. This is the system for you if you want a power rack with a lot of options at a fair price.